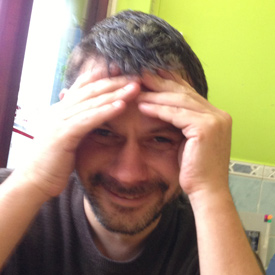 I'm a journalist and designer, currently Editor, New Formats at Trinity Mirror.
I run Ampp3d and Mirror Row Zed, and helped start UsVsTh3m.
I've previously worked at the Guardian, Sony and the BBC, and I run a consultancy, Emblem. We work with organisations and start-ups in the publishing, media, arts, heritage and culture sectors. Our clients have included Arts Council England and the Natural History Museum.
I've been building digital products for over 15 years, and over that time I've worked as a Product Manager, Information Architect and as a User Experience Designer.
I've written and edited books for the Guardian Shorts series about the Olympics, Facebook and Doctor Who, and I frequently talk at events and conferences about digital product design.
I've been blogging for years on currybet.net, at the BBC and the Guardian and on this site about journalism, digital media and design.
I can be found on Twitter as @MartinBelam, and on Facebook at facebook.com/martin.belam, or at martin.belam@currybet.net.