On the demise of Google Reader
The news of Google Reader's demise has been widely greeted with dismay amongst the people who used it. It feels like an unpicking of one of the threads of the web.
A few months ago I wrote about "reviewed it as a piece of software when it was first launched, and I clearly wasn't impressed. In 2006 I wrote:
"Unlike a lot of Google's beta-labelled services, the Google Reader really does still seem like a 'beta' that requires considerable work — at the moment it just simply isn't a contender as an online RSS reader compared to Bloglines, FeedLounge or Rojo."
I wonder whatever happened to those?
Watching the reaction unfold on Twitter last night, I couldn't help but be struck with a sense of deja vu. If you've been following the closure of the Archers message board or the Guardian's woe with nested comments on here, you'd have recognised the anguished howl and cries of "I love this thing and it is important to my daily routine. How can a company not value that?" There are already the obligatory petitions, and as the Telegraph did with the Archers, companies like Feedly are offering to step in and replace Google Reader in your life.
It does feel as if a bit of the constant plumbing of the web for the last few years is being switched off though. I designed and helped build bits of the Guardian website that rely on being powered by journalists operating a Google Reader account. As Tom Coates put it: "I'm going to sound really old, but is it just me or are all the old staples – RSS, blogs, wikis – going downhill rapidly?"
I'd stopped using an RSS reader ages ago. The web has changed. I find the fast-moving serendipity of Twitter had long-since replaced having Google Reader open in the browser, desperately hoping to see the numbers refresh to find something to distract me from work for a couple of minutes.
Some of you will be reading this using Google Reader — I've had a loyal following via RSS of a few thousand people for a few years now. But nowadays 42.5% of my traffic comes from mobile or tablet devices, and 38% of visits originate from someone suggesting a link to their followers on Twitter. It is a different information landscape.
If I had the time, I'm sure I could head down to Trafalgar Square and vox pop a lot of people who have no inkling of what Google Reader is or why they should care that it has closed. I do feel sad that RSS never caught on as a mainstream consumer proposition though — it was such a useful way for me to keep in touch with things before I relied on Tweetdeck. Back in 2005 I pushed for RSS icons to be included on the BBC homepage to try and help familiarise people with the concept, and two years ago I was vigorously defending the health of the format for newspapers.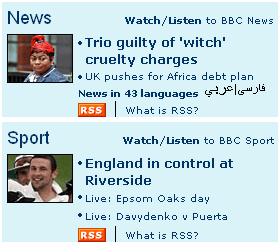 If you are looking for a Google Reader replacement, then Reddit is ON IT.
Or you could always go down the @sizemore route, and order "1000 plain thin notebooks to write down all the URLs previously stored in GReader."