The BBC announces myBBC – for the third time in 15 years
A funny thing happened to me today. I got struck by a sense of internet déjà vu so strong that I felt I turned into some kind of one-man-https-black-hole sucking the future into the past and then regurgitating it not once but twice.
I speak, of course, of myBBC.
Today myBBC has been announced by DG Tony Hall and blogged about by Phil Fearnley:
"It's the start of a real transformation – the myBBC revolution. How to reinvent public service broadcasting through data. But we will always be doing it in a BBC way – not telling you what customers like you bought, but what citizens like you would love to watch and need to know."
Something something personalisation something buzzword something.
You'll have to forgive my cynicism.
Because on the BBC's Internet blog I was writing about this 7 years ago.
You'll remember.
The BBC was celebrating their tenth anniversary of online. They'd just introduced a "personalised homepage" where people could select modules and drag-and-drop sections and pick what they were interested in.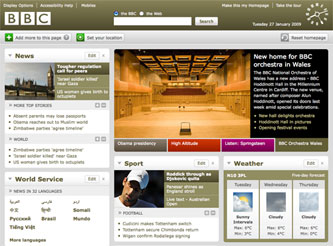 But I wasn't writing about that attempt to do myBBC.
No, I was writing about the one before that.
In 2007 I was being rather ahead of my time by describing myBBC as rather ahead of its time. I said:
"The biggest attempt at personalisation on the BBC site, though, was a service launched in 2000, called myBBC. In some ways, it was rather ahead of its time. It allowed users to choose which panels of content appeared, from options like news and the weather, to picking your favourite football team, or adding a list of bookmarked recipes to your homepage. Users had to register to customise the page, and were also able to choose the colour scheme."
And to reassure you how long ago 2007 is in web years I then went on to say:
"Of course, compared to modern Web 2.0 services like iGoogle, Netvibes or Pageflakes, it was rather clunky and primitive. There was no AJAX involved; it was all delivered using a Perl back-end and the BBC's Central User Database. It used CSS to do the colouring, which was against the BBC's HTML guidelines at the time (and would still be for a couple of years)"
Here's the fragments of screengrabs I managed to retrieve of the 2000-era service at the time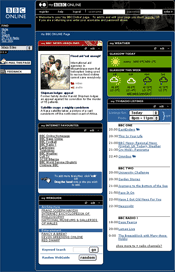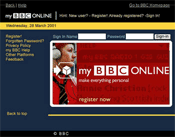 Anyway, what goes around comes around, all hail myBBC, the personalisation initiative to save the BBC etc etc.
I still think it all just feeds into a common fallacy that content providers make about personalisation. That people want a personalised view of "everything that WE have got" rather than "Everything everywhere that I care about plus what is really personal to me"
I note that there is no myFacebook or mySnapchat or myWhatsapp…