"We put a lot of effort into designing #GE2015 for mobile" – the BBC's Steve Herrmann at News Impact Summit

Today I've been at the News Impact Summit London, and the first panel session was about coverage of the recent UK General Election, a subject rather dear to my heart.
It featured Miranda Green, Buzzfeed's Tom Phillips, ITV's Jason Mills and the BBC's Steve Herrmann. Here are my notes about what Steve said, with the full disclosure that I worked with him on some projects at BBC Online in the 1800s…
"We put a lot of effort into designing for mobile" – Steve Herrmann
Steve Herrmann is Editor, BBC News Online. He pointed out that the expected dominance of mobile traffic on election day took place. He said that about 84% of all traffic coming to any digital BBC output between 6am & 7am on 8th May was on mobile and tablet.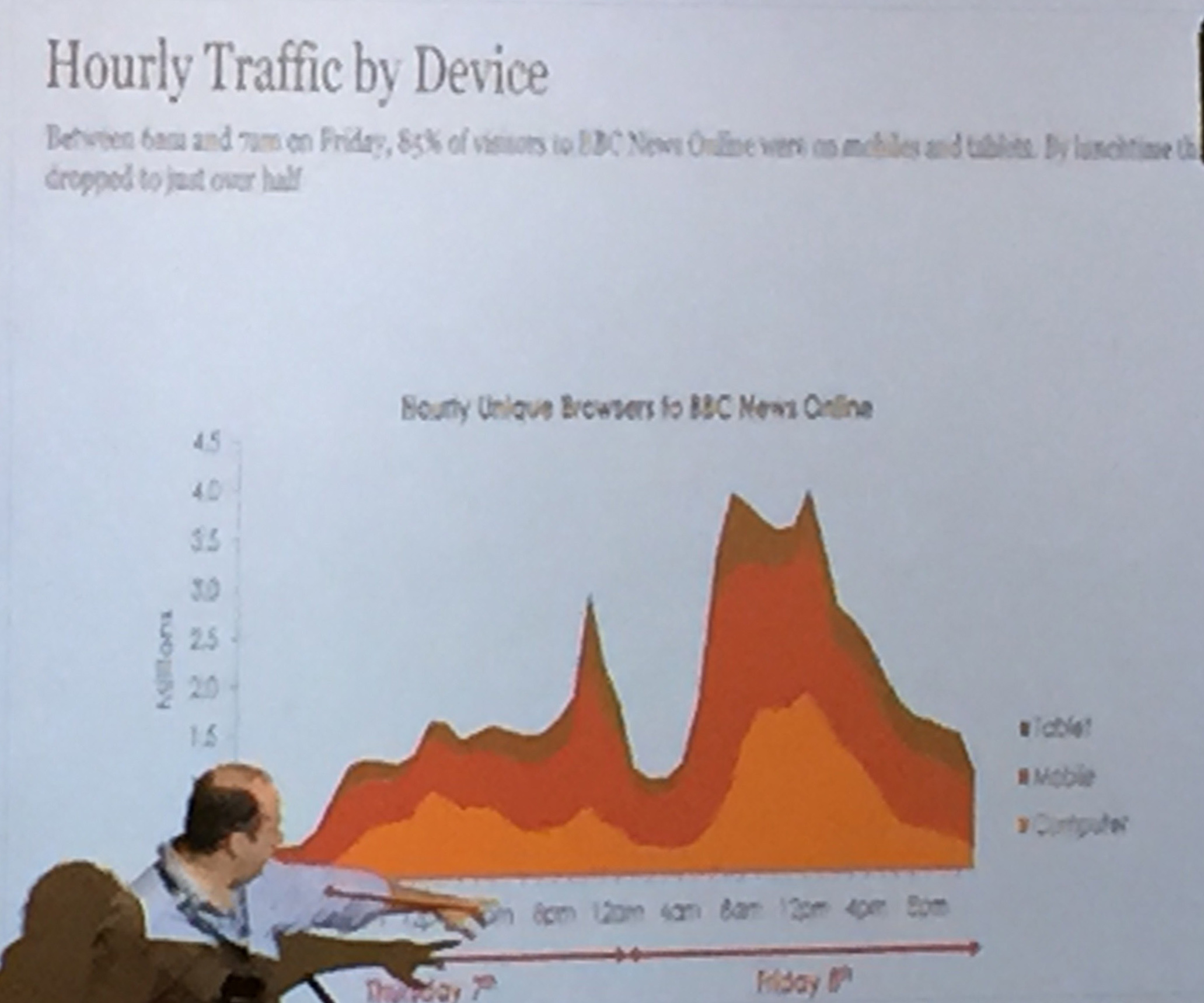 "We put a lot of effort into designing for mobile", he said, "and I'm glad we did."
What also stood out for Steve was the massive interest in local results. As people woke up on the 8th May, the constituency pages the BBC had made for each received a huge amount of use.
It was a record audience for the BBC digitally, he said, and it turned out to be a huge story that played out very quickly. "We were all bracing in the newsrooms for an arduous slog" he said, as like all of us the BBC News teams expected days, possibly weeks, of coalition negotiations.
Instead, Steve said, the rapid story development from shock exit poll, through to major resignations and faux-resignations and then David Cameron turning up outside No. 10 was "the stuff of high drama."
With stories developing like this, digital is "just the direction of travel" – the natural way to follow the story.
As for the campaign period, Steve Hermann said he felt that every day there was one sort of main story, with some really noticeable spikes around the big TV events: "The broadcaster events were incredibly successful at bringing the nation together."
He went on to say that in the last week the BBC saw something really remarkable happen with their traffic data. Hermann explained that the issues guides for each party got their highest traffic of all on voting day. "Which to me says something about people coming quite late in the day" to really make up their minds on key issues. Traffic to fact-checking pieces also picked up in the last week.
Steve showed us some other graphs for BBC News – one mapping how traffic had changed over the evening of the 7th and the day of the 8th. Steve specifically pointed out "the little spike as the website got plugged on the Ten O'Clock News" and was very pleased about it.
I'm not sure anybody working on any other news website is as happy to see how BBC TV cross-promotion – which isn't available to any other publisher – is that effective ;-)