Friday Reading S05E02
Friday Reading is a weekly series of recommended reads from journalist and designer Martin Belam covering journalism, media and technology. That is guaranteed to be 100% free of that man…and is a bit short this week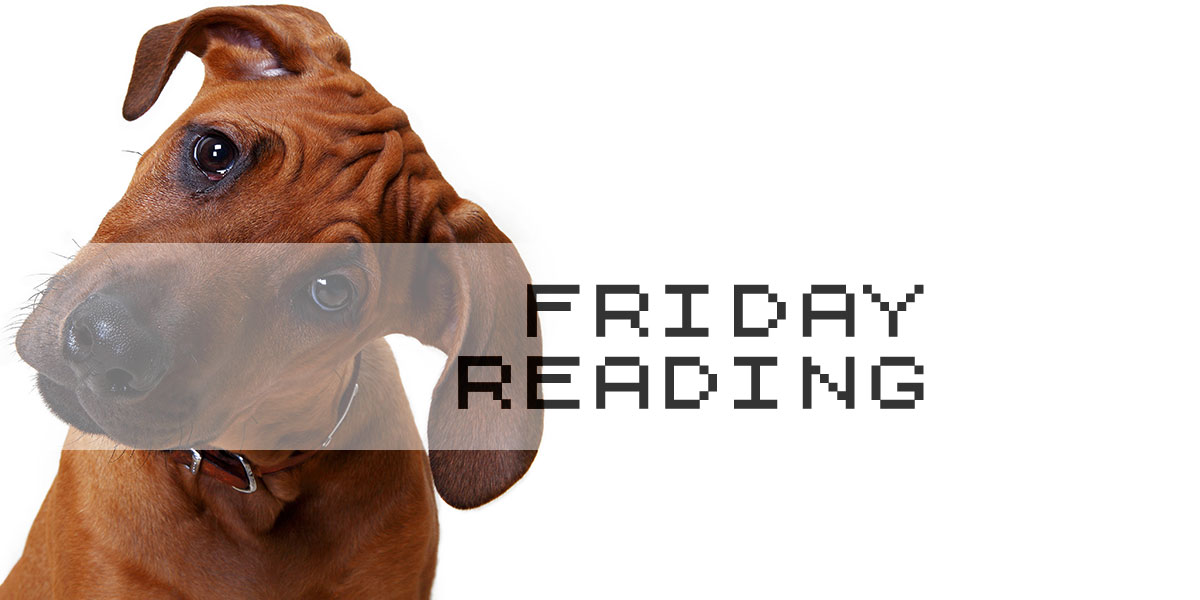 I helped launch our Guardian Facebook Chatbot this week. You can message it and get the latest headlines or stories from a section sent back to you. It can also be configured to send you a morning briefing at 6am, 7am or 8am. Although it is possible, if you are the UK, that the messages you get are not made by a robot, but actually written by someone not a million miles away from this blog blearily writing them at 5:30am at the moment. Get started with the bot by sending a message here.
I spoke to Digiday about how it fits into our plans.
Or as my friend Rob Manuel couldn't help but point out: "Get press for your morning newsletter by calling it a 'bot'"

And just when you've started getting to grips with that: "Here come the Twitter Direct Message Chatbots"

Long cheery analysis of how the floods will get us before the nuclear winter will.

It's worth peeking at this Commons Library briefing on some of the basic 'unknowns' relating to Brexit and then realising they maybe should have just published the world's biggest ¯\_(ツ)_/¯ instead.

The ONS have got a new blog, if that is your sort of thing.

"I was at home with my mother and we heard the sound of the air raid sirens. It was really scary. She took me in her arms to protect me and we went downstairs to the basement. My mum was crying and all we could do was hide. That is something I will never forget. How could I? After that we went into a small car, a Yugo, and my uncle drove us to Germany. That is how I became a refugee."
Great interview by Tony Barrett – "Dejan Lovren: We need to give refugees a chance – I should know, I was one"

I got the gig of reviewing the new Doctor Who animation 'Power of the Daleks' for the Guardian. Unsurprisingly, I am quite keen on the way they have recreated the lost Patrick Troughton story.
I was less pleased, in my research for writing it, to discover that the BBC have buggered up all the archive photonovel reconstructions that the BBC Cult team so lovingly put together.

This is rather longer and more elegant analysis of the history of time travel, a concept that "is two years older than Dracula, and eight years younger than Sherlock Holmes"

One for the parents – an analysis of how watching CBeebies with young kids has changed significantly with the advent of on-demand and streaming. My own anecdote – Sky introducing "Press the green button for the next episode" is the best thing ever because my 3 year old can do it without having to shout for his parents.

"The tide has turned against the collector of recordings, not to mention the collector of books: what was once known as building a library is now considered hoarding. One is expected to banish all clutter and consume culture in a gleaming, empty room."
I enjoyed this on the age-old theme of how classical music metadata is so bad on digital services that it is a real barrier to listening, even at the same time that streaming has opened up wider access to the repertoire.

"If you're at all interested in the history of cinema, you've probably heard some version of the story about the train film that sent an audience running. According to the tale, as the silent black-and-white image of a moving locomotive filled a movie screen in Paris, the people in the cinema thought it was going to drive right into them. They panicked, and bolted for the back of the theater."

The first episode of Gamesmaster is on YouTube. Wallow in the nostalgia. And rejoice in the late Sir Patrick Moore reading a script he clearly doesn't understand a word of.

Oh it's just Kate Bush doing her first interview for five years, no big deal.

Friday Reading is a weekly series of recommended reads from journalist and designer Martin Belam, covering journalism, media and technology. Martin is Social & New Formats Editor for the Guardian in London.