Friday Reading S08E18 – SEASON FINALE
Friday Reading is a weekly series of recommended reads from the Guardian's Martin Belam, covering journalism, media and technology, and other interesting nerdy things. It is also available as an email newsletter. Sign up here.

"'Twitter is going to start deleting inactive accounts… and it would be a tragedy if this account got sucked into oblivion,' she wrote. 'So I'm tweeting to ensure that doesn't happen.'"
"Why you can't count on a Twitter profile to be a memento of someone who's died" – Psychologist Elaine Kasket explains why social media isn't a safe place to store your memories.

"There's a reason Drunk Elephant's Instagrams don't look like marketing or have anything to do with its products: Many of them were written by unsuspecting Twitter users with no affiliation with the brand. Those writers might not be alerted until a friend notices and tips them off to their zombie joke, newly appropriated by a brand recently acquired for $845 million by a beauty-industry conglomerate. The practice might be called 'aggregation' or 'curation,' but in the case of a company using others' work without payment or permission, it might also be called 'stealing.'"
"Meme Thievery Goes Corporate – The newest strategy for marketing to young people is stealing their jokes" – Amanda Mull
Fortunately now that I'm contractually obliged to only do dad jokes, this can't happen to me.

The WSJ started training an AI to mimic its hand-drawn portraits of people but unfortunately the machine got possessed by Cthulhu. Praise be to Cthulhu.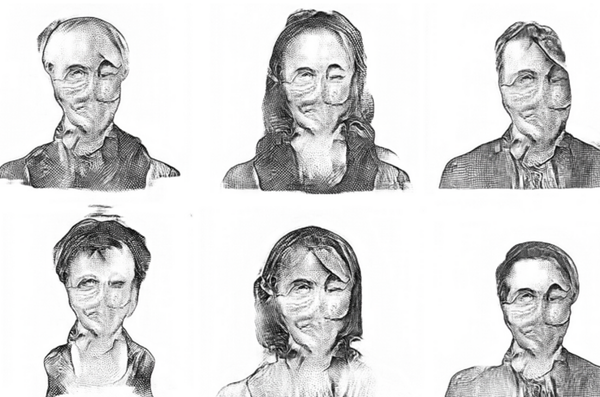 If you want to see where 'working for exposure' culture has got us: three writers I commissioned for @filmstoriespod this year asked me where to send the money, when I told them the fee. They thought they paid me to be published.
Depressing tweet of the week from Simon Brew.

When Nighthawk is first launched, you're given the option to select who your close friends are. When you view your Close Friends timeline, all other accounts will be hidden, allowing your friends and their dumb opinions to rise to the top.
"Nighthawk is a new iOS Twitter client with Smart Filters, a 'Close Friends' timeline, more" – Chance Miller
My close friends can be reassured that I already have a private 'People' list which is the 200 folks I actually want to jibber-jabber with on Twitter, and it is set up as the main column in my Tweetdeck, so your dumb opinions always rise to the top.

"What do you want to do when you grow up?"
"Well, mum, I'd really like to write about…"
"Pigeons wearing tiny cowboy hats spotted in Las Vegas" – Martin Belam, The Guardian

+++ IT IS THE NEWSLETTER SEASON FINALE. ANYTHING MIGHT HAPPEN. MAJOR CHARACTERS MIGHT DIE. THE YEAR-LONG PLOT ARC MIGHT GET WRAPPED UP. I MIGHT REGENERATE. +++

Here are my favourite things wot I wrote for the Guardian this year: Grange Hill's Zammo lands role on EastEnders, Doctor Who: The Macra Terror review, Madonna was excruciating: what we learned from Eurovision 2019, Spouting off: Trump boasts of meeting 'Prince of Whales', Why did Varadkar say he wanted to be Athena to Johnson's Hercules? and Mission impossible! Lost Doctor Who episode remade for YouTube generation

Please note that I have deleted my Twitter account so that I can have a social media free Xmas. It isn't a flounce, rage quit, or a cry for help. I'll be back and as intensely online as ever in the new year.

Talking of intensely online weirdos…
Eight years after Avengers, the nerd-cultural takeover of pop culture is complete. Nerds won the war before anyone else realized there was a war on. We don't yet know what kind of long-term effect the unprecedented dominance of a single pop genre is going to have on moviemaking and moviegoing and life on Earth in general. But we're starting to see some data on the effect of that dominance on nerds as a cohort and the initial results on how we're going to govern as the overlords of pop culture are not great.
"The Decade Comic Book Nerds Became Our Cultural Overlords – Why do they have to be such sore winners?" – Alex Pappademas

Not entirely sure I agree with everything in that piece, but incidentally, I really feel like I can't be arsed to drag myself down the cinema for Star Wars 1,057. It's like with the first episode of The Mandalorian. It's lovely to see that universe and re-visit the ship and the droid designs, but it feels like Disney have got this enormous franchise sandbox to play with, but just don't really have the drive to know what stories they actually want to tell there.

This looks like fun: "Infinite text adventure AI Dungeon is now available on iOS and Android"

San Diego to Suspend Face Recognition Program, Limits ICE Access To Criminal Justice Data

This has blown my mind and then depressed me that the first paragraph is not all awe and wonder, but instead about how the discovery could be used to help agriculture: "Recordings reveal that plants make ultrasonic squeals when stressed"

All of the feels reading this: "My father paid four times his weekly wage for the greatest gift of my life – a tape recorder"

This is some of the worst misplaced nostalgia I've ever seen: "How the Loss of the Landline Is Changing Family Life – The shared phone was a space of spontaneous connection for the entire household". Hahaha was it fuck. Absolutely loved having to chat to my girlfriend in the hall where everybody could overhear as they walked past. What a dingus.

The Penderyn Music Book Prize Longlist Announcement is free and in Walthamstow in January and apparently includes a whisky tasting. WOO-HOO!

I love things that make me feel like I'm not the nerdiest person in the room: "The Maths of Doctor Who #1: 'I don't mean edible pie, I mean circular pi.'"

Absolute cracking line after cracking line in this: "I have occasionally succumbed to a late-night Google, but his name is too common to yield any intel."
"My grimly inappropriate boyfriend dumped me in the pub when I was 17 – I gave him his Christmas present anyway" – Emma Beddington

I used to love them so much but it has all gone a bit Spinal Tap: "Noah and Depeche Mode Made the Ultimate Synth-Pop Wardrobe for Your Own Personal Jesus". The collection apparently includes new graphics as well as the band's iconic rose on outerwear, tees, hoodies, and scarves and costs one squillion dollars.

New Sparks song for Xmas: "Please Don't Fuck Up Our World"

Old but made me laugh: "I REGRET TO INFORM YOU THAT MY WEDDING TO CAPTAIN VON TRAPP HAS BEEN CANCELED"

This is a really sad read: "André 3000 says a new album isn't coming, explains how fame has killed his creative drive"
"I'd like to, but it's just not coming…My focus is not there, my confidence is not there…Any little thing I put out… people nitpick it with a fine-tooth comb."
He hasn't put out an album since 2006.

I make electronic music about the paranormal and I've got two gigs coming up next year, if that sounds like your sort of thing. 30 January in Shoreditch supporting Hate Moss, and my first home-town Walthamstow gig for 25 years will be on 5 March supporting Pye Corner Audio.

Thank you so much for subscribing to my newsletter – hope you have a wonderful Christmas and New Year with friends, family, loved ones, and enemies. Season nine of Friday Reading will begin some time in the new year.