Friday Reading S11E06
Friday Reading is a weekly series of recommended reads from the Guardian's Martin Belam, covering journalism, media and technology, and other interesting nerdy things. It is now in its eleventh season. Sign up here.

Amazing piece of journalism on internet trolling campaigns where everybody is the victim, it just keeps going deeper and deeper, and then just finishes with a devastating final click.
During multiple interviews in recent months, Ms. Atas refused to divulge much about herself. She told me she was worried about the impact of a New York Times article. "Anyone who Googles my name, this will come up, and I don't want this to come up," she said.
A Vast Web of Vengeance – Outrageous lies destroyed Guy Babcock's online reputation. When he went hunting for their source, what he discovered was worse than he could have imagined.

For Conservative equalities minister Kemi Badenoch to log into Twitter and suggest that I had made the story up is an incredibly damaging allegation that goes to the heart of my professional integrity – while absolving her of her responsibility to be answerable to the very taxpayers who pay that internet bill.
Blistering and absolutely fucking righteous response to Badenoch portraying a request for comment on a story in advance of publication as something sinister from journalist Nadine White in the Evening Standard. It's qwhite interesting how the Tories have allowed the public abuse of White to run-and-run without clarifying that she was simply doing her job according to established ethics standards, in a way in which you can't qwhite imagine if say, Trevor Newton-Dunn or Harry Cole had been called out for daring to ask a minister to comment on something. Fucking arseholes.
"Kemi Badenoch violated me, assaulted the free press and still refuses to apologise" – Nadine White, Evening Standard

I think what vexes me particularly about this is, you know horrible cesspit Gab? Every time a journalist approaches Gab for comment, their policy is to publish the email in full and doxx the journalist, and issue a public description of why the media is terrible and the journalist is spreading lies and fake news. Even if the request for comment is something bland and innocuous like "I am writing a profile of social media alternatives to Twitter, would you care to say a few words about how you deal with moderation and racism on your platform". Gab then email that doxx and their response to everyone on their mailing list. Kemi Badenoch is essentially a UK government minister behaving in the exact same way as Gab. WITH THE SUPPORT OF THE GOVERNMENT AND THE PM'S PRESS SECRETARY.

Police came to Andy Aitchison's home in Folkestone around seven hours after he took photos of a protest at Napier Barracks that lasted only about 30 seconds. The 46-year-old told the officers he was a member of the press and showed them his National Union of Journalists press card but they responded that it "doesn't matter". They seized the memory card from his camera and his mobile phone.
Photographer arrested and held by Kent Police for seven hours for covering detention centre protest – Charlotte Tobitt, Press Gazette

Intriguing behind-the-scenes on delivering new online government services during a pandemic, and the limits that places on the user-testing you can do: 5 things we learned in the first 6 months of New Style ESA going online

Me (being invited to do a gig in Europe prior to 1 January 2021): Sure, sounds great!
Me (being invited to perform at the exact same gig in Europe after 1 January 2021): Hang on, let's me just check this absolutely insane fucking flow chart from the Musicians' Union to work out exactly how many € I will lose by accepting.

People commenting on anonymity in online communities while ignoring something like 30 years prior art that shows people being forced to use their real name isn't a solution is as useful and insightful as me shouting "Have you considered just scoring some more fucking goals, lads?" at Leyton Orient from the North Stand.

I mean that doesn't stop me, but still :-/

Speaking of which…
We'd rather invest in vital local journalism than an endless and expensive game of comment whack-a-mole. Is this a violation of the First Amendment? No. The First Amendment limits the government's ability to regulate speech. It does not require news organizations to treat all speech as equal, or to provide an open forum for comments. Rather, the First Amendment ensures The Inquirer's right to publish what The Inquirer chooses to publish.
Why we're removing comments on most of Inquirer.com

I was absolutely fucking incandescent this week, in the wake of RTD's It's A Sin, to see Good Morning Britain have Piers Morgan speak to Andrew Pierce about HIV/AIDS in the 80s, and to see Pierce recount the way he was stigmatised for being an out gay man at the time, and how it was treated like a "gay plague". He spoke about in his local pub how he was forced to bring in and use his own pint glass, because the other locals thought they would catch it off him. And how on the scene people would talk about someone who you hadn't seen for a few weeks "go home" and often it would be a shock to their parents that their son had AIDS because they wouldn't have even been able to be open about being gay and suddenly they were going to die. And Pierce spoke about trying to visit dying friends in hospital, and being treated like scum by hospital staff because he might also be carrying and transmitting the virus.
AND THEN PIERCE WENT AND FORGED A CAREER SUPPORTING THE FUCKING TORIES WHO PUT IN SECTION 28 AND DEFENDED IT UP UNTO 2003 AND WHO HAVE A PM WHO CALLED GAY MEN "TANK-TOPPED BUM BOYS" AND EARNS HIS MONEY WRITING FOR THE DAILY FUCKING MAIL.
Marcus put it better on Twitter, as he often does: "Sure Margaret Thatcher caused untold harm to queer people during the AIDS crisis and denied us information that caused closeting, shame and death but you've gotta hand it to her for making rich people richer – Gay Tories"

"People don't want it to be an avalanche," he says. "It's too normal." That unyielding skepticism, along with the haunting nature of the Dyatlov Pass incident, will keep conspiracy theories alive well into the future.
Has science solved one of history's greatest adventure mysteries? – The bizarre deaths of hikers at Russia's Dyatlov Pass
Includes this grim and haunting detail of how science gets done sometimes:
"We discovered that, in the 70s, General Motors (GM) took 100 cadavers and broke their ribs," says Puzrin, "hitting them with different weights at different velocities" to see what would happen during a car crash. The data was ultimately used to calibrate the safety of seat belts. Some of the cadavers used in the GM tests were braced with rigid supports while others weren't. Back on the slopes of Kholat Saykhl, the team members had placed their bedding atop their skis. This meant that the avalanche, which hit them as they slept, struck an unusually rigid target—and that the GM cadaver experiments from the 1970s could be used to calibrate their impact models with remarkable precision.

I can 💯 guarantee you will not be disappointed by this incredible office coffee pettiness from Natalie Guest ☕️.

Fingering is fun. No hang on, come back. Not like that. I mean the attempt to bring back the RFC-742 fingering protocol.
Once upon a time, you could finger your boss, finger a vending machine, finger the weather, finger John Carmack, etc… Users would share .project and .plan files, showing their current project and plans. The original telepresence. The original Internet of Things. The original microblogging. Although it's fallen out of fashion, finger still works and still has a valid purpose. Finger.Farm breathes new life into an ancient protocol, bringing the modern finger features and finger functions into the future.
Finger.Farm: Modern Finger Hosting by Jon Roig

I have some trepidation about this Sparks documentary because I usually don't like music docos. Basically you tend to find out half the band hates the other half, all the cool bits you like were actually done by the engineer in the studio while the band were out clubbing, and the bassist strangles puppies for a hobby/votes Tory. It sounds great as a film, but I'm not sure I want to *know* any more about them?
The Sparks Brothers review: Edgar Wright's electric portrait of the pop duo

We don't deserve Catherine Anne Davies aka The Anchoress – this is a great essay/interview/howl in the Quietus about "Why It's Time To End The Myth Of Suffering & Creativity"

I already have too many songs and then somebody told me about February Album Writing Month where you produce 14 new tracks in 28 days. Ummmmmm.

Really good interview with Toyah which also doesn't shy away from at least one of the reasons her Facebook vids with Robert Fripp have been so popular: Toyah Willcox – 'My mother always wanted me altered in some way. I was never right'

You'd imagine the Venn Diagram of "Fall fans" / "Talk Talk fans" / "Lived near Duxford in the early 80s" is pretty slim pickings.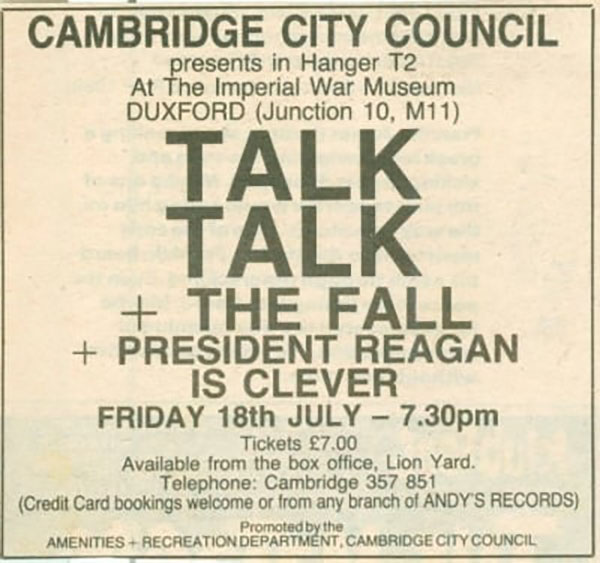 A lot of things I love are coming up for their fortieth birthday this year, including Duran Duran's debut single. Annie Zaleski writes for Salon on "the perfect debut single that boldly launched Duran Duran"

Eric Random has a new LP out and I like it. He's basically responsible for me doing gigs again – along with me having overcome chronic stage-fright by stepping up to sing with The Fallen Women. I saw Eric Random in Walthamstow and was like "WOAH there is a market for people making 80s sounding electronic music with modern tech, people are enjoying this."

An unborn baby has recorded their debut album and already has more Spotify plays than me, etc etc…

I wrote a one-line review of every album I listened to in January as part of #TimsTwitterListeningParty.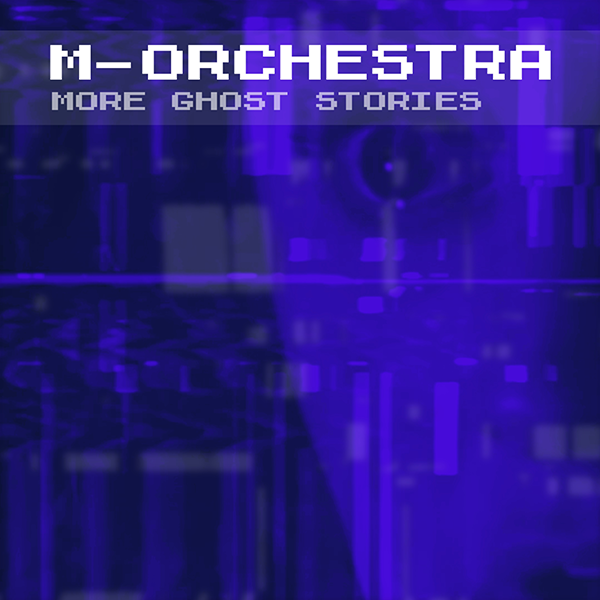 I've got a new EP coming out on 15 February – More Ghost Stories – available from all decent digital stores etc etc. Before then I will playing the whole of the new EP plus some other songs live on my Facebook page – it's at 8pm on Thursday 11 February. If you can't wait for that, you can watch last night's 15 minute set on Twitch.