Friday Reading S11E19
Friday Reading is a weekly series of recommended reads from the Guardian's Martin Belam, covering journalism, media and technology, and other interesting nerdy things. It is now in its eleventh season. Sign up here.

It has been the Guardian's 200th birthday this week, and of the pieces published in celebration this has been a moving highlight, with a couple of gasp out loud moments: 'I seek a kind person': the Guardian ad that saved my Jewish father from the Nazis
"Richard Nelsson, the Guardian's information manager and archivist, emailed me a picture of the ad in January. Its existence had been the subject of family myth, but I had never seen it before. Its emotive impact took me by surprise – three lines of anguish, from parents willing to give up their only child in the hope he would be safe."

"'A séance room was a permissive place,' according to Summerscale, 'mystical, tactile, erotically charged.'"
"When Teacups, Burning Lumps of Coal and Eggs Flew Through the Air" – Marilyn Stasio review of The Haunting of Alma Fielding, A True Ghost Story by Kate Summerscale

"Trump was a distinctively prolific liar, so it's neither a surprise nor a compliment to note that his successor has been far more accurate than he was. And Biden also just talks much less in public than Trump did. According to data provided to CNN by Factba.se, a website that tracks presidential utterances, Biden said about 28% fewer public words than Trump through April 29 of their respective terms."
"What it's been like fact-checking Joe Biden through 100 days" – Daniel Dale, CNN
[Please be aware that after about 15 seconds from clicking this link you'll totally lose track of what you were trying to read because some video you long since scrolled-by will start auto-playing with the volume up because CNN's management value ad revenue over the user experience of actually reading an article. I'm definitely not bitter about this after a year of live blogging US politics.]

I went into town this week and it was still empty.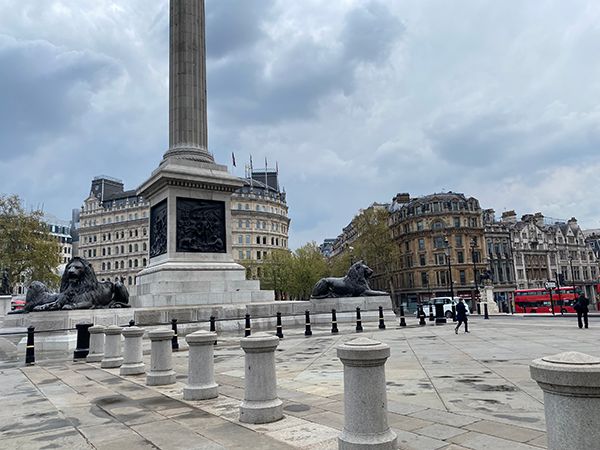 A lot of what people seem to decry as "Woke culture cancelling our language" I count as "Can you listen to how it lands, just for a bit?"
"The Associated Press Stylebook and BuzzFeed Style Guide have credited "Drop the Hyphen in 'Asian American'" with being the impetus for changing their guides. Please note that this contains slurs as examples of how our society and language have evolved."
"Drop the Hyphen in Asian American – On the historical divisiveness of an unnecessary punctuation mark" – Henry Fuhrmann

DO MY QUIZ!!! Tall buildings, wrestling monarchs and window ledges: take the new weekly quiz

This is an interesting trawl back through the history of Thompson Twins, who I think are criminally under-rated, although it is a slightly odd format because it basically starts with the author going "I had a couple of their records and didn't know much about them and so I thought I'd write an article about how I didn't know anything."

No, you didn't expect to get engrossed in a piece about how "Snooker Loopy" became a hit in the UK 35 years ago either, did you?

"Slates was a crucial turning point because it defies working class stereotypes, specifically in relation to art. The Fall's lyrics aren't restricted to the usual kitchen sink realism in the vein of 'That's Entertainment' by The Jam. Rather than having a "woe is me" perspective on life, Smith liberates himself using working class intellectualism to reclaim art as a thing for the people, not academics. This teaches us a vital life-lesson: you don't need to be privileged to be cultured."
"A Definitive Rant: The Fall's Slates 40 Years On" – Hayley Scott, The Quietus

Lovely video about Love Vinyl records, a shop which is co-owned by one of my mates I used to work in Reckless Records with.

Read this interview with UB40 and rethink everything you know about them.

A one-line review of every #TimsTwitterListeningParty I joined in April 2021

You can pre-order my new album, The Grim Circus, on Bandcamp from today. You get two tracks instantly. It comes out on all good digital platforms on 14 May. It is my first album for 16 years, and is the culmination of about four years work.