A one-line review of every #TimsTwitterListeningParty I joined in May 2021
Nobody has asked for this. Tough luck. It's a monthly series now. I've marked LPs that I'd never heard the whole way through before with a 🆕 icon. The links (mostly) go to the album on Spotify.
Japan Gentlemen Take Polaroids Truly Steve Jansen is a master of the format, accompanying the album with an absolutely delightful set of stories and pics. I used to have the 'Exorcising Ghosts' compilation but not this, so am very familiar with most of the tracks, in a slightly different order, but 'Burning Bridges' and 'Ain't That Peculiar' always take me by surprise.

🆕Royal Blood Typhoons An odd one this, I can remember obsessively playing their debut album over and over on the DLR on my commute to work and loving it, and then suddenly I just went off them, and never played or thought about them again. Alas, this album did not switch it back on although I did like the wobbly piano final track.
The Fall on Facebook Grotesque (After The Gramme) [The Mighty Fall Facebook group host synchronised listenings at 10pm on Tuesdays so I've included these too] This is an absolutely bona fide classic The Fall album from start to finish but one downside of doing listening parties is you get to a song like 'Impression of J. Temeperence' and for years I'd thought it was about some guy doing black magic and conjuring up some kind of Dorian Grey/Golem-esque scenario and then everyone in the group is like "Yay! It's the song about that guy who fucks his dog!" and you are like, sorry, wait, what? Definitely among their very best albums. Even with the dog-fucking.
🆕The Lucid Dream The Deep End I often think about how artists today have got something like 70+ years worth of recorded electronic music to listen to and play with, and all of it is on YouTube to discover, which leads to bands like The Lucid Dream whose touchpoints seem to be New Order, 90s rave and acid house, psychedelia, and then occasionally the 12-string guitar bits when Led Zeppelin used to warble on about hobbits. Knew I was going to love this album and did.
🆕The Coral Coral Island By contrast, the Coral have always ploughed a much narrower set of influences. Seeing them support the Manics the other year and a couple of #TimsTwitterListeningParty sessions last year made me realise I had under-estimated how much I had enjoyed them over the years. This album fell a little flat on me though, and I didn't really get on with the fairground narration interlude themes. Maybe needs another listen.
Suede Coming Up God, remember the pressure this album was under to be good? 'Trash' as an opening statement of intent, then twenty seconds into 'Filmstar' here and you are already like, yeah, it's all gonna be good. It's all good. Suede are still good. Ten singles basically.
🆕Iceage Seek Shelter I found this a perplexing listen – essentially all of it sounds quite like other things I like but somehow it just rubbed me up the wrong way. Competent, but do they bring enough new themselves to the party?
The Fall on Facebook Imperial Wax Solvent [The Mighty Fall Facebook group synchronised listen] The start of a run of six albums with essentially the same steady line-up, this album barely puts a foot wrong. 'Wolf Kidult Man' is up there with anything the band ever produced, and even the diversions of having Eleni sing 'I've Been Duped' and the whispered electronica of 'Taurig' still reach the sweet spot. '50 Year Old Man' hits harder in 2021 as I approach my fiftieth birthday than it did in 2008, that's for sure.
🆕Dodie Build A Problem It's always lovely when a bunch of superfans turn up for a #TimsTwitterListeningParty for it was nice to see the enthusiasm with which people thought this album spoke to them, but for me, the menace of final track 'Before the Line' aside, it didn't really do anything much.
Crass Feeding Of The Five Thousand As a kid starting to go into the indie record store Ugly Child on Hoe Street in Walthamstow in the early 80s, the artwork on these Crass albums always stood out. It was clearly weird, dangerous and subversive stuff, and still seemed painfully topical in places 40+ years later.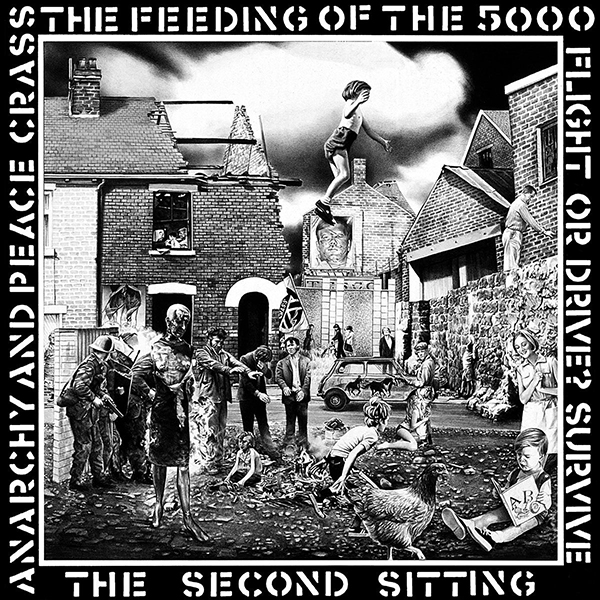 The Ramones Road To Ruin A slightly mellower album from the Ramones compared to the first couple – I'm a sucker for the vocal FX on 'Go Mental' and you can't go wrong with 'I Wanna Be Sedated'.
My Bloody Valentine Isn't Anything Without being all holier-than-thou about it, I always think that the noise of MBV didn't have quite have the same gobsmacking effect on me that they did on my contemporaries because by the time this came out, I'd already been exposed to Swans etc, but it is a truly impeccable album and what a fucking immense tune 'Feed Me With Your Kiss' is.
🆕Friendly Fires Pala Friendly Fires missed their own party. Hearing the name and looking at the sleeve, I knew it was either going to be packed absolutely full of bangers I had on playlists at the time, or I wasn't going to recognise it at all. I did in the end recognise a lot of it, but I think like with Django Django and Everything Everything it all veers slightly too close into people who have been out clubbing and *actually enjoy it* which doesn't suit my endlessly melancholy vibe at all. I'm 100% a "love gigging, will tolerate clubbing" kinda guy.
🆕Flyte The Loved Ones Was looking forward to this as I enjoyed their first #TimsTwitterListeningParty very much, and it didn't disappoint, with hints of Blue Nile, Crowded House, Beatles, Talk Talk, Squeeze. All very enjoyable.
The Fall on Facebook The Frenz Experiment [The Mighty Fall Facebook group synchronised listen] You know how if you write down your top ten tracks by The Fall, then every time it is different? Mine always includes 'Oswald Defence Lawyer' which closes this album. The synth brass sounds have dated a bit on this LP, but it has some corkers on it – 'Carry Bag Man', 'Athlete Cured' and 'Bremen Nacht'. I went to see them promote this at a chaotic free gig at HMV's Oxford Street store.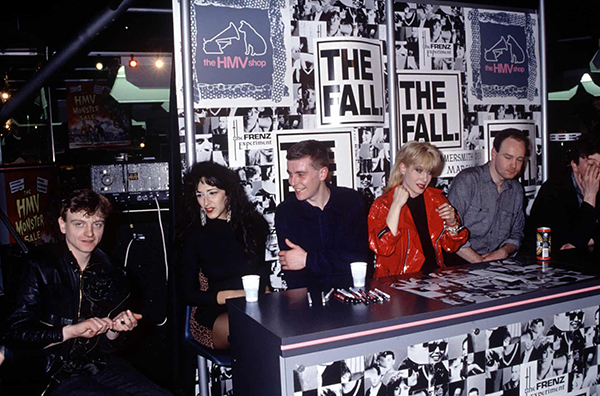 m-orchestra The Grim Circus I did a vanity #GrimTwitterListeningParty for my own album, and you can replay it with my track-by-track guide.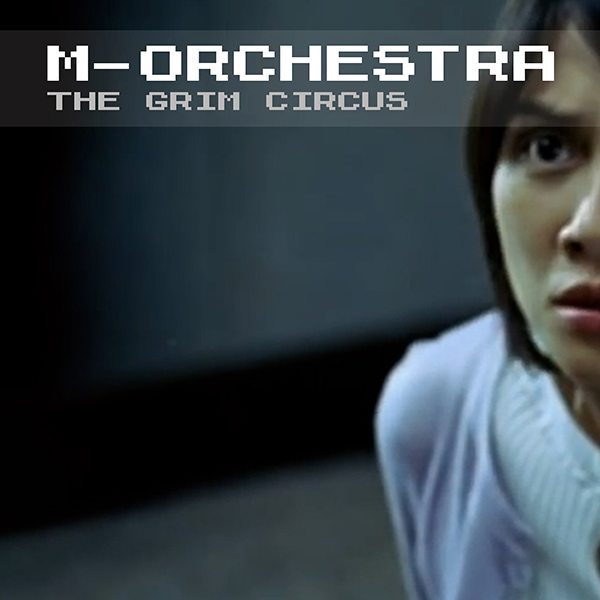 Gary Numan Intruder I absolutely adore him, but I do feel like he has essentially been making the same album over and over again since 2005, but I don't mind because it is an album I really, really enjoy. It is the slower songs that do the heavy lifting on this one: 'I Am Screaming' and 'Now And Forever' in particular being the standout tracks. I've seen him live more than any other artist – including Depeche, The Fall and the Manics.
Tanita Tikaram Ancient Heart Fairly certain this is one of those #TimsTwitterListeningParty albums that I haven't heard since when I first started working in records shops in 1989. Thought 'For All These Years' with Mark Isham tootling away on it was the strongest track. I don't recall it being much my cup of tea when it first came out, and it still wasn't, but there was a lot of love for it on the Twitters.
🆕Max Tundra Mastered By Guy At The Exchange I love the Max Tundra LPs. They are like 1,057 bits & pieces of other things that I love, plus some things I don't, all smushed up into something that really doesn't sound like anything else and which also got hijacked by robots and ninjas at the last moment.
🆕Penfriend Exotic Monsters I hadn't made the connection that this was by Laura Kidd aka She Makes War and it is an incredibly accomplished and varied album which will be on repeat for weeks to come – particularly fond of the tracks with a Depeche Mode edge but with better tunes than they themselves have written for years.
The Fall Wonderful And Frightening World [The Mighty Fall Facebook group synchronised listen] Side one of this is absolutely impeccable top-notch The Fall. I used to have it on tape which came bundled with loads of extra tracks and so when I listen to the vinyl track-list I find side two a bit of a let-down, missing a few tracks that I really want to hear, which means I probably judge it a bit more harshly than it deserves. Apart from 'Bug Day'. That can clear off.
Spectres It's Never Going To Happen And Here's Why This was a good old enjoyable racket although after about fifty minutes I noticed the same song came round again and I realised I had been listening to it on some combo of shuffle/repeat so not sure I got entirely the correct experience.