Friday Reading S13E03
Friday Reading is a weekly series of recommended reads from the Guardian's Martin Belam, covering journalism, media and technology, and other interesting nerdy things he found on the internet this week. It is now in its thirteenth season. Sign up here.

Fern McErlane has updated for 2022 this list by journalism.co.uk originally from *GASP! THE HORROR! THE HORROR! THE PASSING OF TIME* 2013 of 36 blogs by journalists, for journalists. All well worth adding to your Google Reader feeds. Hang on, what's that you say now?

[Imagine me doing this next routine in the style of that Carly Aquilino Four Seasons Total Landscaping Tiktok]
I'm not saying that it is 2022 and journalists should be better at web/tech by now but this week Chopper's Politics e-newsletter claimed that Sue Gray was the most searched for woman on the internet by *starts laughing* typing sue gray into google *laughter increases* without quotes *begins howling* and saying cos there was 3.1 billion results or some such shit *OH MY GOD HELP ME* she was being searched for more than Adele. Dear god, we've had world wide web internet search engines for three decades.

Congratulations are due to my colleague and live-blogging role model Andrew Sparrow, who this week told readers "I'm not normally one for birthdays, but today my Guardian Politics Live blog celebrates its 2,500th edition, with more than one billion page views - Thank you to everyone who's read it, or contributed in any way."

Ron wants to be sure that you didn't miss this week's Guardian Thursday quiz: Ruby slippers, Ruby Tuesday and a ruby anniversary – take the Thursday quiz

JOBS KLAXON: Martin Stabe and his FT-types are hiring an Editorial Data Scientist.

ME (AN IDIOT): *gestures at all the linkrot on the internet from the golden age of web 2.0*
YOU (VERY WISE): They should have minted those URLs into a giant distributed NFT blockchain database and charged people $29 for each hyperlink then they would have lasted for ever like this terrible jpg of an ape will.
Or as this brilliant Twitter thread from @eevee puts it:
"Ownership is a fake idea. We invented it because when there's only one of a thing, someone has it, and it's theirs. But then we invented computers and digital abundance. And now so much stuff is just THERE. You can go make your own copy, now you have it too. This is true freedom, the dream of the web. Everything is bountiful. Everything is for everyone. You want to carve it up and add locks and permissions and sales and transfers because in your wildest dreams you cannot even imagine a world not designed like a trading card game … These people want the blockchain to devour everything. They want you to log into twitter with a wallet and pay to mint tweets. They want you to ONLY be able to use avatars, or post images, you own the NFTs for. Every time they talk about the "potential of the technology" they mean some new form of insane restriction. Because there's no profit in freedom. Profit comes from having restrictions, then charging for them to be relaxed."

In a similar area, here's Keza MacDonald with "I've seen the metaverse – and I don't want it"
"I would feel better about the idea of the metaverse if it wasn't currently dominated by companies and disaster capitalists trying to figure out a way to make more money as the real world's resources are dwindling. The metaverse as envisioned by these people, by the tech giants, is not some promising new frontier for humanity. It is another place to spend money on things, except in this place the empty promise that buying stuff will make you happy is left even more exposed by the fact that the things in question do not physically exist."

SEE ALSO: "The crypto crew may have convoluted explanations for this setback, but the simplest one is best: bitcoin has always primarily been an instrument for pure speculation; when high-risk assets are out of favour, it will be clobbered."
"Crypto's gold standard claims are fading fast" – Nils Pratley

AND: Premier League and Uefa taking legal advice over John Terry's NFT ape tweets. What a sentence. What a time to be alive.

MUST WATCH: Seán Burke's Antiques Roadshow – NFT Edition

OK, that's enough NFT nonsense. This is genuinely superb every time it resurfaces– Telly Savalas looks at Birmingham in some incredible sort of promotional video from the seventies.

Super useful: Common myths about what UK Highway Code changes will mean

Tremendously sad news about Barry Cryer. One thing I find as I get older is there have been people who have literally been part of the fabric of public life for all of your own life, and Barry was one of them. I simply can't imagine a time in the 1970s when I was young enough to not know of him – and even then I was still probably watching things he'd contributed too. What a career and what a life well lived, and a really touching note-perfect message from his family as well. I saw him and Ronnie Golden do a turn at the Walthamstow Trades Hall in September just gone, obviously Barry was very frail by then but still absolutely hilarious and with incredible showbiz anecdotes.

An interesting video with the architects and designers of one of the new Crossrail stations: Design & Architecture – Whitechapel Elizabeth line station
Honestly, when that thing finally opens end-to-end I reckon I'm gonna take a week off work just to ride around it going WHEEEEEEEEE!!! and checking out all the station architecture. And then blogging about it loads. Lucky, lucky you.

What an intro:
"There are plenty of reasons to dislike England's King John. Whether it's his loss of much of England's land on the continent, his loss of much treasure in the sea, the possible murder of his nephew, Arthur, or the starvation of those who spoke ill about him, he wasn't loved much in his own time, nor is he loved much today."
Fascinating essay about what it meant when essentially Pope Innocent III excommunicated the whole of England because John was being an arse: "When England was under Interdict" – Danièle Cybulskie, Medievalists.net

TWITTER ACCOUNT OF THE WEEK: @BitsOfJupiter – psychedelic close-up NASA images of Jupiter every four eyes

"It feels wrong and embarrassing, in a way, to talk about feeling lonely. I have lots of wonderful friends, who know that I've been struggling and are only a phone call or message away if I need them (and often I do). But there are often stretches of time where I just don't want to reach out to anyone and I know that it's bad and kind of a self-fulfilling failure that will only push me deeper into the lonely pit, but sometimes when you're in it, it feels better to, ironically, be alone there."
"Not to be dramatic, but the past 18 months have been some of the loneliest of my entire life" – Mollie Goodfellow

Jen Ives wrote this and it doesn't really say anything much but it made me laugh a lot along the way to not saying it – "Black lagoon"


DOCTOR WHO CORNER: This piece is an absolute masterclass from the Radio Times in "how do we get some page views action from that wildly viral rumour" without actually reporting that it might be news – Is David Tennant the 14th Doctor? Doctor Who rumour explained. My fave trick back in the Mirror days with a social media yarn was always to start the second par with "The post on Reddit, which has gone viral despite offering no supporting evidence for the claims, etc etc" and then keep going with "the outlandish claims", "the next unlikely sequence of events" etc etc

Really enjoyed this romp through reviewing all of Peter Davison's final season and it had so many quotable lines but I just adored:
"I know 'I would simply not make bad stories' is the regular cry of the dull internet critic, but how did they think this was in any way competent, let alone actually good?"
"Watching Doctor Who: Season Twenty One" – Nick Barlow, Speeding Through Time And Space

TRACK OF THE WEEK: Machina (featuring Mariana Saldanaña) by Boy Harsher & BOAN – if you told me this was a recently unearthed Pet Shop Boys demo from 1989 of a b-side track they were planning to do as a collab with some Spanish singer I would 100% believe you.

I disagree with nearly everything he says in this article while also agreeing that this is an absolutely killer line and true: "Never before in history have new tracks attained hit status while generating so little cultural impact."
"Is Old Music Killing New Music? – All the growth in the music business now comes from old songs—how did we get here, and is there a way back?" – Ted Gioia
Younger me would have written a 3,500 word riposte that just boiled down to "the internet has rewritten the rules of supply constraints, haven't they mate?"

Andy Chislehurst has put together an absolutely superb sounding three hour Spotify playlist of his favourite dub reggae tunes – World of Echo: Dubwise selection. It is, I think, a cut-down selection from a much longer playlist that goes with this piece about a list of 125 best dub reggae albums that was published in the late 1970s.

I was a huge fan and sometime completist of Food Records so I can only echo these words from Jesus Jones: "We're heartbroken at the loss of Andy Ross, one half of the mighty Food Records. Without him, we'd have never been able to do what we did. We'll always be grateful, and we'll always miss him. Goodbye boss xxx"

Join me every day during the Winter Olympics for the Guardian's Beijing daily briefing – live from Walthamstow! Sign up here.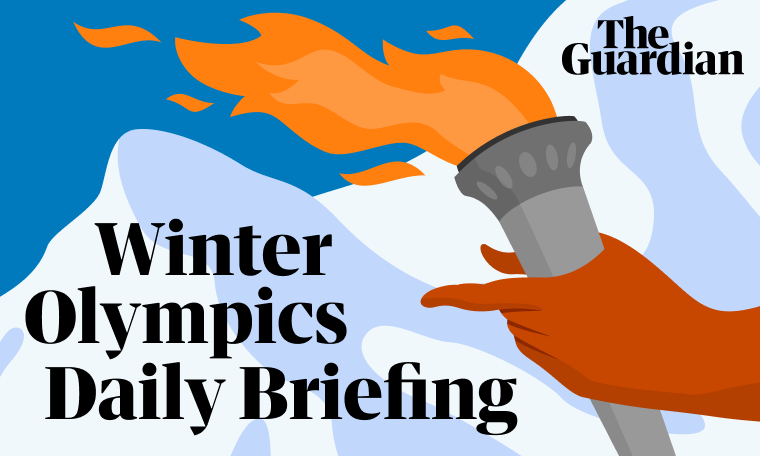 The first preview instalment came out today: Beijing 2022 Winter Olympics daily briefing – one week to go to an ice and snow spectacular