What if taking my son to Leyton Orient is ruining football for him?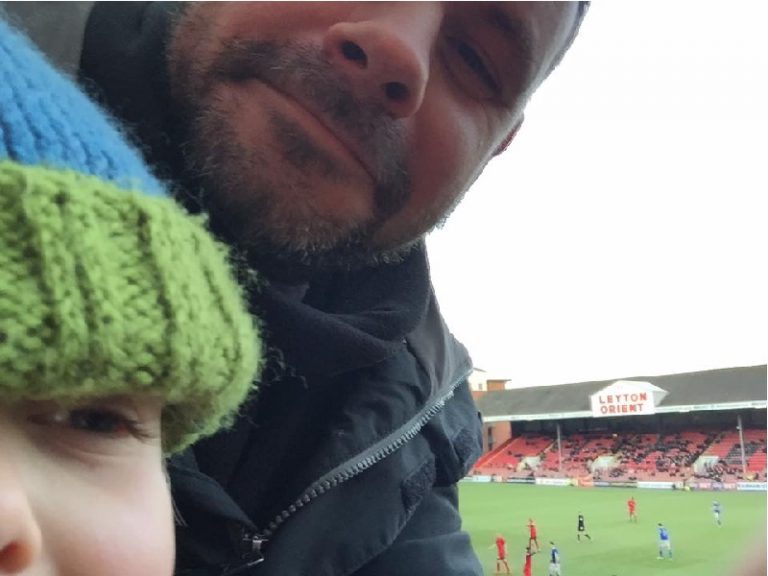 A couple of weeks ago my wife and children had just landed in Cyprus, and she texted me: "On the bus to the hotel – we're the first stop – thank God! Flight was fine – no bumps. James wants to know if Orient won".
"Tell him we won" I texted back.
About a minute later I added a second message: "(we didn't win)"
It's child cruelty, really, isn't it? Taking your kid to lower league football. That's the joke. It is sometimes made to me. I sometimes make it myself, in a self-deprecating way. But I've been taking my little boy to watch Leyton Orient this season, during the worst period of their long history, and I can't help but worry that I'm going to ruin football for him.
I sometimes ask him before matches what he thinks the score will be, and like most children, it's some outlandish suggestion. But it is never for Orient to win. "They only win when grandad comes, don't they, daddy?" he says. It is a football fan cliché that you have to be superstitious about the result based on your lucky pants, or that one friend who rarely goes to away matches but you always seem to win when she does. But James has literally been to fifteen home matches this season and only seen Leyton Orient win once – our Boxing Day fixture against Crawley Town – which my dad came to as well.
It was so lovely, my then 3 year old son, my 72 year old dad, and all of us at the football together, then getting the bus home to go and have Boxing Day dinner with the rest of the family.
But bringing your children to football is about trying to pass on a love of the game. And watching your team capitulate again and again isn't a great introduction.
As a parent you also begin to realise that the foibles you have about supporting football are the ones that you are going to pass onto your kids. James thinks it is really funny if the ball lands on the roof of the stand. It makes me think that maybe the reason that I find that funny and pointed it out to him as being funny is because my dad finds it funny and pointed it out to me when I was little. Or maybe it is just objectively funny when the ball lands on top of the stand in lower league football and I'm over-thinking it. Who knows? But the only chant James has picked up is a chorus of "You don't know what you're doing", which at Orient can be aimed equally at the refs, our ever-changing roster of managers, or the owners. We both find that funny, and regularly employ it away from the ground.
Why did I start bringing James? Leyton Orient has for a long-time been a very family and community focused club, appreciating perhaps, that in the shadow of near-neighbours Arsenal, Tottenham and West Ham – the latter having recently moved somewhat closer thanks to that taxpayer gift of the Olympic Stadium – being small and affordable and friendly was a winning USP.
For 2016-2017 the club introduced a new season ticket pricing policy. An Under-11s season ticket was just £11. At that price it seemed churlish not to buy tickets for my kids. My wife has been kind enough to cover our childcare on alternate Saturday afternoons for a few years now, but there's been the odd occasion where I've taken the children because she had work or prior commitments. For £22 it would mean I'd always have the option of dragging them along, and, if they didn't want to come, the worst-case scenario was that an annoying fat bloke couldn't sit next to me.
My daughter hasn't wanted to go this season. She found the atmosphere exciting when we went to see Waltham Forest vs Clapton FC, but I think she enjoyed being a loud voice in a small group of vocal fans, compared to the sometimes library-like atmosphere of the bit of the Matchroom Stadium where I sit. And I think secretly she rather enjoys getting a weekend afternoon alone with her mum, without her younger brother in tow.
At four, James' grasp of the technicalities of football is pretty slim. He knows Orient play in red, and when the team news comes out on Twitter an hour before kick-off I show him, and he's always interested in what colour the other team will wear, and whether their badge is better or more boring than Orient's. But during matches he is still a bit confused about why the goalkeepers and referee are different coloured teams, and needs constant reminding about which goal we are trying to score in. He loves the touchline antics of Theo, Orient's mascot, although he's always been a little nervous of going near him to get his photo taken. James will usually sit through watching the first half patiently, if supplied with plenty of snacks, and then at half-time I'll hand him my phone or the iPad, and he'll sit and play that until it is time to leave. If I'm honest, I suspect he values the snacks and the uninterrupted screen time more than he values the matchday experience, but you've got to get them started somehow, eh?
It's certainly changed my matchday routine. Saturday afternoons used to be an opportunity for a bit of peace and solitude. Middle-aged men can be creatures of habit when we go to football – same pub, same seats at the ground, same drifting off looking at the sky during a particularly dull game, thoughts of work and worry banished in the zen nothingness of watching League Two players aimlessly humping the ball round the park in a mid-table fixture with nothing much at stake.
I find if I go to game on a Saturday without him now I miss my little buddy. I still do the same routine, but the stop in the William IV to watch the end of the lunchtime Premier League match doesn't have anyone I can beat at Paw Patrol Top Trumps.
There's nobody to carry on my shoulders, and pose for a double selfie outside the ground. He's got his own little spot he always runs to and sits down during half-time while I'm queueing up to get refreshments. When he's not at the game I still find myself instinctively glancing over to that spot every 20 seconds to check he is OK while I'm waiting to get my half-time beer and a pie.
I worry the whole experience of this season is going to end up with me ruining football for him. Well, technically not me. It's Leyton Orient's owner that is going to ruin football for him. If you haven't been following the story, Becchetti bought Leyton Orient three years ago, when they had just lost the League One play-off final on penalties. Since then the club has been on a downward spiral that has seen them have 11 managers, get relegated from League One and, this week, crash out of the Football League altogether and into next season's Vanarama National League. Assuming the club still exists at all. I reported on their last court appearance for the Guardian, and the club are up in court again in June for unpaid debts, and face the prospect of being wound up.
James won't be coming with me this Saturday – he has a friend's birthday party to go to. It's Orient's last home game of the season. After 112 years, it is their last home game in the Football League, at least for a season. Possibly forever – I wrote a piece this week examining how not everybody bounces back from being relegated out of what I called Division Four when I was growing up. But it might also be our very last home game ever.
It seems crazy to think that this year I started taking my three year old to football regularly, and by the end of the season the only club he's ever been to watch could be out of business. The Leyton Orient Fans' Trust have done an admirable job of raising money for a regeneration fund, and we'll just have to see what next season brings. If the club end up in administration, they'll start the season with a points deduction, and heaven knows where they'll end up.
But come August, there will be some form of Orient, playing some level of football, somewhere, and I know I'll be there. Hopefully, my little boy will still want to come too.