Friday Reading S08E03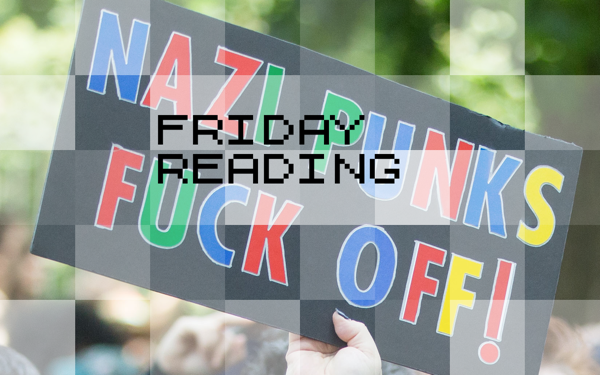 Friday Reading is a weekly series of recommended reads from the Guardian's Martin Belam, covering journalism, media and technology, and other interesting nerdy things. It is also available as an email newsletter. Sign up here.

"This is the myth of the free speech crisis. The purpose of the myth is not to secure freedom of speech – that is, the right to express one's opinions without censorship, restraint or legal penalty. The purpose is to secure the licence to speak with impunity; not freedom of expression, but rather freedom from the consequences of that expression."
Every fucking word of this from Nesrine Malik – "The myth of the free speech crisis: How overblown fears of censorship have normalised hate speech and silenced minorities"

Why one worker at Vox Media changed their minds about unions and joined one.

Rik Worth on working in journalism: "My Impostor Syndrome Comes From Being Working Class"

I passionately believe this: "Election law needs to change before any election to safeguard our democracy", Will Moy, Full Fact

"The European Space Agency was forced to perform a 'collision avoidance maneuver' to prevent its Aeolus spacecraft from potentially smashing into one of Elon Musk's Starlink satellites"
Agile development, but in space: "SpaceX Says a 'Bug' Prevented It From Receiving Warning of Possible Satellite Collision" – George Dvorsky

"The topic is too heavy for small talk. So on Monday mornings, I have no idea which of my colleagues also got tear-gassed the night before. Or if the grandmother who lives across the road was the same one I saw offering snacks to hungry demonstrators."
"The Mask I Wear on the Weekends" – Karen Cheung in Hong Kong, NYT

"There is a package of values and behaviours connected to a form of masculinity that I call 'industrial breadwinner masculinity.' They see the world as separated between humans and nature. They believe humans are obliged to use nature and its resources to make products out of them."
"The Misogyny of Climate Deniers" – Martin Gelin, The New Republic

I know it's a cliche that he taught us to read, but honestly I just devoured those Doctor Who Target books when I was a kid, and must have read thousands upon thousands of words that Terrance Dicks, who died this week, wrote. He taught me so much about tight dialogue, narrative and establishing character and settings. And how to spell VWORP! VWORP!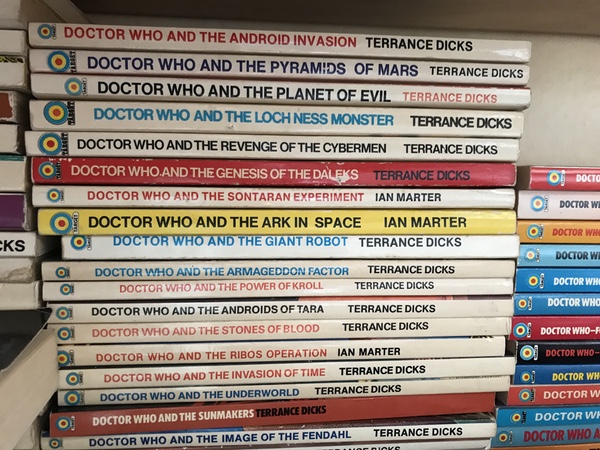 This is especially lovely about him from Robert Shearman: "Terrance Dicks inspired me to write – and not to feel ashamed of my stammer"

+++ IF YOU ARE WONDERING WHY THIS NEWSLETTER IS BACK I FIGURED IF I WAS PAYING TO HAVE A WEBSITE AND A MAILING LIST THAT I'D HAD TO MAKE GDPR COMPLIANT I MIGHT AS WELL ACTUALLY START SENDING STUFF OUT AGAIN AT SOME POINT +++

"Four weddings, four babies, one pair of lost knickers: celebrating 10 years of Blind date" – Justin Myers

"Tony Hawk's Pro Skater wasn't just a skate game when it came out 20 years ago Saturday. It was a phenomenon, a work that, as Hawk himself explains, simultaneously ignited his career and overshadowed it. And it happened almost entirely by accident."
"An Oral History of the Making of 'Tony Hawk's Pro Skater'" – Anthony John Agnello, The Ringer

+++ JOBS AND OPPORTUNITIES KLAXON +++
The Second Source is looking for mentors and mentees for its second annual mentorship scheme for women and non-binary journalists, which will begin in October 2019. Details here.
The Guardian are recruiting an Editorial Administrator to work as part of the news administration team that supports news editors and reporters based in the UK newsroom, with particular focus on supporting the Business desk.
The Bureau of Investigative Journalism are hiring a reporter to dig into the use of algorithms and big data.
Bauer Radio News are looking for multi-media journalists for their Leeds & Manchester news teams
If you fancy going to the dark side, the Foreign Office are looking for a press officer.

"This is a mystery in the form of a time capsule. It's about a radical Communist activist, who became a fabulously wealthy recluse archivist. Her work was crazy but it was also genius, and she would pay a profound price for dedicating her life to this visionary and maddening project."
Marion Stokes secretly recorded everything on US television onto VHS cassettes, twenty-four hours a day, for thirty years.

Twitter account recommendation of the week: @mumsnet_madness – "Digging through Mumsnet so you don't have to" turns up some absolute gems, I adore it.

Leyton Orient were at home on Tuesday, but I didn't go. I won't attend any EFL Trophy matches while the competition insists on including U21 representative sides playing against full-time league clubs. If AFC Big Top Six Club™️ have a problem that their younger players aren't facing enough competitive matches or getting enough game time they need to 1) sign fewer players and/or 2) reorganise their own U21 competitions and/or 3) loan them out more. It isn't our problem. It's an insult to our League One and League Two clubs, players and fans to expect us to turn up and play and pay to give a Premier League's U21 team a run-out to help develop their players. Read more about the B-team boycott – the sixth paragraph is worth the price of admission alone.

Is THIS the most dangerous chicken in France?™

The mad original pink racing car that featured in the mad original mixed film/animation opening credits for the mad original Pink Panther show still exists and here are lots of photos of it.

We still love you and miss you so much, Richey, I hope you found your peace. Stay beautiful.
"The Holy Bible at 25: an anomaly, an education and a warning from history" – Emma Johnston, Louder

I make electronic music about the paranormal. I'll be supporting Agent Side Grinder in Dalston in October. You could come and watch me if you wanted.