Friday Reading S08E04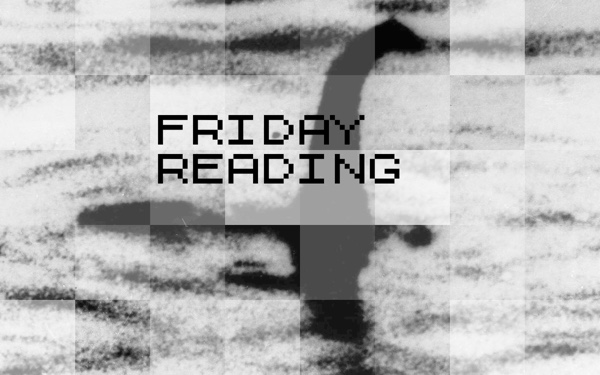 Friday Reading is a weekly series of recommended reads from the Guardian's Martin Belam, covering journalism, media and technology, and other interesting nerdy things. It is also available as an email newsletter. Sign up here.

"Lessons have been learned from UKIP and the Leave campaign. Big venues! Cheap tickets! Air raid sirens! Lights! Flags! Simple messages! If you're not with Nigel, you're against him, and he feeds the fans new material all the time. It's music hall meets conspiracy theory, and it works for Trump too."
Penny Andrews on how the rise of politics as fandoms is shaping our current woes.

A lot to chew over in this write-up of Seb Chan's keynote given at Creative State Summit back in May, which gets off on the right note for me by name-checking Nitzer Ebb's "Join In The Chant". But he accurately pinpoints some areas on the web where we missed the shouting "Fire! Fire! Fire!" bit and have moved on to the corporate muscle and hate. This bit particularly struck me, about people fetishising the aesthetic and cultural strategies and aspirations of the 80s and 90s and being skeptical about internet native formats and cultures:
"Social and economic contexts have radically changed — in those times young people had access to opportunities that no longer exist — and we need to be very careful not to assume that the same opportunities that people like us had, are still available to contemporary artists, makers and creators."
Basically stop slagging off Insta influencers for not hanging around on the dole and forming bands.

Facebook has put excellent satire site The Reductress on the naughty step.

"For my generation and generations before, particularly those of us who saw the transition from film to digital photography, the trust in the image is there to be broken. For my son and subsequent generations raised on media, the trust, it seems, was never there in the first place."
Christye Sisson looking at how, actually, the quality of faked images and video doesn't make a huge amount of difference in whether people will believe them or not.

All this effort just to avoid some incels on Reddit shouting that Siri was an SJW
"The project saw Siri's responses explicitly rewritten to ensure that the service would say it was in favour of 'equality', but never say the word feminism – even when asked direct questions about the topic."
"Apple rewrote Siri to 'deflect' questions about feminism" – Alex Hern, The Guardian

Following the death of Terrance Dicks, this is a really lovely piece about how much we loved the novelisations of our favourite shows and films in an era before VHS and DVD.

Incredibly powerful story and interview by my colleague Simon Hattenstone with Anthony Lennon, who was accused of 'passing' as black so that he could get theatre grants being awarded to BAME actors. It moved me to tears in places. Worth also noting this follow-up comment from Coco Khan.

+++ IF YOU ARE WONDERING WHY THIS NEWSLETTER IS BACK I FIGURED IF I WAS PAYING TO HAVE A WEBSITE AND A MAILING LIST THAT I'D HAD TO MAKE GDPR COMPLIANT I MIGHT AS WELL ACTUALLY START SENDING STUFF OUT AGAIN AT SOME POINT +++

Extremely relevant to my interests: "London's abandoned underground – in pictures"

Lots of little details in this about things that you would probably never think about being accessibility issues.
"'Being Human' at the Wellcome Collection is claimed by some disabled advocates and researchers as the most accessible museum space ever opened in Britain."
"Is This the World's Most Accessible Museum?" – Alex Marshall, NYT
FWIW, having broken my ankle a couple of years ago, a real accessibility eye-opener for me was that 'step-free' access is often hidden a lot of painful and time-consuming steps away from where you need to go, and on crutches sometimes it was easier just doing the slow painful climb up the steps than using the out-of-the-way 'step-free' access which required a lot more walking.

"Research shows that people blink an average of 14 times per minute under normal circumstances, but one-third or one-half as often while staring at a screen."
"How Staring at Screens Affects Your Eyes" – Sarah Watts Wisniewski
Go on, blink now. [NOTE TO ED – INSERT WEEPING ANGEL GAG HERE]

"Colour blindness has not always been considered a workplace hazard or a health and safety issue. When it was first theorised, by chemist John Dalton in the 1790s, the condition was viewed as a philosophical and scientific curiosity."
I had no idea that so many 19th century transport accidents are now thought to have been down to undetected colour-blindness.
"Colour blindness on the move: A brief literary and cultural history" – Cleo Hanaway-Oakley, Science Museum

This is too close to the plot of The Kraken Wakes to my liking: "Large Underwater Observatory Disappears Without a Trace, Baffling Scientists" – George Dvorsky, Gizmodo

EA are the proud owners of a Guinness World Record™ for "the most down-voted comment on Reddit of all time".

+++ JOBS AND OPPORTUNITIES KLAXON +++
Please sir, I cannot tell a lie, I have laughed *a lot* about the cow website in the past, but they have two full-time, paid, six-month editorial traineeships up for grabs at the moment.
PressPad helps young journalists find affordable accommodation with experienced media mentor-hosts.
London-based Hack the Press helps journalists understand technology through expert talks and hands-on experience of creating new tools.

Since Boris Johnson became prime minister, the number of articles I've written featuring classical mythology and Roman history appears to have increased exponentially.

This has got some cracking lines in it:
"Young victims of this terrifying game usually suffered alone because no one else in their school could afford a BBC Micro."
"Weird Dreams in Granny's Garden: a brief history of cursed video games" – Keith Stuart, The Guardian

Also on a gaming tip, this article includes the brilliant embedded tweet pointing out that 'A cross is ➕, not ✖ you pelicans'. The deployment of the insult 'pelicans' definitively wins the argument over the naming of the PS4 controller buttons.

I love that the advert for the world's most Spinal Tap-ish paint specifies "Not available to Anish Kapoor".

"After the success of that film, Poulton had her eyes 'those precious orbs which irradiate the screen' insured for the hefty sum of £30,000. It's precisely the kind of titbit designed to set the fan magazines a-flutter, but at a time when dazzling carbon lights were used on set, it may have been a fairly sensible precaution."
I'm endlessly fascinated by the stars of the silent screen that time has mostly forgotten. This is a lovely intro to "Mabel Poulton: British silent cinema's cockney darling", with a bitter sting at the end of it.

'I don't know if I could ever forgive all that Ike ever did to me,' she said, but 'Ike's dead.' Turner laughed. 'So we don't have to worry about him.'
Glowing profile and interview with Tina Turner, an artist who to be honest I had no time for during the 80s, but who is now definitely in the legendary files for everything she achieved and the way she did it.

"In other words, the poet's lover was also her brother's wife, and the editor of her first books was her brother's mistress."
Spell-binding account of how a family feud has basically split Emily Dickinson's work between two separate copyright holders who have then argued about it bitterly ever since she died in 1886.

Twitter account recommendation of the week: A Strange Voyage/@str_voyage – "A bot forever voyaging. Endless nautical story generator". At times soothing, at times disturbing, these tweets tell the open-ended tale of a curious journey.

The FA are partnering with Pokémon to do kids' Futsal training in a deal which could hardly be more aimed at me and my family.

I think including a Doctor Who reference in a timeline about the Loch Ness Monster on page 4 of The Guardian last week may be peak Martin.


This looks great but unfortunately is in New York and I'm not planning to visit New York so I can't see it, but you might live there, or be visiting there, and want to go. 'Meet Me in the Bathroom' is an art show of stuff from under musicians' beds with contributions from the New York early 2000s scene so expect stuff from the Strokes, the Yeah Yeah Yeahs, LCD Soundsystem and Interpol etc.

Someone is auctioning one of Mark E Smith's old typewriters.

I make electronic music about the paranormal. I'll be supporting Agent Side Grinder in Dalston in October. You could come and watch me if you wanted.