Friday Reading S08E07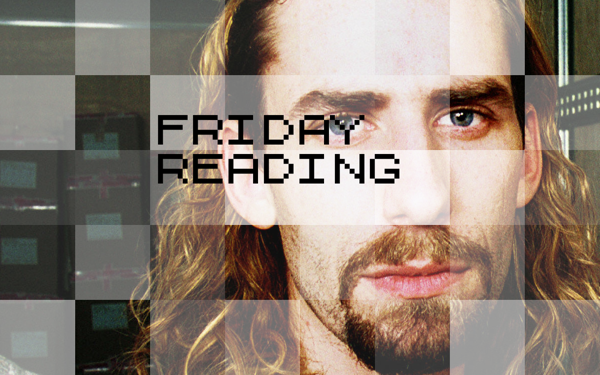 Friday Reading is a weekly series of recommended reads from the Guardian's Martin Belam, covering journalism, media and technology, and other interesting nerdy things. It is also available as an email newsletter. Sign up here.

Kickstarter is trying to stop its staff forming a union. Your Kickstarter projects –> ?

"As much as these stories should be told in order to effect change, journalists are also beholden to the people in the stories we tell. Where is the line between respecting the needs of trauma survivors or the deceased and the public's need to know?"
Essay on the ethics of doing photo journalism around the subject of domestic violence, which includes links through to several photographic projects on the topic by photographers like Sara Naomi Lewkowicz, Donna Ferrato and Lauren Justice.
"Photographing Domestic Violence: Showing Uncomfortable Truths" – Tara Pixley, Nieman Reports

More from the machine learning is not neutral files: "YouTube moderation bots punish videos tagged as 'gay' or 'lesbian,' study finds"

Awful news that my former colleague, BBC and Guardian journalist Hanna Yusuf, has died aged just 27.

"I see one group of journalists and media leaders who want to develop and change the profession and the funding models that sustain it so they are fit for a changing world and a digital media environment. But I also, constantly, everywhere, come across another group of journalists and media leaders who do not see it this way, who would rather pour their energy into vain attempts at trying to restore a romanticized past, airbrushed of its shortcomings, idealized for its (very real) virtues, and valued for the stability it offered many, both in terms of professional security and career advancement."
Rasmus Kleis Nielsen sums up his first year as Director at the Reuters Institute for the Study of Journalism: "Vanguards and rearguards in the fight for the future of journalism"

"Haley is on her way to getting the thing she wants, the thing all of her friends want. To be a very online young person in 2019 is to share the same goal: have the kind of social media following wherein performing your life online becomes a paying job."
"The not-so-secret life of a TikTok-famous teen" – Rebecca Jennings, Vox

Martin Jordan's update on trying to introduce digital service design into UK government services. With, I guess, varying degrees of success.

+++ IF YOU ARE WONDERING WHY THIS NEWSLETTER IS BACK I FIGURED IF I WAS PAYING TO HAVE A WEBSITE AND A MAILING LIST THAT I'D HAD TO MAKE GDPR COMPLIANT I MIGHT AS WELL ACTUALLY START SENDING STUFF OUT AGAIN AT SOME POINT +++

"Despite Livia's promises of a 'risk-free' trial and 'money-back guarantee,' dozens of women say they ordered the device, returned it after communicating with a customer service rep, and months later, are still waiting to get their money back."
"This Tiny Period Cramp Device Is Scamming Women Out of Money" – Hannah Smothers, Vice

I found this enthralling, and then it also sent me down a rabbit-warren of Andy Kaufman YouTube clips.
"Does Vance really believe any of this? When I ask him, he becomes flustered. He answers in fits and starts. He's a journalist. He knows it's ludicrous. But part of him won't let go—especially now that the election has proved some of his observations prescient."
"Is Donald Trump Really Just Andy Kaufman in Disguise? An Investigation" – Zach Schonfeld, Newsweek

Absolute (racist) scenes here:
"Seems like a man deeply concerned about being portrayed as a racist could have found something else to do with his final years on earth aside from (looks at notes) preserving ahistorical monuments devoted to men who would literally rather die than live in a country without slavery."
"Virginia Man Sues Local Paper, Reporter for Accurately Reporting His Family's Slaveholding History" – Anne Branigin, The Root

It's from 2008 so the numbers won't be right anymore, but this is an impactful data visualisation technique: "These 22 Pics Are Composed Of As Many Pixels As There Are Animals Still Alive In These Species"

As a massive Pokémon Go nerd I'm not sure I have room in my life for another mobile augmented reality game, but Minecraft Earth looks promising.

One of my favourite opening pars I've ever written:
"It is a moment worthy of any episode of the political TV series The Thick Of It. As he walks through the Conservative party conference, Boris Johnson is handed a hot drink by one of his assistants. However, like his working parliamentary majority, the prime minister is able to hang on to it only momentarily before it is snatched away from him."

On a related Johnson note, I got the words "Fans of the conspiracy theory that Boris Johnson keeps saying things like 'model of restraint' or that he makes model buses to take control of the Google search results" into the paper this week. Here is Chris Stokel-Walker with a proper take on it: "Is Boris Johnson really trying to game Google search results?"

Thoughts on the architecture of zoos.

Very funny explanation of how bad maths can cause unintended consequences in games: "What caused Gandhi's insatiable bloodlust in Civilization"

Oh yes this: "Untitled Goose Game nails the cold war of English neighbour relations". I really hope I get the Untitled Goose Game for my birthday tomorrow.

Elle Hunt on 'The Dress'. No, not that one. The other one. Fascinating thing here is about how social media kept driving sales of it, even when it became obvious that it was becoming ubiquitous.

Someone has discovered the world's sexiest Men's Rights underpants.

Jesus H.
"Experience: I was dragged along by a train at 75mph" – Katrin Bosse

Twitter account recommendation of the week: Gruntleigh the Ogron/@OgronThe – member of the intellectually challenged race of humanoids who 'served' the Daleks – slowly, ineptly, badly – during Jon Pertwee's adventures. Lives with Davros, gets into scrapes.

This faked up video of the early 1980's Japanese version of Doctor Who is well worth two minutes and fifty-six seconds of your time.

"The Nearly Men" – and it is all men – piece by Eddie Robson on some of the high profile well-known writers who almost wrote Doctor Who episodes, and then, for various reasons, didn't.

Long essay examining at what point something like Thee Temple ov Psychick Youth changes from being a counter-culture movement that satirises and comments on abusive cults, and tips into being an abusive cult in itself. Certainly part of the appeal was the non-conformity, the sexual imagery, the drug-taking and the freedom from the constraints of living in Tory fucking Britain in the 1980s. But where does that start becoming coercive, and what do you do about the legacy of the art produced as a result?

An extremely complete guide to The Fall's Peel sessions. I suspect I post this every time I stumble across it again.

The unlikely redemption of Nickelback begins: "Trump's video taken off Twitter after band Nickelback complains"

I make electronic music about the paranormal. I'll be supporting Agent Side Grinder in Dalston in October. You could come and watch me if you wanted, tickets are on sale here.