Friday Reading S08E12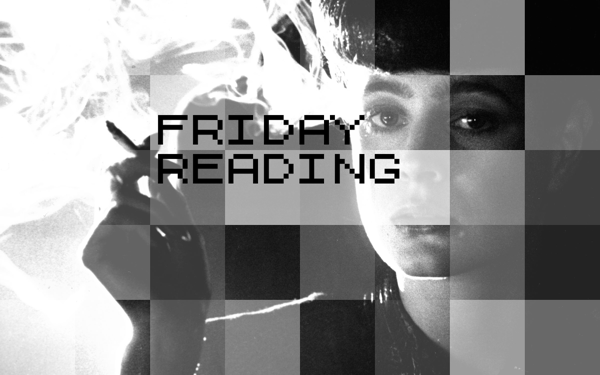 Friday Reading is a weekly series of recommended reads from the Guardian's Martin Belam, covering journalism, media and technology, and other interesting nerdy things. It is also available as an email newsletter. Sign up here.

This is a piece about the ethics of the 'personal essay' format by Cazz Blase. It makes this great point:
"In recent years, the personal essay has increasingly been seen as a way to get your foot in the door as a journalist. And this is especially true if you're a woman, person of colour, don't have any contacts in the industry or have little in the way of experience or training."
and balances it out with this point:
"Often editors will commission pieces on a hate-bait basis. They know something will go viral and that the writer will get pilloried for it, but that it will drive news and traffic to the site. And, I think, there's a real ethical concern that editors need to be thinking about more, especially when you're dealing with inexperienced young women, who are typically much more likely to get abused online than anyone else."
"The Complicated Ethics Of Personal Essays: How To Write And Commission Them Responsibly" – Cazz Blase, Journo Resources

Great news for Gary Younge, and a terrible loss for the Guardian. Personally I've found him inspiring to work with and will miss him very much.

"The Internet Archive Is Making Wikipedia More Reliable" – it is crawling books cited in the footnotes so you can check they say what Wikipedia entires claim they say.

+++ THIS IS THE ALL CAPS SHOUTY BIT THAT DIVIDES UP THE JOURNALISM RELATED STUFF AT THE TOP FROM THE REST OF THE NEWSLETTER +++

Absolutely fantastic from Ian Martin:
"We who are stardust and golden can still campaign, still deliver leaflets, still urge anyone with a conscience to hose this nerveless fucking bunch of crooks and clowns out of office. But let the people who have to live with it actually decide."
"Votes at 16 are all very well – but why not disenfranchise state pensioners like me?" – Ian Martin, New Statesman

This is such a profoundly depressing read about male behaviour towards women in public spaces.
"It's now time for what Cassell refers to as fieldwork, but would more accurately be termed street harassment. Thus follow two of the most dispiriting hours of my career, as I walk around central London in the rain, watching as Raj and Mike pester women."
"50 years of pickup artists: why is the toxic skill still so in demand?" – Sirin Kale

"The first such system is attributed to Gauss, who developed a scheme 'to get in touch with our neighbours on the moon' that involved creating a massive visual proof of the Pythagorean theorem in the Siberian tundra. This visual proof was to consist of a right triangle bordered on each side by squares and would be created by planting rows of trees for the borders and filling the interior of the space with wheat."
Good recap of a lengthy series of absolutely bonkers plans to try and contact aliens.

"Scouring council webpages for these maps – and then turning them into digital maps using INSPIRE Index Polygons and free desktop mapping software (QGIS) – has been a lengthy task. Knowing that the well-resourced Church Commissioners already have a secret digitised map of all their landholdings made the process still more frustrating. But here, at last, are the results."
"'God's acres': The land owned by the secretive and wealthy Church of England commissioners" – Who Owns England?

"There's an indelible mark in my mind between the 'before' and 'after' of this catastrophic event. I became a new version of me: emotionally untethered, brittle, bitter, untrusting and lonely. I was never clinically diagnosed, but I suffered psychological trauma for years after the birthing of two deaths, and the three further miscarriages I went on to have."
"The child in mind – Miscarriage is common, but shrouded in secrecy. What makes it so hard to talk about?" – Julia Bueno

"These are not just statistics, these are human beings who were someone's mum, dad, daughter, son, sibling—these tragic deaths, many of which are avoidable, are felt deeply by those left behind. Drug consumption rooms also known as Safer Injecting Facilities or Overdose Prevention Sites are one way to reduce the scale of drug related deaths."
"Drug related deaths—playing politics while people die" – Niamh Eastwood

LEGO Launches Braille Bricks for Children to Learn Braille

I totally understand that Cardiff's lawyers gotta lawyer, and Nantes' lawyers gotta lawyer, but nobody comes out looking good in this: "Cardiff face three-window transfer ban if they do not pay for Emiliano Sala"

Gal-dem's Race Review column is a weekly news roundup centring the issues faced by people of colour and is well worth following. This week's: "London police break a black girl's tooth and the UK sees its first black woman history professor"

Love ghosts in the machine: "A ton of people received text messages overnight that were originally sent on Valentine's Day"

Every single Argos catalogue lovingly digitally archived. Oh the nostalgia etc

If you liked that, you'll love this etc…
Twitter account recommendation of the week: @yorecomputer – Publishing pages selected at random from old British computer mags.

"I'm pretty sure my favourite directors would despise me for butchering their hard work"
Well, yes. You know when people say 'post your unpopular opinion' and people just post popular opinions as if they are a bit edgy? Lucy Middleton has just gone full on out for it: "Why I love reading spoilers". Absolutely batshit. I loved it.

Photo gallery of 70s punks arrested in der DDR for, well, being punks I guess.

It's my favourite ever movie. It was set in November 2019. Los Angeles, Blade Runner, and the Theory of Relativity.

Someone is running a poll of every 2005->now Doctor Who episode.

There's lots of love online for this mesmerising moving online chart showing the biggest-selling recording artists over time. Personally, as a data nerd, I'm annoyed it appears to conflate physical album sales from the sixties with online streaming single plays in the 2000s, but what do I know? It is visually satisfying and there are some dramatic moments like "It turns out that now everybody in the world has bought all The Beatles' albums, off you fuck lads, she's Madonna."

The Car Cassette Adapter Was an Unsung Hero at the Dawn of the Digital Age – great details in this.

I did not realise how ready I was for the return of La Roux.

I make electronic music about the paranormal. You can see what it looks like on the m-orchestra YouTube channel. I've got a slot at Headroom in November, so you could come and see me doing it live in Shoreditch.