Friday Reading S09E01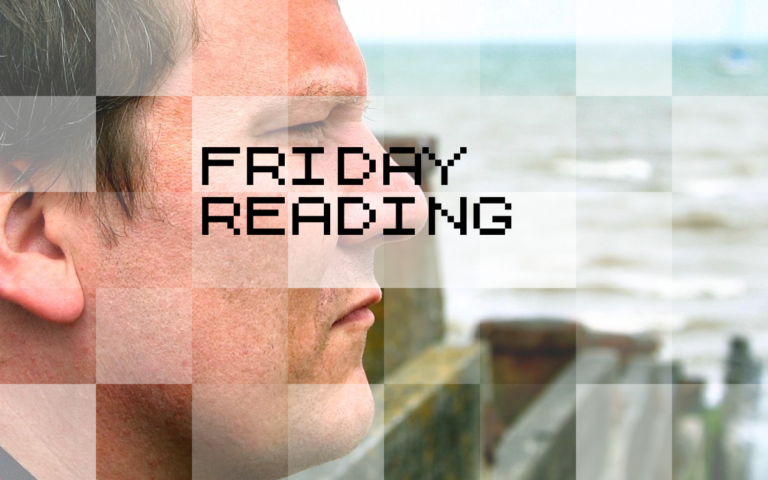 Back somewhat sooner that I'd anticipated, as I thought I was going to take January off, Friday Reading is a weekly series of recommended reads from the Guardian's Martin Belam, covering journalism, media and technology, and other interesting nerdy things. It is also available as an email newsletter. Sign up here.

Over the holiday period my friend and ex-colleague Piers Jones passed away. Adam Tinworth wrote about him here. Tanya Cordrey wrote about him here. And I wrote about him here. He was a lovely guy, a great product manager, always had time for my weird ideas, and we will miss him at Guardian reunions for years to come.

The back story to Olivia Crellin setting up the brilliant PressPad is a bit of a jaw-dropper: I got £76,000 in debt setting up a scheme to help media interns

Vittoria Gallagher has been doing the Lord's work on Twitter about the joyless wankers that run or snitch to @_DHOTYA – give her a follow, and block them. The spiteful joyless jizz-splashes that they are.

Talking of Twitter, I'm still off it. Back at some point when I realise I can't do my job without it.

This is a horrific story anyway but this paragraph in particular:
"Phil's daughter Laura Duffy, 27, reported several zoomed-in photographs to Facebook on the day but the social network refused to take them down, saying they did not breach its community guidelines. After being contacted by the Guardian, Facebook immediately removed the images and apologised to the family 'for any upset caused'."
"Man who died on Carlisle chimney told police he was abused as child" – Josh Halliday, the Guardian

Still, at least they spent years on this, eh?
With this goal in mind, we built DeepText, a deep learning-based text understanding engine that can understand with near-human accuracy the textual content of several thousands posts per second, spanning more than 20 languages.
"Introducing DeepText: Facebook's text understanding engine"

How the reporter who found Mitt Romney's secret Twitter has turned online sleuthing into a beat

I won't of course, but here is Mashable on why you should finally #DeleteFacebook in 2020

TikTok are getting into the proper PR business these days: "Our first Transparency Report"
"This report provides important insight and clarity to our users regarding the volume and nature of governmental requests for our users' account information and other legal notifications."

I liked Casey Newton's "16 predictions for social networks in 2020" many of which seemed eminently plausible.
Mind you it also includes "A reader who asked to remain anonymous predicted that a European Union country would fund a public social network" and I reckon 12 December put paid to that in the UK. [Adopts Ben Elton voice] A little bit of politics for you there etc etc…

Andrew Hutchinson's "20 Predictions for Social Media Marketing in 2020" was also worth a flick through.

I didn't do anything so grand. But I did round up my twenty favourite viral TV moments of the decade. May we all carry ourselves with young Marion Kelly's confidence into the next decade.

+++ IT IS THE NEW YEAR AND THE NEW SEASON/SERIES OF FRIDAY READING SO SURELY HE HAS DITCHED THE RANDOM SHOUTY BIT IN THE MIDDLE? +++

No.

Another entertaining romp through how the internet made everything into an intense fandom: "Fandom went mainstream in the 2010s — for better and worse from Fifty Shades to Veronica Mars, the last decade brought major changes to fandom culture"

Meanwhile in the production office of Netflix's The Witcher, someone says "Shall we tell the story in anything approaching the right order, or just no?"

Consistently great writing on this site: "What we learned about UK racism this decade" by Sharan Dhaliwal on gal-dem

Who Actually Uses London's Least-Used Underground Station? (which is the Central line's Roding Valley by the way)

"Why is this small town in Leicestershire a Mecca for Star Wars nerds? Because it's rumored to be the home of the 'Palitoy Landfill,' a garbage dump where, supposedly, thousands of dollars' worth of Star Wars toys, once produced by now-defunct manufacturer Palitoy, are buried."
"In search of the legendary British landfill full of lost 'Star Wars' toys" – Hussein Kesvani

Still seems absolutely mad that you'd accept this as a normal thing to do rather than tackle the root cause of the problem: "Lockdown – Living through the era of school shootings, one drill at a time"

Hahaha you've got to love developers. I mean, just why? Why? Encoding Animated GIFs Into Pure CSS

+++ JOBS AND OPPORTUNITIES KLAXON +++
Dominic Cummings is after a load of applications from Dunning-Kruger try-hards
+++ END OF JOBS AND OPPORTUNITIES KLAXON +++

I made a terrible error in the summer of standing and taking photos of these as they went past rather than stumping up the meagre fare to actually jump on with the kids and ride it for a couple of stops, didn't I?
"Isle of Wight's rattling, rolling, charming ex-tube trains face end of the line"

Arthur Rackham's Rare and Revolutionary 1917 Illustrations for the Brothers Grimm Fairy Tales

You are never happy Martin pt. 1,057. Seven years ago if you'd told me "to set up your new phone, place it next to the old phone, press a couple of buttons, restore a back-up and it is done" I'd have leapt at the chance. Amazing! In practice, it actually takes away all the fun of setting up a new phone. I don't feel like I've got a new device, it's already filled with 4,000 meme screenshots and some downloaded playlists I haven't listened to for years. You are never happy Martin.

Cat killer news! A man has been charged with 16 attacks on cats in Brighton.

Pin Badge Club seems like a fun idea.

Long academic paper from Google workers about the what happened next: "Five Years of the Right to be Forgotten"
I used to have very strong feelings about the "right to be forgotten" and how it impacted on the archives of news sites. I still have strong feelings. But they have changed. Of course unscrupulous conmen and criminals can use the rules to their advantage, as I feared. But I have a dear friend who was the victim of a high profile crime, and when you Googled their name, it was the first thing that came up about them. Never mind how they chose to present themselves online. Never mind what they had achieved in their professional career. If they were applying for a job, and a recruitment person searched their name, the first thing they would find out about them was that they were the victim of that crime, an increasingly long time ago. That doesn't seem right. So I've come to support the idea of the "right to be forgotten" in search results.

Everybody likes a moan up, but I really enjoyed this from Super Deluxe Edition on their disappointments of the year. Everyone involved in licensing and reissuing back catalogue should have a look and see what they are getting wrong.

Cardiff has the world's first Depeche Mode-themed barber shop

I make electronic music about the paranormal. I'm playing at The Old Blue Last in Shoreditch on 30 January. It is free. Details here. I'm also doing my first home-town gig in Walthamstow for *gulp* twenty-five years, supporting Pye Corner Audio in March. Tickets here.