Friday Reading S09E02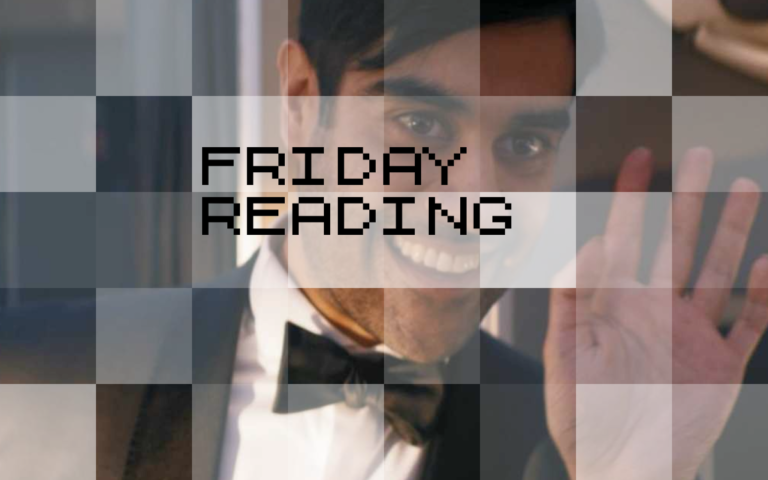 Back somewhat sooner that I'd anticipated, as I thought I was going to take January off, Friday Reading is a weekly series of recommended reads from the Guardian's Martin Belam, covering journalism, media and technology, and other interesting nerdy things. It is also available as an email newsletter. Sign up here.

"Why do so many kids want to be YouTubers? Do they only seek fame, or is there more to it: creativity, community, and a future career? How are their parents helping them? And what happens if, after spending thousands of dollars or dropping out of school, it doesn't work out? We interviewed five not-so-famous young YouTubers from around the world to ask them what they get out of it."
"Meet the wannabe kidfluencers struggling for stardom" – Amelia Tait

Sarah Manavis honestly just always has the best fucked up social media stories:
"Zimmer was apparently offering to give up public life and hand over an audience of more than eight million followers to a teenage boy who just happened to look exactly like him. In any situation, this would be an unusual, and unusually generous thing to do. But for many commentators it was simply unbelievable."
"The strange case of Paul Zimmer, the influencer who came back as a different person – He left social media as a disgraced video star. Has he made a comeback with a whole new identity?"

This is interesting from Paul Clarke about the cyclical nature of these things:
"In which I present an entirely un-asked for, unscientific and unsourced take on the last 25 years of digital government with some reference to the Cummings tornado that's sweeping in. It breaks my rules on blogging word counts by some distance. But as I don't really blog now on this sort of thing, I don't care."
My own theory of digital organisational chaos is the pulsating octopus theory. It makes sense to totally centralise design, publishing, admin systems and whatnot and there are loads of cost savings. Then the tentacles find the centralised system too constraining, little pockets of DIY innovation pop up to fuck around with things (I may have been guilty of this) and so the centre cannot hold. Then someone looks and says "Why are all these tentacles using different publishing systems and standards? Surely it makes more sense to etc etc" and time's dead hand moves the clock back to midnight etc etc…

Adam Tinworth also had some thoughts on the Cummings job broadside and what it might imply for journalists: "Dominic Cummings' blogpost, direct dialogue and its threat to mainstream political journalism"
"Cummings' post is there, in its entirely, in a form he controls — all 3000 words of it. Cadwalladr's repsonse is lost in the flow of Twitter, and has to be extracted from a closed platform in various ways. This is an asymmetric control of the message."

"'The game's premise seems to be going to the 'PokeStops/Gyms' to collect 'Pokemons' (we should almost hire a 12-year-old to help us out with this),' wrote one security expert at a base in Borden – also in Ontario."
Pokemon Go: Documents show Canadian military's struggle with game

I'm still off Twitter at the moment. Can't decide whether to reactivate my account quietly so nobody notices, or to do it and immediately tweet out "Yo fucknuts what's up" so my bosses immediately know that I'm back on my bullshit.

Warning: This post contains spoilers for "Star Wars: The Rise of Skywalker" which I haven't seen yet so I haven't read it but the premise looks great and Ryan's stuff in this area is always brilliantly incisive and entertaining: "#ReleaseTheJJCut: 'Star Wars' Misinformation Hell Is The New Future Of Everything – Get ready for a world run by warring online communities completely lost in their own misinformation."

I'm sure this is a left-hand/right-hand clusterfuck rather than something more sinister but hoo boy if you ever wanted to watch a publisher struggle to know what to do in real-time with a piece they had published, this was it.
"An uncritical Teen Vogue story about Facebook caused bewilderment about whether it's sponsored content before the entire article vanished" – Rob Price

I say this having been absolutely Occam's Razor'd at work this week. I published a joke quiz about the royal family on the Guardian site, discovered that we had CMS issues with it and asked for it to be taken down immediately. Then that took a while, in the meantime people had noticed the quiz, and so when it duly disappeared it was *cue Twilight Zone music conspiracy theory the lizards have got to him time*

+++ SHOUTY SHOUTY SHOUTY DIVIDER BIT THAT I DON'T REALLY KNOW WHY I PERSIST WITH +++

The Guardian has published an obituary for my friend and former colleague Piers Jones, written by his mum.

These look cool and apparently compress the cleaning power of 275 trees into one park bench sized space, which hasn't stopped loads of people moaning about it on the local Facebook group because people. "Leytonstone gets the first permanent City Trees in London"

The brilliant gal-dem are looking for a brilliant Chief Sub Editor. Is it you?

Absolutely staggering piece about the industrial use of bees to pollinate almonds and the millions upon millions of them that are dying in the process which blew my mind – "'Like sending bees to war': the deadly truth behind your almond-milk obsession"

Moving final column from Gary Younge, who I shall miss at the Guardian very very much. In it he speaks about his mum's death:
"Even in her sudden and untimely death there were valuable lessons: that life is too short to waste time on people you don't care about, but long enough to make a difference if you want to. She was 44; I was 19. She never got to read my columns. My presence on these pages would have been, I think, as unlikely to her as anything else she hoped I might achieve as a child, as we padded around our living room."

Also departing from the Guardian this week after an incredible 40 years, as announced a few months ago, our legendary deputy editor Paul Johnson. I truly feel honoured to have had the chance to work with him.

Fun[?] widget/questionnaire thing from Vole.wtf which asks you about your disgusting hygiene habits and then calculates the exact percentage of the population that would be disgusted with you if they knew.

This is a lovely little interview from the Time Ladies with Sylvester McCoy about his time as Dr. Who, now that all of the classic episodes of the show are streaming on BritBox.

"The theory was that these windowed systems would be outmoded by the time 2020 arrived, but many are still hanging on and in some cases the issue had been forgotten."
Hahaha a delayed fuck you from computers. "A lazy fix 20 years ago means the Y2K bug is taking down computers now"

As someone who used to make tracks by playing records at the wrong speed and double-taping them over each other using a couple of cassette decks and a record player back in the day, I found this absolutely fascinating:
"Last year, a tune called Minute Maid appeared on YouTube and quickly racked up several million views, many fans hailing it as an instant classic. However, Playboi Carti had almost nothing to do with the song. While his voice was on it, he wasn't involved with its production. In fact, at the moment of release he didn't even know it existed."
"Chopped and screwed? How studio leaks are creating a new DIY rap music" – Jamie Ryder

Slightly random posthumous Mark E Smith track with him giggling his way through reading an email that was dropping one of his side-projects from a label. Lovely to hear his voice again though.

I make electronic music about the paranormal. I'm playing at The Old Blue Last in Shoreditch on 30 January. It is free. Details here. I'm also doing my first home-town gig in Walthamstow for *gulp* twenty-five years, supporting Pye Corner Audio in March. Tickets here.