Friday Reading S09E04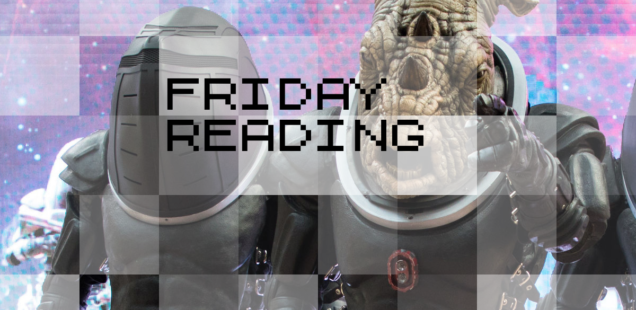 Back somewhat sooner that I'd anticipated, as I thought I was going to take January off, Friday Reading is a weekly series of recommended reads from the Guardian's Martin Belam, covering journalism, media and technology, and other interesting nerdy things. It is also available as an email newsletter. Sign up here.

The Doctor Who production team have named the Judoon leader in Sunday's episode Pol-Con-Don after Paul Condon, who was a huge part of Doctor Who fandom, a former colleague at the BBC and a dear, dear friend to many. We miss him so much.
"A new Doctor Who character has been named after a fan who passed away" – Radio Times

This is a great piece well worth reading which touches on a couple of important issues with the case – why the press didn't challenge the reporting restrictions around the trials of Reynhard Sinaga, and whether national news outlets gave the story the thorough coverage it deserved.
"What it was like to cover the trial of Britain's worst rapist — in secret" – Beth Abbit, Manchester Evening News reporter

"Engagement is not something you simply add to an organizational chart or a budget. If you want to be engaged with the people you are trying to serve, you have to change what you prioritize in your newsroom. It's not about doing projects or hiring someone to connect with communities; it's about changing the process by which you make news. It is about making your most engaged editors and reporters the senior-most people in your newsroom."
"Engagement isn't a project, it's a way of making news – it isn't audiences that need to be more engaged, it's newsrooms" – Angilee Shah

Former BBC News bigwig Richard Sambrook on the dodgy in-tray that awaits whoever takes over the top job at the BBC.

"Blue ticks were a mistake: Twitter's outgoing European vice-president opens up about life at the social network, and his quest for worker wellbeing" – Anoosh Chakelian.
I mean I'd have picked "letting the service get over-run with racists and Nazis and looking the other way" but what do I know?

"Adam Mosseri, chieftain of Instagram, wants to keep the platform a safe, special space. That means learning from the mistakes of its parent company: Facebook."
"This Is the Guy Who's Taking Away the Likes" – Amy Chozick

"You walk into your own living room to find your spouse or son on the couch, staring or tapping into a device. What are they doing? you wonder. Email? Television? Pornography? Shopping? Which is also to ask: What other, foreign, spaces have they conjured into the shared space of the home? The answer is often unknowable, and in any case just as quickly replaced by another space as one app backgrounds and another comes to the fore. A proliferation of non-places wasn't the problem, it seems. Instead, technology has allowed personal intimacy and connection to flourish too much, and anywhere. Now every space is a superspace, a place that might be fused together with any other."
"Every Place Is the Same Now" – Ian Bogost
Not sure I buy the whole argument to be honest, but I loved this line in particular: "Blockbuster is dead, but the emotional dread of its aisles lives on in your bedroom".

Vice bizarrely review a Rebecca Long-Bailey event as if it was a gig or a clubnight because…reasons I guess?

The Hugh Cudlipp Student Award 2020 is open for submissions. The deadline is 14 February. Here are the submission guidelines.

Listen to Marcus on this. Marcus knows his shit.
"It's the sheer bad faith of it all that adds to my weariness of these regular farces. As well as personal anecdotes, there are innumerable statistics – including from the Office of National Statistics – and peer reviewed studies documenting racial inequality in the UK. The evidence is there, such as the rocketing hate crime stats post-Brexit. But why use Google when you can have a performative segment where professional dickhead Piers Morgan can shout over a woman of colour?"
"The UK's childish media racism 'debates' are just more divide and rule" – Marcus D

Absolutely obsessing over this lamb of god face restoration controversy. Basically they found that about 100 years after the Ghent Altarpiece was first painted by the van Eycks, somebody painted over their lamb's face. That layer has now been chipped away to reveal the original, and everyone is like WTF IS THAT THING?. This article has a slidey-comparison widget so you can see them both.

Mount Vesuvius eruption 'turned victim's brain to glass'

Just love the designs on these. The Vintage Patterns Wiki has released more than 83,500 pre-1992 out of print sewing patterns for all to use.

"With his club's status on the rise, he decided it was time for a rebrand. It wasn't just any rebrand, though: Poves renamed the club Flat Earth FC."
"Flat Earth FC: the football club who represent a conspiracy theory" – Charlie Carmichael
Bit of a prick if you ask me.

Absolutely genius rendering of one of those dreadful 'OK Boomer, it was great in the olden days' poems – "Share if you think Britain was better in the olden days!"

Talking of the olden days, here are newly discovered photos. Someone is going to get a surprise about what granddad was doing in the war: "Cross-Dressing Soldiers Man Anti-Aircraft Guns During World War II"
THIS HAS BEEN TAKEN DOWN. NO IDEA WHY. MAYBE THEY ARE MISATTRIBUTED? HERE'S THE GOOGLE CACHE VERSION.

Storythings have a survey for people who subscribe to their newsletter which has the best way I've seen of asking your age for a long time.
What's that you say? You don't subscribe to their newsletter? Well, fix that here – "Every week we send you 10 carefully selected stories for you to enjoy and share. They're not stories from a particular sector. Just stories we've found that are interesting, teach us something new or share a new perspective on how stories are told."

I didn't get to actually publish my review of Picard in the end, which is a shame, because I wrote an opening for it that I absolutely loved…
The first thing you notice is that Jean-Luc Picard looks a lot older. There is no digital de-ageing here. At key moments, Sir Patrick Stewart looks frail and crumpled and his hands twitch against each other. But that is quite deliberate. In Starfleet years, given that the show is set two decades after the end of 2002's critically unacclaimed movie Star Trek: Nemesis, Picard is in his early nineties, and more than entitled to his quiet retirement on the family vineyard.

Oh my god this is incredible. A deep dive into all of the different chairs used on-screen in Doctor Who in 1973, and spotting where else the same chairs cropped up, which oftentimes seems to have been Blakes 7.
"The chairs of Doctor Who season 10" – Pink for your actual Pterodactyl

Really good, data-driven, and some brilliant quotes:
"Over the years, the amount of times a place I've worked have said women are too expensive to sign as they dry the ink on another white, male, singer/songwriter, is nuts. Women are 'too expensive' and the second a woman disagrees on creative, they sideline them as a difficult woman."
"Why are the BRITs so male?" – Rhian Jones

"I Discover All the Best Music in My Life Through Video Games, and I'm Not Alone" – Mat Ombler
Hmmmmmm.

"If CDs outsell vinyl massively – which they do – then why does the format sometimes get ignored and treated like some kind of black sheep of the physical format family? Why not take action to slow the decline? What about people who don't own a turntable and who aren't millennials? They aren't been given a choice. They, apparently, are expected to do without some of the latest reissues, which is a strange way to treat your customers. They are frustrated and have money burning a hole in their pocket because for these music fans streaming or digital downloads simply aren't a substitute for owning the physical product, and they physical product they want is the compact disc."
"Format wars – how the compact disc endures and the myth of the vinyl revivial" – Paul Sinclair, Super Deluxe Edition

It is two years since Mark E Smith passed away today. Here's Vice's extraordinary "The Oral History of Mark E Smith". And here is my chronological career-spanning "The Fall 58+++ Golden Greats EXPANDED EDITION" playlist. Plug yourself in.

I make electronic music about the paranormal. And when Mark E Smith passed away I found a way to include him in this track: "Chicago Tribune Spring 65". I am playing at the Old Blue Last in Shoreditch on Thursday 30 January, and it is free. Do come along.