Friday Reading S11E11
Friday Reading is a weekly series of recommended reads from the Guardian's Martin Belam, covering journalism, media and technology, and other interesting nerdy things. It is now in its eleventh season and has never watched Wandavision. Sign up here.

I feel the need this week to start by saying that I am not a member of the Society of Editors.

"The Society of Editors should have used the comments by the Sussexes to start an open and constructive discussion about the best way to prevent racist coverage in future, including through addressing lack of representation in the UK media, particularly at a senior level. The blanket refusal to accept there is any bigotry in the British press is laughable, does a disservice to journalists of colour and shows an institution and an industry in denial."
I whole-heartedly endorse this open letter from journalists of colour working in UK media organisations about racism in the industry, and I'm glad it had an effect.
Reminder: Having to quit your job because you've brought the place you work for into disrepute isn't "cancel culture", it's just pretty normal terms and conditions of office employment that have been around for decades.

I keep thinking about how on Good Morning Britain on Tuesday they had that awkward work meeting where all the simmering resentment about the office bully suddenly bursts out as someone finally stands up to them, except they can't all go back into the office next day, half mumble an apology, and carry on as if nothing ever happened, because they did it on national telly

We are raising money for Katie, who you might know better on the internet as Mushybees or Beesesteeses, who was responsible for much of the unique visual style of UsVsTh3m, and who has had a diagnosis of stage four cancer. You can donate here or buy one of her excellent t-shirts.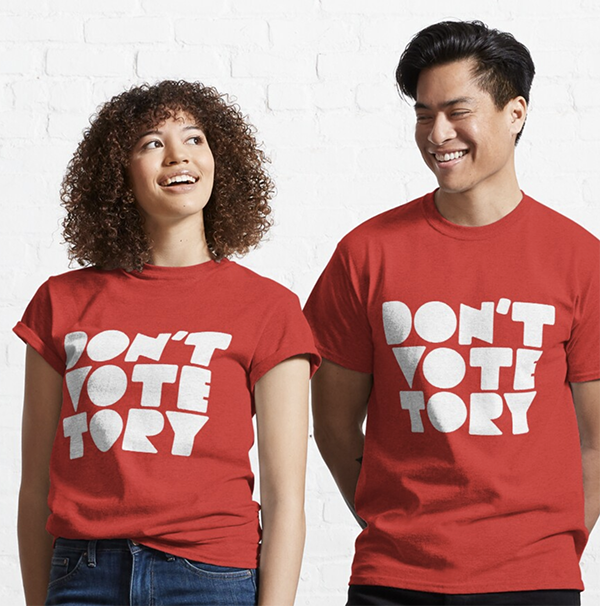 bRiTaIn iS nOt a rAcIsT cOuNtRy
"Between July and December 2019, the Met Police issued news releases about 72 people who had been sentenced for violent offences such as murder, rape and violent robbery. Of this group, 50 people were Black, equating to 69% of all the press releases in this category. The force published news about just 22 violent white offenders being sentenced.

But this bears no resemblance to the number of people who were actually sentenced during this period. From July to December, the Ministry of Justice's own figures state, 575 white people were sentenced for violent crimes, while 344 Black people were sentenced for the same category of offences."
"The Met Police are more likely to publish your mugshot if you're black" – Sarah Trunnidge, Huffington Post

"'Empire has been weaponised by the right wing, ever since Black Lives Matter. Now there's this idea that you need to be proud of imperial history to be proud of the country and vice versa. It's become a proxy for patriotism and race,' says Sanghera. "When you talk about empire, you're talking about race, really. You're talking about white people conquering brown people. And so when you have brown people like David or me talking about empire, it triggers people in a really deep way. David challenges the hierarchy of empire. But he also challenges the way the imperial story has always been told, which is a 50-year-old white man on TV, often getting off a train in India; a nostalgic view. Suddenly there's brown people taking ownership of this story and it's really triggering for so many people.'"
'Imperially nostalgic racists' target Empireland author with hate mail
It's a great book, the historian nerd still lurking inside me recommends it.

Talking of the historian nerd lurking inside me, he's furious about this. The report may have exonerated the National Trust for looking into links between its possessions and slavery but the people doing the complaining have almost certainly achieved their aim. How many heritage organisations are going to commission a report into historical links to slavery now, when they know a barrage of bad publicity in the Times and Telegraph followed by having to justify it in a lengthy investigation by the Charities Commission will inevitably follow?
"National Trust did not breach any rules, Charity Commission finds" – Harriet Whitehead, Civil Society News

She described the abrupt change in tone in some tabloids after her daughter's death and as criticism of the media became part of the story. 'The same papers that wrote all the horrible things about Carrie, after she died got in contact with me to say, oh we'd love to do a lovely article about her. And you think: what? I don't understand this.'
"Media failed to learn from Caroline Flack's death, her mother warns" – Archie Bland, The Guardian

This from Moya Lothian McLean is a very good readout on a public media hoo-ha.
"What is funny – a dry, grim chuckle rather than a peal of joyful laughter – is that both Aurelia's constrained budgets and Jessica Evans' ability to prise nearly £300 from skint writers desperate to land a commission, are two just two sides of the same tarnished coin. There's a dearth of paid traineeships that would allow young writers to be trained from scratch by media companies and ensure them some sort of paid employment at the end. They've een swallowed by the greedy maw of corporate ownership, which demands profit over investment into quality journalism. There are fewer gigs, far less security and more people are having to carve out their own spaces, usually on a shoestring."
"Don't blame media startups for low budgets, blame an industry refusing to invest in young diverse voices" – Moya Lothian McLean, Gal-Dem

RELATED: Keith Stuart on "How to pitch an article. What editors want – and definitely do not want"
"A good feature tackles a topical subject in an interesting way with a challenging slant and a strong cogent throughline. It isn't just a collection of facts, it's an argument, a story, with a beginning, a middle and an end and there needs to be a central point driving readers through the text. To make the pitch compelling you need to show that you have a) access to information no one else has, b) a unique angle, and/or c) the writing skill to bring the subject alive."

One year later I haven't really changed my position from this Facebook post…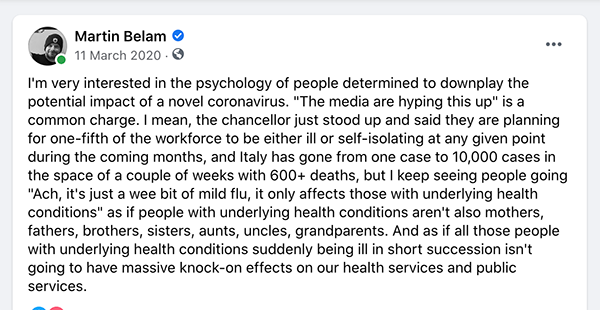 I'm putting this in the newsletter more as a note-to-self because I'm always having this argument in local Facebook groups, but spotting a story about someone being outraged about having to pay to park outside their London home, my man Alex Hern has done the maths and he says:
"The cost of buying a parking space if it were priced like normal London land is around £90,000. If you value that as a perpetuity with an annual growth of 4% (half the recent growth in London land prices), it implies an annual payment of £3600. In other words, if the council gives you unlimited use of a 180sqft parking space for £480, you're being subsidised to the tune of £3,000 a year in order to store a car on it."

I can't work out whether this is wholesome horse content or one of the weirdest things I've ever seen. Keep scrolling, it just gets odder and odder. 'Doctor Peyo': the horse comforting cancer patients in Calais
I mean, I can see how it's lovely having a horse come over and nuzzle you and all that, they can be very sensitive and soothing and intelligent, but also if I was in hospital seriously ill and Shergar came clip-clopping through the hospital I'd be like "Fuck me what kind of drugs are they giving me?"

Dutch engineer Lou Ottens, who is credited with the invention of the audio compact cassette tape, has died aged 94. Here's my most played compact cassette of 1977, which I still have.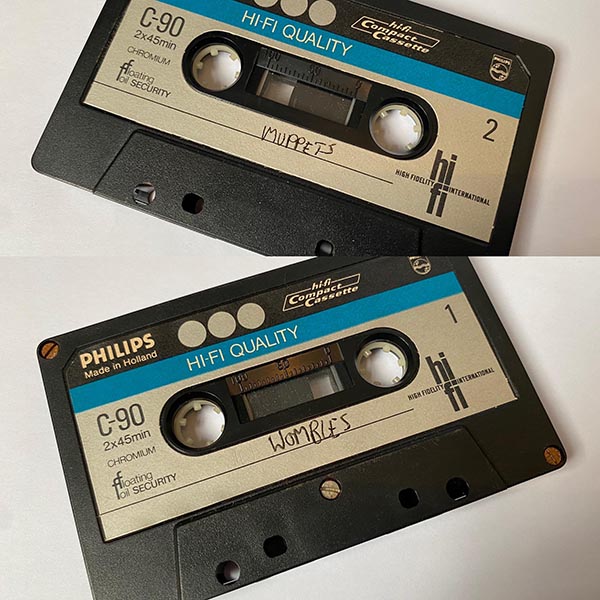 There's not many links this week, sorry, it's mostly just me wanging on about stuff. I'll try harder next week.

I still can't quite get over that the gameplay of Donkey Kong 3 in 1983 was basically "Shoot a giant gorilla in the knackers" and everyone was fine with it.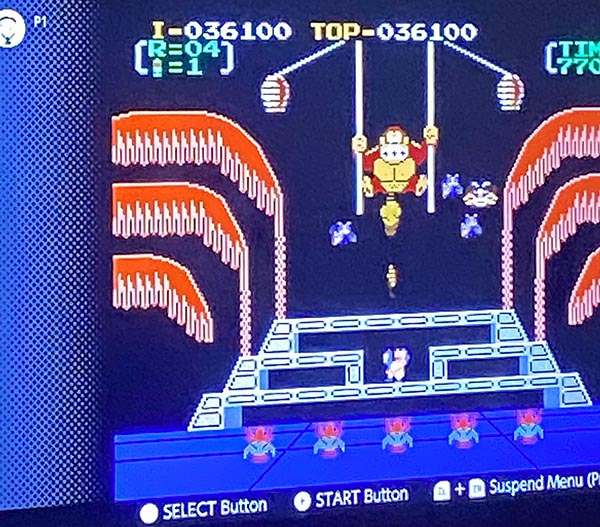 Absolutely nailing it from start to finish, Dorian Lynskey on "How Depeche Mode (almost) became my own personal Jesus":
"Fandom is not simply about loving something; it is about being seen to love it, and being seen to be the kind of person who loves it. It is performative, hence the T-shirts and the lyrics carefully biroed on to school bags. For me, though, the outsiderish appeal of being the Depeche Mode guy in my school year was diluted by the presence of fellow fans. I found the communal experience flattening rather than elevating; it turned me into one among many at an age when I needed to feel like a (cool, mysterious, ineffably alluring) individual."
I must confess that I stay away from Depeche Mode fandom these days. A combination of over-listening to everything from 1981 to 1998 and finding nearly everything post 1998 to be a load of wet wind, means I would be *that guy* in the forum moaning that the reissues are too expensive, they still haven't put out the full edit of that one b-side remix they disowned years ago, actually those lyrics I loved when I was fifteen turn out to be not that insightful about the human condition when you think about it etc etc…

I've found the new Anchoress album, which was out today, very moving. I think especially this week, a album focussed on the grief and loss experienced by women lands hard.