Friday Reading S11E12
Friday Reading is a weekly series of recommended reads from the Guardian's Martin Belam, covering journalism, media and technology, and other interesting nerdy things. It is now in its eleventh season and still hasn't had a drink yet this year. Sign up here.

I've got strong opinions about going back to the office because it seems mad to suddenly add all the time and cost of commuting back into my life when I've been able to do my job from home with a slightly nicer desk set-up for twelve months. But on the other hand this feels sub-optimal…
"The majority of Reach employees will work from home on a permanent basis as the publisher aims to reduce costs by shrinking its office space. It is not clear how much the company, which owns the Mirror, the Manchester Evening News and the Liverpool Echo, will save through the cost-cutting measures."
Daily Mirror publisher Reach to close (a) London office and make most staff permanent home workers – Jessica Clark, City AM

One of my worries about this long term is not so much the day-to-day "getting the job done" but how do you do on-boarding and training and also how do you make some of the necessary changes to entrenched newsroom culture if there is no newsroom? 🤔

HOW IT STARTED Alex Thomson, Chief Correspondent and Presenter, Channel 4 News, December 2020: Morning – am starting an occasional series on bonkers journalist job titles. Hot on the heels of dear BBC's « reality Check Correspondent » (all journalism is reality checking) I notice the Guardian has a « Video Games Editor ».
HOW IT'S GOING The Guardian, which has a Video Games Editor, March 2021: Lockdown boredom drives UK video games market to £7bn record high. A seven billion pound industry in the UK alone, compared to say the size of the fishing industry, which is £446 million. Seven billion pound industry but apparently "bonkers" to cover it. Yes I am still angry about it months later, have you met me?

Thoughtful as ever from Matt Locke at Storythings on designing content and services from the ending first. As he says, there are lots of design patterns for onboarding users – why are there so few for endings?

Talking of endings, there's nothing in this article that will unconvince me of my central thesis that if you want a decent community associated with a news brand you have to proactively get in there and manage it – which is pretty much impossible to do at scale with the resources a news brand is likely to devote to it.
"The sense of cozy community often frayed as time went on and membership grew. The 2020 election and the pandemic created division and breaking points within communities (real-life and virtual) everywhere; NYT Cooking was no exception. Politics seeped in constantly, despite a group rule that there 'are many places to express your political views; this is not one of them.' When posts supporting presidential candidates were deleted, people started sneaking 'vote' messages into their food pictures. Holidays added another round of conflict. For instance: Someone posts a picture of a Thanksgiving table that is clearly set for a gathering beyond immediate family, or asks for a good recipe for a 'big group,' or posts a picture of themselves at a 'socially distanced' gathering where nobody is masked and everybody is close together; judgment ensues. This happened repeatedly."
"The New York Times is so done with its 77,000-member Facebook cooking group. What happens now?" – Laura Hazard Owen, Nieman Journalism Lab

"It is also unclear who the series was actually for. Looking back on it, Vaughan says: 'I was never quite sure who the joke was on. Is it the contestants, or Charlie Skelton? Or the viewer, like, 'Serves you right for watching reality TV'? Or at one point I even wondered if the whole show had all been faked to be revealed as a joke on me, the host.'"
The thing is I don't recall this space cadet reality show at all, which makes me think maybe this whole brilliant article by Laura Martin is a meta-prank on us all…
"Ipswich, we have a problem: Space Cadets, the reality show that never left the ground"

Also on a TV theme, that thin-skinned writer prick launching an attack in GQ on one of my young women colleagues as a *checks notes* cunt, a piece of shit, fuck her, was nice wasn't it? He seems nice. I bet he's really great to work with.

Talking of people who I bet are really great to work with, read every word of this…
I know, I know, the text is very small. Here's a bit worth reflecting on from Julie Burchill's legally agreed apology JPG…
"I also accept that I was wrong to continue to tweet to and about her after that date. I should not have sent these tweets, some of which included racist and misogynist comments regarding Ms Sarkar's appearance and her sex life. I was also wrong to have "liked" other posts on Facebook and Twitter about her which were offensive, including one which called for her to kill herself, and another which speculated whetehr she had been a victim of female genital mutilation."
…and reflecting on the impact that had on Ash Sarkar, who wrote about it this week:
"On Burchill's Facebook page, she encouraged her followers to 'wade in' on social media, and referred to me as an Islamist and a nonce. For weeks afterwards, Burchill continued to publish posts on social media both to and about me. What followed was a barrage of abuse on social media and by email. People speculated about whether I was really a woman, and really a Muslim – and I was subjected to rape threats and threats of physical violence. I received direct messages on Instagram calling me a 'dirty brown whore', and fantasising about me being raped in 'an all white gangbang'. The intensity of the abuse, along with Burchill's continuing derogatory posts about me, severely affected my mental health. I couldn't sleep, and had bouts of trembling and heart palpitations. For the first time in my life, I was prescribed anti-anxiety medication."
As Ash points out, all this was covered in most of the media not as one journalist/writer launching and egging on these racist and misogynist attacks on another journalist/writer, but as "cancel culture gone mad" because Burchill's publisher pulled out of a book deal with her, as all companies are free to do when someone has brought them into disrepute, say by encouraging people to message someone to kill themselves.

Personally I'm looking forward to the first anniversary of the row about when we went into lockdown: "When did lockdown begin in the UK?" – Pippa Allen-Kinross
"WHAT WAS CLAIMED – The lockdown began on 16 March 2020, when Matt Hancock told the House of Commons that all unnecessary social contact should cease.

OUR VERDICT – Mr Hancock did say this, but it was not until 23 March 2020 that Boris Johnson told the country that people 'must' stay at home and certain businesses must close. Government ministers have previously described this second date as the start of lockdown."

The absolute brainworms on display here: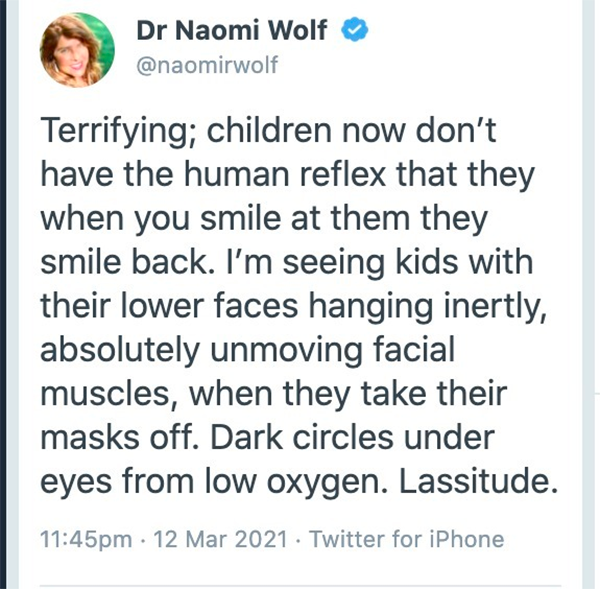 200,000 years of homo sapiens evolving complex facial expressions undone in just a few months of sometimes wearing facemasks. Tragic. RIP my face muscles.

I know correlation is not causation (cf pirates/global warming passim) but I am howling about this graph showing that the growth of negative reviews of scented candles on Amazon has been massive during a pandemic where losing your sense of smell is a major symptom.

The fact checks produced by American news outlets have gone from:
Trump said the moon is made of cheese and Communist Democrats want to drag it from the sky and fire it at Mount Rushmore because they hate America: THIS CLAIM IS DISPUTED
to:
Biden said Covid has now killed more people in the US than all of the US soldiers killed in World War I, World War II, the Vietnam war and people on 9/11 combined: UNTRUE – we used a slightly different method of counting people who died while in military service during the war years but not directly killed in combat and found this number was marginally higher.

"We moved four times in as many months and the second property we stayed in was haunted. Yes, really. I was yanked from sleep as my name was shouted loudly by a female voice. Windows opened of their own accord. Our cleaner refused to enter the attic room – because it 'just didn't feel right.' Showers turned on at 4.30am in the morning and, my husband told me only after we had left, a rather gruesome suicide story lurked in its history."
Everyone has roundly mocked this absolutely terrible article about a woman leaving London and then finding the countryside is terrible but they've massively missed the lede because this house sounds brilliant and I want to know how much it is worth and can I move into it?

I sometimes think about how Hergé was working on a final Tintin story when he died – Alph-Art – and that the last frame that he drew was Tintin being led away at gunpoint to where he is about to have liquid polyester poured over him to turn him into a "sculpture" by the artist César and that is it. That's how 54 years of adventures end. It's the final frame. The end. Fin. Tintin on his way to a fate we never see him escape from…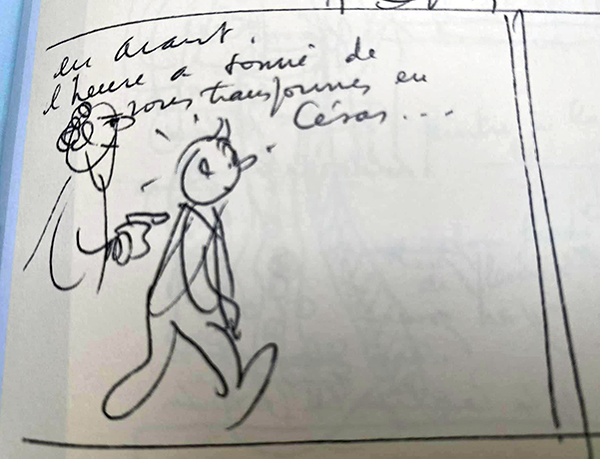 Grumpy Skeletor makes me laugh every day.

"Out of all the many great things about Hi-de-Hi!, one of my very favourites is how the show achieves such an achingly specific sense of period. Part of that is the beautiful location filming, at Warner's Holiday Camp in Dovercourt. Part of that is because Jimmy Perry lived and breathed this world, rather than spending his whole life indoors attempting to become a writer. And part of that is the brilliant theme music, which – much like the Dad's Army theme – sounds like something which was sung at the time. But alongside the strains of "Holiday Rock" is another, less-talked about means of establishing exactly when we are. Look past the close-up of Paul Shane's face in the opening titles, and stock footage – mostly from the late 50s – plays in the background. A quadrant of key historical events of the time."
It's the shot-by-shot breakdown of the stock footage used in the Hi-De-Hi opening titles that you never knew you needed.

For no readily apparent reason, Medazzaland, Duran Duran's somewhat experimental ninth album, which their record label hated so much that it never came out in Europe and you could only get it on US import, is suddenly available on streaming services. I always loved it.

The Anchoress has released the best album of 2021, the Art Of Losing. Get on it. There was a heartfelt #TimsTwitterListeningParty this week which you can replay.