Friday Reading S11E14
Friday Reading is a weekly series of recommended reads from the Guardian's Martin Belam, covering journalism, media and technology, and other interesting nerdy things. It is now in its eleventh season and has never been stuck in a canal. Sign up here.

Just a quick one today because it's national chocolate weekend™

Incredible story:
"One of the strangest things was the effort he'd put in. Usually, plagiarism is a sign of laziness or an act of desperation. I think there was something about the thrill of the game and the performance for him. Not only was he copying people's work, but he was regularly contacting the original authors, using bits of their life stories and weaving them into his own, before presenting it online."
"Experience: I tracked down my impostor" – Dr Matt Lodder

If you – like me – still can't really get your head around just how big that cargo ship that got stuck in the Suez canal was, then this webpage let's you drag/drop an image of it to scale anywhere on a satellite map of the world so you can see how big it is compared to some landmark you recognise. Blimey.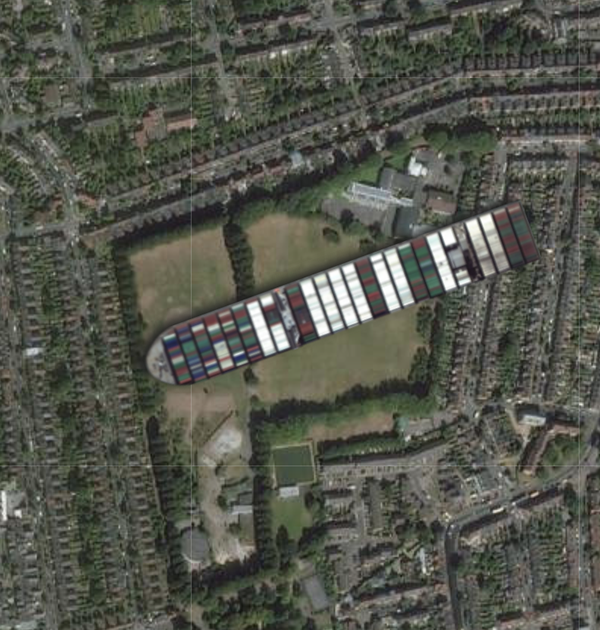 Who knew? It turns out there were a bunch of Cassandras: Stranding of Ever Given in Suez canal was foreseen by many

Fascinating end of project run-down on what Erin Kissane and the other volunteers learnt from running The Covid Project for a year, trying to provide reliable national statistics about the coronavirus outbreak in the US that Trump's federal government didn't, wouldn't or couldn't.

How the Web Audio API is used for browser fingerprinting. Oh.

"A post on The Silph Road Reddit has appeared in which a user going by the name u/giantbuzzkill explains in detail that a player is not only harassing him in the game but in real life too. This unknown player is probably a spoofer and makes sure to keep the harassed person out of gyms in their radius.

The spoofer has also made many accounts with names of u/giantbuzzkill's vehicle registration, work name, and many more. As the player reports, this vendetta has been going on for seven months and Niantic has done nothing to fix this issue."
"Pokemon Go player being harassed and stalked by a serial spoofer" – Dejan Kacurov, Future Game Releases

I sank so many hours into playing this…
"The line up included a bathtub, breakfast table, school desk, garage floor, sand pit and garden patio, all filled with witty scenic flourishes – rubber ducks, cereal boxes, oil cans and rulers forming precarious bridges. The ingenious element was the way the team used contextual objects as conventional racing game obstacles – spilled ink became an oil slick, puddles of milk became water hazards, playing cards were ramps. In this way the miniaturised worlds feel tactile and immersive, despite the limitations"
"The Making of Micro Machines – How Codemasters took the hit toy line to the top of the videogame charts" – Keith Stuart

This piece reminded me that there had been a PS4 version of Micro Machines and I saw that it was now £8.99 in the sale and I read the reviews and the reviews were bad, however they identified the main problems as no single-player career mode and glitches in online match-making and I thought, well all I want to do is play it locally and thrash the kids at it, that should be fine, how bad can it be? And the answer is really, really fucking terrible. It's like the Micro Machines I remember, except somehow they've managed to suck all the fun out of it. Would have got more joy from just setting fire to a tenner.

#MEGAFREDDO is an online drama full of suspense and well worth your time.

A project trying to archive every episode of the Park Avenue soap opera that used to be broadcast over the ORACLE teletext service.

Very enjoyable flash fiction from Mark Colbourne: I was never in The Fall.

A joyful clip from Children In Need of a very nearly complete set of then-living Doctors and companions emerging from the TARDIS in 1985. Something in my eye, especially about Ian Marter and Michael Craze. I know we've lost many, many dear people from that clip now, but somehow those two feel gone for a very long time. In particular, Michael has felt absent from all the lovely press events for the Second Doctor animations with Frazer Hines and Anneke Wills, where you can't help feeling that if those two are still here, he should be too.

Very badly preserved animated Fourth Doctor ice cream advert from the late 70s/80s.

Very flattered to have one of my tracks included in this new mix which also features Jane Weaver, Snapped Ankles, Chromatics and more – Gigantic: Browsing History March 2020.

I did a livestream of my eighties-sounding electronic music about the paranormal last weekend, you can re-watch it here.