A one-line review of every #TimsTwitterListeningParty I joined in March 2021
Nobody has asked for this. Tough luck. It's a monthly series now. I've marked LPs that I'd never heard the whole way through before with a 🆕 icon. The links (mostly) go to the album on Spotify.
Gang Of Four Solid Gold Such a great sound that could have been recorded this year, and so influential, but I was very late to the party. I did luckily get to see the most recent incarnation live a couple of years back.
🆕A Winged Victory For The Sullen Invisible Cities This one was at 8pm on the Monday I'd had a surgical procedure done on my face, and all I could think about managing to do was lying in the dark listening to a beautiful but sometimes chilling landscape, so what a stroke of luck all round, because that's what this album was.
🆕Yucatan Uwch Gopa'r Mynydd I do love a Welsh language LP and this one came with lush arrangements and a poignant backstory and was very good indeed.
Belly Star Feed The Tree a constant MTV soundtrack to my student days, but I found this – which I hadn't heard for years – kind of just washed over me and I instead spent loads of it wondering why I didn't go and see them playing alongside R.E.M. and Blur in Milton Keynes in 1995 because that very much sounds like my kind of thing.
The Fall Your Future Our Clutter [The Mighty Fall Facebook group host synchronised listenings at 10pm on Tuesdays so I've included these too] A weird one that includes having to skip onto YouTube to find a couple of vinyl-only tracks, and which had a different song order on the CD edition, it doesn't really have any punch-out tracks but is a quietly confident bass-heavy effort from the last and much-loved (by me at least) stable line-up of the band.
🆕Humanist Humanist Not sure why the Spotify algorithm hadn't already shoved this very enjoyable album into my hungry face as it features Mark Lanegan on quite a lot of the tracks and to be honest I'd happily listen to him singing the phone book because his voice is so great, plus Dave Gahan, and it is an album full of uplifting tracks of misery. It could have been focus-grouped to appeal to me, and I didn't even know it was a thing.
Cud Showbiz 'Sticks And Stones' should have been a big hit and then Cud would have been perfectly poised to ride the wave of British guitar music that ruled in 1995/96/97. It wasn't. They didn't. I actually supported them at the Sir George Robey in Finsbury Park in 1988 when I was part of the earliest Bark Psychosis line-ups.
🆕Natalie McCool The Great Unknown I think this must be what sophisticated modern pop sounds like, there were a couple of songs I could imagine my 11 year old singing along to.
The Icicle Works The Icicle Works They feel like one of those bands I should have been into at the time, but nobody ever loaned me an LP or made me a tape to get me started, so I enjoyed it but didn't get that warm glow of nostalgia that has been so great about listening to other albums from around the time.
Japan Tin Drum Steve Jansen was an amazing guest at this one, full of diary entries and behind-the-scenes pictures. It is a short but sweet Japan album that I never had, with 'Ghosts' and 'Sons Of Pioneers' the stand-out tracks.
David Arnold Shaken And Stirred I remember this being a big deal at the time, but looking down the track listing in 2021 I was just like – well, you are on a hiding to nothing doing a James Bond cover aren't you? – the Propellerheads being maybe the exception that proves the rule on this LP.
🆕Kurt Vile Smoke Rings For My Halo Kurt Vile is frequently suggested to me by the Spotify algorithm and he should be very much in my wheelhouse but I've never gotten into it. Think I was a bit put off by the name? So not sure I approached this with an open mind, but it is just all too stoned for me, not enough "Oooomph™".
🆕Dennis Bovell Brain Damage New to me as my reggae knowledge around this period was limited to buying singles from Musical Youth and Eddie Grant so I thoroughly enjoyed this especially the dubbier instrumentals towards the end.
The Fall Middle Class Revolt [The Mighty Fall Facebook group synchronised listen] This is a one-paced one-dimensional mediocre Fall album from a line-up that was probably overdue a freshen up.
The Blow Monkeys She Was Only A Grocer's Daughter I missed this one but I just wanted to note that of all the things to attack Margaret Thatcher for, trying to belittle a woman with a science degree as "only a grocer's daughter" strikes me in retrospect as an incredibly sexist and classist thing.
Jane Weaver Flock I'm a big Jane Weaver fan and saved up my first listen of this album for the listening party and I have to say that I was slightly underwhelmed after all the advance chatter about how good it was, maybe it will be a grower but a couple of the big centrepiece tracks everyone was going nutso for just left me a bit cold on first hearing.
🆕Lamb Of God Lamb Of God Metal is not my genre usually – in my mind it still conjures up an image of all big hair from the 80s, three power chords and guitarwank solos – but I absolutely adored this album and cranked it up to volume 11 and have played it again.
Gang Of Four Entertainment! It's just the blueprint for so many records I loved during the 80s, 90s, 2000s, 2010s and on and on isn't it?
🆕Architects For Those That Wish to Exist A second metal album in less than 24 hours? I'll start becoming a genre expert. This had a bit more melody and electronics going on than Lamb Of God's LP and also reminded me that I had the first couple of Linkin Park CDs.
Echo And The Bunnymen Heaven Up Here I never actually had any of these albums and I've got a ticket to see them at the Roundhouse at some point this decade when gigs are back, so was glad of having the revision accompanied by really great commentary from Will Sergeant. However it was all happening at the same time as the police were attacking women at the Clapham Common vigil for Sarah Everard which was an unsettling background on my Twitter timeline.
🆕Pearl Charles Magic Mirror Deft and accomplished but with a strong 70s AOR/MOR vibe it wasn't really my personal cup of tea, though I could see why people have been raving about it.
Jesus Jones Perverse I saw someone tweet "This has stood up well and we should have showed up for it in numbers at the time" which kind of sums up how I feel about it – I think they'd left it too long between albums and when it came out the world, or at least my musical tastes, had moved on, but it was a really enjoyable album and 'The Devil You Know' is still one of their finest singles.
The Fall Bend Sinister [The Mighty Fall Facebook group synchronised listen] My first The Fall album and still my favourite The Fall album, sounding like a murky photocopy of an LP dredged from the sea, chock-full of doom-laden Fall classics.
The Anchoress The Art Of Losing This is just an incredible body of work about loss and grief and trauma and assault as it relates to women, and for it to be released on the day that it was confirmed that Sarah Everard's body had been found made it land even harder. I'm calling it as the Mercury Prize winning best album of 2021 right now.
🆕Bob Leave The Straight Life Behind I must have heard their early stuff played on John Peel but they seem to have just completely passed me by as a band, and without the layer of nostalgia everyone else was feeling it was nice enough but didn't really do anything for me thirty years later either.
🆕Blood Wizard Western Spaghetti I enjoyed this one which made me think of Darwin Deez for some reason.
🆕Tom Sanders Only Magic I hadn't looked this up in advance but quite quickly realised he was the singer in Teleman, which suggests he has a distinctive style, and as a consequence it sounded to me very much like a mellower version of them.
🆕Albertine The Sticky Fingers I've got to be honest without knowing anything about this LP or hearing a single note I already knew I was gonna like it because … well … look at the cover …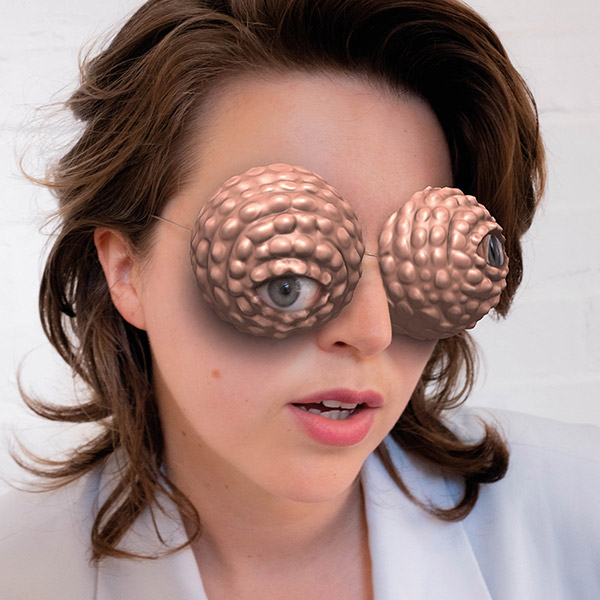 As that cover might lead you to expect, it was very enjoyably Talking Heads-esque art-pop at times, and I keep shouting out "Salty and strong!" at random moments now.
🆕Black Honey Written & Directed An absolutely banging 30 minutes where every track sounds like a single that should be played loud as part of a sunny summer afternoon festival set.
🆕Dan Sartain Century Plaza A #TimsTwitterListeningParty for a sad reason but this was a great synthpop discovery, although I'm given to understand it is atypical of his records.
Talk Talk Laughing Stock I couldn't have planned this more perfectly – this, one of my favourite ever albums, was my 300th #TimsTwitterListeningParty. Forever condemned to be known as "the other weird Talk Talk one that wasn't Spirit of Eden", it's just perfect from start to finish, 'After The Flood' has the best one-note guitar/feedback/variophon solo of all time, and with 'Runeii' the band just slip away into the ether, barely making a whisper of a sound as they disappear forever…
Prefab Sprout Jordan: The Comeback When I worked in the record shop in the 90s I had a colleague who played a lot of Prefab Sprout and so despite never owning this album or particularly liking it, it turned out I was note and word perfect three decades later.
Edwyn Collins Gorgeous This must have been ubiquitous in the record shop in the mid-90s but it left no memorable impression and in truth 'A Girl Like You' is head and shoulders and a country mile above the rest of the LP.
🆕Marc Riley and/with The Creepers Gross Out [The Mighty Fall Facebook group synchronised listen] I must have heard Peel play tracks from him but I never had any Marc Riley records and listening now for the first time it is quite hard not to hear them through the prism of Mark'n'Lard and The Shire Horses and all that.
Joy Division Still It's not really an album as such, is it, more of a jumble sale where the sublime like 'Exercise One' and 'Dead Souls' gets to rub shoulders with the rough and unready of 'The Kill' and 'They Walked In Line'.
🆕Ist Ist Architecture Don't know how this had passed me by – extreme Joy Division/Interpol/Cure/Chameleons vibes meant I found myself purchasing a ticket to go and see them later in the year before track two had even finished.
🆕New Age Steppers New Age Steppers I was introduced to Adrian Sherwood and ON-U Sound via his Depeche Mode remixes – particularly this one –  and Mark Stewart's albums on Mute. Had never heard this LP, but that was an error as I loved it, particularly the final track 'Private Armies'.
🆕Ed Dowie The Obvious I I genuinely couldn't tell whether I liked this or not – lots of the melodies and arrangements appealed but I just wasn't sure about the mannered choral-style vocals. An odd one.
OMD Orchestral Manoeuvres In The Dark I know it's a cliché but the thing with OMD is how they always combine doing massive melodic pop tunes with whatever the fuck that track 'Dancing' on this LP is.
Ramones Ramones and Ramones Leave Home Gabba Gabba Hey!
The Fall Dragnet [The Mighty Fall Facebook group synchronised listen] The murky second album, which alternates between mischievous humour often aimed at music journalists of the era, and Lovecraftian horror.
🆕Unkle Rōnin I Don't think I've listened to Unkle since Psyence Fiction to be honest, but this was very enjoyable, especially the more doom-laden rather than funkier bits, what with the doom being more up my street.
See also: