Friday Reading S13E12
Friday Reading is a weekly series of recommended reads from the Guardian's Martin Belam, covering journalism, media and technology, and other interesting nerdy things he found on the internet this week. It is now in its thirteenth season. Sign up here.

"'I have had so many conversations with people who want to do a thing or make a thing, but don't have a good reason why,' she said. 'And I think that continues to be the driving force in technology for different reasons now than then, but for one reason that is exactly the same as then, and that's money.'"
Fantastic interview with the brilliant Louisa Heinrich by Meira Gebel: "The UX Pioneer – Louisa Heinrich's quest to humanize tech"

There's some interesting stuff about my day job here:
"The Guardian said February 2022 was its fifth-biggest ever month for page views. Its daily Ukraine live blog consistently saw two million views per day and a comment piece about why Putin had 'already lost this war' by historian Yuval Noah Harari four days after the invasion began became its most-read opinion article ever."
Interest and attention has definitely softened, as you'd expect as you move from a breaking news situation to a drawn-out engagement, but the live blogs are still easily clearing seven-figure page views each day. No pressure then.
"Unprecedented reader interest in Ukraine as publishers shift to covering longer war" – Andrew Kersley, Press Gazette

"Having good equipment and good doctrine reveals little about how an army will perform in a war. To predict that, you must analyze not only its equipment and doctrine but also its ability to undertake complex operations, its unglamorous but crucial logistical needs and structure, and the commitment of its soldiers to fight and die in the specific war being waged. Most important, you have to think about how it will perform when a competent enemy fires back. As Mike Tyson so eloquently put it, 'Everyone has a plan until they are punched in the mouth.'"
"How the West Got Russia's Military So, So Wrong" – Phillips Payson O'Brien, The Atlantic

"My drug use was escalating and it seemed like a good idea to chuck my job and start dealing. That will be hard for some people to understand but when you're there, it's easy to go from using drugs to low level dealing. What I didn't see then, if I'm honest, was how I was being used by the older people around me."
Brutal and honest story of the life of one of the people who is now a citizen journalist in the Ferret's From The Margins project: Tam's story: 'Lives can change when people get the right support'

Rhiannon Lucy Cosslett has had a baby. Yay! \o/
She's also got a new column about being a new mother! Yay \o/
She promises not to write as though she is the first ever to have given birth to a child! Yay \o/
She'll still get a load of really abusive emails saying 'Dear god woman do you think you are the first person to ever discover this!' because that is what happens to every new parent who writes content about babies regardless of whether the people sending the email read stuff when they first became parents that was recently written at the time, instead of simply thinking "Well, the Romans had babies so clearly there has been no point writing about parenthood since 52BC" themselves, the joyless arses. Boo /o\
This bit made me laugh.
"My friend recommended I tried hypnobirthing, but many of the 'positive birth stories' are along the following lines: 'During my home birth, I was bleeding out all over the living room floor. The midwife recommended that I go to hospital, but, using what I learned in hypnobirthing, I resisted all attempts at medical intervention.' Some may find these stories comforting: I really, really don't."
"I've just become a mum – where is the writing about parenting for my generation?" – Rhiannon Lucy Cosslett

Quite a lot of Oscars noise this week. Worth bringing this one out of the archives. In 1973 Sacheen Littlefeather made history at the Academy Awards, appearing in place of Marlon Brando, declining his statuette and making a speech about Native American rights. It is one of the most polite moments of quiet protest, and people in the auditorium booed her. It is quite an incredible clip to modern eyes, and this is a great interview with her from last year at the age of 74.

A reminder that – yet again – there are a lot of questions for London's Metropolitan Police force after on Tuesday it started handing out fines for offences that in January it pre-judged to be not worth investigating.


"This is partly result of years of worthy blathering from mostly well-meaning middle class hand wringers with a saviour complex; food poverty, they assured us, is an issue of education not deprivation. Isabelle Oakeshott assures us the poor do not have the skills to cook porridge; neo-WI austerity fetishists blog about lashing up their own stock from just potato peelings and smugness ; Lieutenant Landlord takes to twitter bringing the concept of omelette to a poor benighted populous. Poverty is not an 'education' issue, it's a 'not enough money' issue."
"Budgeting Deficit" – New Low Expected

"The right conflating gayness with predatory behaviour is nothing new, but it now comes with added QAnon."
"The Right Has Gone Full QAnon on Disney" – David Gilbert, Vice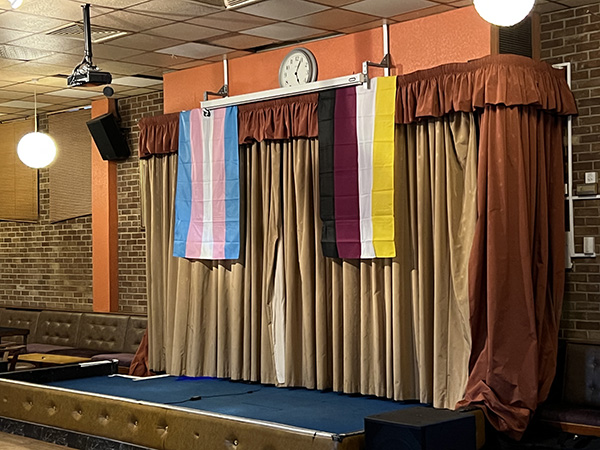 I went to a lovely little #TransVisibilityDay event at Walthamstow Trades Hall yesterday, and even successfully decorated a cup-cake.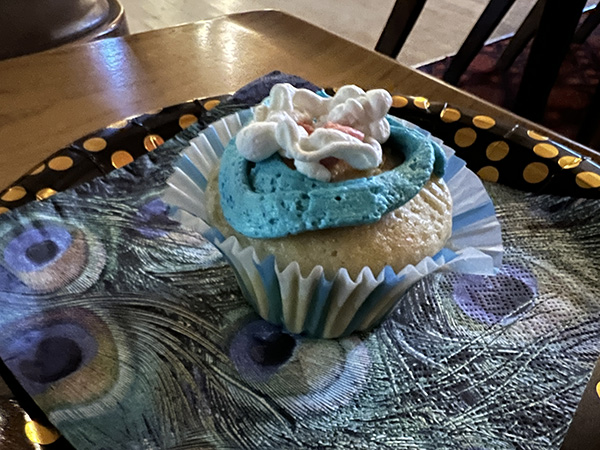 I've got a lot of time for Katelyn Burns' writing and it is always worth a reminder of how she set out the rise of anti-trans "radical" feminists for Vox in 2019.

Trans Writes is a project to increase the number of trans voices in the media.
"Once it is running we will be putting out calls to transgender people to send us their pitches. Not just transgender topics either, we want to see transgender voices of all kinds on all topics. We want to read your poetry, we want to hear your music, we want to know why you enjoyed an anime you watched or hear some cool facts you know about a local town. We want transgender voices and we want to make sure those voices are paid a fair rate for their work."

Turning Point UK are currently doing a fund-raising drive for someone to work minimum wage to "vet" submissions to their Education Watch site to report teachers for "bias", all in the name of free speech of course.
"Everyone should be absolutely free to express their opinions"
"This guy?"
"Oh no, absolutely not him. We need to set up a website to monitor people like him. Can you lend us a tenner to get it going?"
As ever I'm going to observe that if the kind of people who run organisations like that are concerned that educational establishments are over-run by left-leaning staff, why don't they simply become teachers? What? The long hours and low pay don't appeal? How strange.

"There is something dystopian about this example of the mainstream white gaze on Africa and the way in which the West is force-fed images of deprived children in a crude and unjustifiably optimistic light. In the Kony 2012 film, the polished visuals distorted the situation in the region and the ease with which one could help. The irresponsibility of Invisible Children in suggesting that re-sharing and buying merchandise was the appropriate resolution was particularly unpalatable."
I'm beginning to feel old in online years as well as real years. Really interesting analysis from Sunnie Fraser for gal-dem: "#StopKony: 10 years on, how did a controversial campaign shape online activism? – A viral video aimed at white Americans provided the blueprint for the digital 'awareness' era".

Ron wants to be sure that you didn't miss this week's Guardian Thursday quiz: Bar snacks and Oscars slaps – take the Thursday quiz

+++ JOBS AND OPPORTUNITIES KLAXON +++
Paid interns on The Economist's foreign desk – applicants need to send an original unpublished article of up to 600 words suitable for publication in The Economist's foreign pages which gets read blind which is A GOOD THING and should happen in the industry more often. Closes on 30 April.

This is great piece from Elie Mystal: Ketanji Brown Jackson's Long Pause Explained Racism and Sexism in America
"Jackson started to answer. She said, 'Senator.' And then she sighed. And then she paused. For a long time. As the silence filled the room, I felt like I could see Jackson make the same calculation nearly every Black person and ancestor has made at some point while living in the New World. It's the calculation enslaved people made before trying to escape to freedom, or activists made before sitting down at the white lunch counter. But it's also the calculation a woman makes before responding to the e-mail of the failson who was just promoted ahead of her, or the calculation I make when a white executive comments on my Twitter feed but not my published columns. It's the calculation when black people try to decide: 'Am I gonna risk it all for this?'"

Expertly written by Sirin Kale but honestly what a hellhole we've made the internet into.
"The person responsible for all this suffering? A 30-year-old unemployed man from Northwich, Cheshire, called Matthew Hardy. For more than a decade, Hardy behaved with near impunity. 'Every time his name comes up, I hear other names,' says Zoe Jade Hallam, 31, a model and mechanical operative from Lincolnshire who survived Hardy's stalking. One force alone, Cheshire constabulary, was contacted about Hardy more than 100 times by 62 victims over an 11-year period. During Hardy's years of stalking, he was arrested 10 times. But the police and the Crown Prosecution Service (CPS) appeared unable to put a stop to his offending."
"11 years, 10 arrests, at least 62 women: how did Britain's worst cyberstalker evade justice for so long?"

"Facebook parent company Meta is paying one of the biggest Republican consulting firms in the country to orchestrate a nationwide campaign seeking to turn the public against TikTok. The firm, Targeted Victory, pushed local operatives across the country to boost messages calling TikTok a threat to American children. "Dream would be to get stories with headlines like 'From dances to danger,' " one campaign director said."

The Razzies have had to withdraw their nomination of Bruce Willis for some award for being terrible when it emerged that he has been trying to cram in as many films as possible before calling a day on his career because of a debilitating health condition.
However, this also drew my attention to the fact that they had also previously nominated Shelley Duvall for a "bad performance" in The Shining, which they have now also withdrawn because of the terrible bullying she was subjected to by Kubrick during the filming process. But, draw a deep breath here, you can't fucking nominate Shelley Duvall for a "bad performance" of a terrified victim of domestic violence impacted by the director mistreating to her and then later rescind it because you've finally understood the fucking film. Pricks.

"What's replacing the old southbound platform is a huge new space with a new platform that is about three times wider than what people have been used to, and considerably taller, creating a vast almost impossibly large cathedral-sized space deep under the streets."
"Behind the scenes at Bank tube station's huge upgrade project" – IanVisits

4,400-Year-Old Shaman's Snake Staff Found in Endangered Finnish Wetland

At the weekend Paul Smyth scored what is probably the best goal I've ever seen Leyton Orient score at Brisbane Road.

TRACK OF THE WEEK: New Beginning by Automatic. A driving little track which features some excellent distorted one-finger keyboard work very reminiscent of Elena Poulou's fantastic contributions to the later years of The Fall.

Really terrible news about the loss of Mira Calix, and Jude Rogers did a wonderful obituary here: Mira Calix was an open-hearted musician who brought magic to the everyday

Some mixes for your entertainment:
1. DFA at 20 Tribute Mix by Dan Lomax
2. Women In Electronic Music 1938-1982 on Ubuweb
3. March 2022 Mark Stewart Special by On U Sound Sunday Roast

I make 80s-sounding electronic music about ghosts as m-orchestra, and you can find it on Bandcamp, Spotify, and all good electronic streaming services.
I've got a new 7-track 21 minute mini-LP coming out in a few days WHICH YOU CAN PRE-ORDER FOR JUST £3 HERE. There's a song about a magic candle made of human fat, and one about a spirit waiting to drown you. There's one about a werewulfe, and one about a man who has slipped back in time, and there's even *gasp* a bit of me singing on it …