Friday Reading S13E25
Friday Reading is a weekly series of recommended reads from the Guardian's Martin Belam, covering journalism, media and technology, and other interesting nerdy things he found on the internet this week. It is now in its thirteenth season. Sign up here.

There are so many hard-hitting paragraphs in this piece that it was difficult to know where to start with an excerpt. Try this:
"As more states restrict or ban abortion, more girls who are raped will face a choice between crossing state lines for care or having babies while they are still in elementary school. And reporters who want to tell these stories (and the news organizations those reporters work for) may have to abandon some conventional journalism wisdom in order to give the stories the attention they deserve."
… or …
"Kessler doesn't appear to consider the professional, non-nefarious reasons that a doctor might have for declining to share the names of her colleagues, or why she might be loath to (plus, due to privacy laws, legally prohibited from) disclose the name and address of her patient who was raped to a national newspaper."
"Unimaginable abortion stories will become more common. Is American journalism ready?" – Laura Hazard Owen, NiemanLab

SEE ALSO: This from Jessica Valenti – They Will Never Believe Us
"Childhood sexual abuse is not rare in the United States: One in nine girls will be victimized, and 34% of children who are sexually abused are under the age of 12 years-old. Still, conservatives rushed to call the girl's story a fabrication—claiming it was manufactured as a ploy to drum up sympathy for abortion rights. (Instead of the more straightforward conclusion that a terrible law will result in terrible things.) It was a glimpse into what we can expect in a post-Roe America: Real life suffering shrugged off as rumor or political fodder, and the picking apart of any experience that might make abortion bans look bad."

You can insert your own People's Front of Judea punchline after reading this:
"The reason that the vast majority of the QAnon faithful don't have the questions and doubts that their 8kun compatriots do is that most QAnon supporters have never even visited 8kun, and many don't really know who Jim Watkins is. Most QAnon supporters get their information from one of the dozens of influencers who have leveraged the popularity of QAnon to grow their own followings. As a result, most QAnon supporters will only renounce the new Q drops once the influencers they follow do the same–and so far, those influencers, starved of new content for the last 18 months, don't appear willing to see the evidence in front of them."
"Q Is Back and It's Tearing the QAnon World Apart" – David Gilbert, Vice

This is a difficult read too: My sister died after 1,023 days on an NHS waiting list. This is the reality of the 'trans debate'
"While Alice's life was not without joy and love, the brutal truth that she died alone and in pain is inescapable. As my family has grappled with this reality, we have gone over and over questions which boil down to trying to understand why Alice chose death over life. We will never have a straightforward answer to this question, but we keep returning to the fact that Alice faced powerful external barriers to her flourishing; barriers which were structural and deliberate."
… and …
"The climate of the so-called 'trans debate' has seen trans women's lives whittled down to theoretical pawns in a culture war, centred around issues like participation in competitive sports. These conversations invariably obscure the most immediate and material issues facing trans people – lack of access to healthcare, discrimination in the workplace, homelessness, heightened rates of sexual violence and assault, and the violence that policing and imprisonment enact on trans people."

"He interrupted my quiet time, filmed and uploaded a video without my consent, turning it into something it wasn't … I feel he is making quite a lot of money through it. It's the patronising assumption that … older women will be thrilled by some random stranger giving them flowers."
Melbourne woman 'dehumanised' by viral TikTok filmed without her consent
The pay-off in Harrison Pawluk's statement though is an absolute tell he's a wrong'un. "If she requests him to take down the video he will do that". My dude, she's literally handed you the opportunity to do the right thing, right there.

Ron wants to be sure that you didn't miss this week's Guardian Thursday quiz: Faithful dogs, distant stars and big ears – take the Thursday quiz

I'm going to be doing coverage of one of the UK Conservative party leadership debates and it is going to be hard not to slip in a reference to this from Joel Golby: Tory Leadership Candidates, Ranked By How Likely They Are to Eat a Worm

This is a rather more important take on the leadership race from Anita Phagura:
"So what happens if Rishi becomes Prime Minister - As a British Indian, I'll be told racism isn't a thing because we have a Prime Minister who looks like me. All whilst our human rights are torn up, and inequities grow ever bigger. Unfortunately this isn't progress for racial equity. If Rishi becomes Prime Minister, he won't advocate for other Asians. He won't advocate for Black people. He won't advocate for immigrants. He won't advocate for social mobility. And he won't dismantle systems of inequity for people of any skin colour."

As I have now arbitrarily decided that weird and obscure cinema is also my thing [see lengthy future posts on the subject] I really enjoyed this from Pamela Hutchinson: 'Two out of five stories should be hot': why pre-code cinema was a golden age for women
"The code wasn't worth the paper it was written on, and post-prohibition, depression-era audiences clamoured for gangster flicks and risque comedies, as well as socially conscious dramas that reflected the hardscrabble reality of American life. MGM screenwriters worked on the basis that the more outrageous the better, as the cutters couldn't cut everything. 'You would give them five things to take out to satisfy the Hays Office – and you would get away with murder with what they left in,' said one of the studio's screenwriters"
ALTHOUGH I MUST ALSO POINT OUT IN THE COMMENTS
"A good primer article for those who know little of Pre Code Hollywood, but [followed by several hundred words of 'I know more than the author']"
Yes, sir, it's an article in a mainstream newspaper website, not 1920s/30s Film Nerd Monthly, that's the whole point, isn't it?

I booked some tickets to see matches at Euro 2022 about 1,057 years ago and then ended up in Brighton on Monday watching England absolutely dismantle Norway 8-0 in one of the most overwhelmingly clinical displays of football I've ever seen.

There are some lovely little details in this tale of a unique feat in English football: When Ipswich won the title as a newly promoted club under Alf Ramsey
"Football history had been made, but the celebrations were characteristically muted. The Supporters' Association diary entry for that last game notes: 'After the match Andy Nelson led his team in a triumphant run around the ground joined by hundreds of supporters.' The club chairman, John Cobbold, arrived in the dressing room with champagne, after which the players simply went home."
Plus some vignettes that deserve whole articles on their own: "By the end of March, Town reached the top of the table, two points clear of Burnley, but with only six matches remaining compared to Burnley's 10" I want to hear about Burnley's implosion, and "Nelson was part of a defence which also included Billy Baxter, who would remain with the club until 1971, when his long service was ignominiously ended after a dressing-room punch-up with Bobby Robson."


DOCTOR WHO CORNER: The classic 60s movie Dr. Who double-bill in cinemas took £64,730, placing it tenth over the weekend for UK box office receipts. And it was tremendous fun!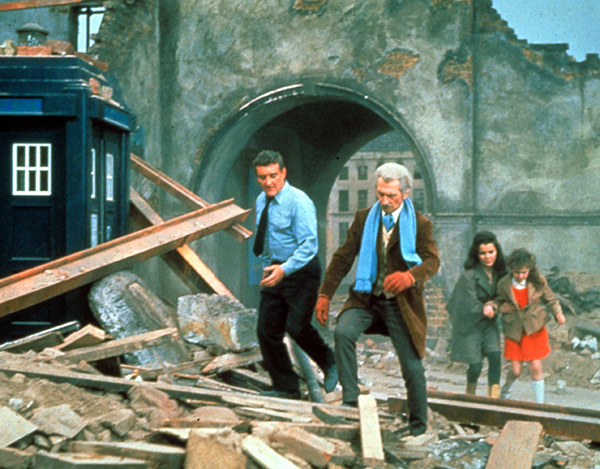 A new Doctor Who board game where you get to play as the Doctor's enemies looks like a perfect stocking-filler for the nerd in your life: Doctor Who – Nemesis.

"3D render of Slenderman starring in TRON" and more.

TRACK OF THE WEEK: Howl by Katy J Pearson. It is from her new second album which also includes her superb recording of Willow's Song from The Wicker Man soundtrack.

I went to see Joanne Joanne last night, the all-women tribute band to Duran Duran who were as you'd expect, absolutely superb. But supporting them was Where We Sleep, who turned out to be an undiscovered gem for me. Dark moody gothic 4AD sounding, a bit Curve-ish. Loved it. You should check them out.