Friday Reading S13E27
Friday Reading is a weekly series of recommended reads from the Guardian's Martin Belam, covering journalism, media and technology, and other interesting nerdy things he found on the internet this week. It is now in its thirteenth season. Sign up here.

Just a short one this week. In fact, I've decided that season 13 of Friday Reading is going to wrap up soon. There are probably two more weeks, and then it will be on hiatus for a bit.

I chucked my tuppence onto the interwebs about the late, great Bernard Cribbins (1928-2022).
Mark Lawson wrote a lovely thing here, and this was a great gallery of pics from his career.

Ron wants to be sure that – even though he did not feature – you didn't miss this week's Guardian Thursday quiz: Wuthering Heights and Lionhearts – take the Thursday quiz Kate Bush special

+++ JOBS AND OPPORTUNITIES KLAXON +++
Tips from Alan White for young journalists applying for jobs:
* hit people hard with the best stuff early. It might seem to make sense to have a chronological CV, but if your last job was as a waiter have it lower than say, the scoop you got for your local paper on work experience.
* Tailor your cover letter precisely to the job requirements, and proof read it. Do fewer better applications per day.
* It's worth paying at least some attention to your online presence.

"Michelle Tea was already aware that she'd been impersonated several times when her husband decided to engage the newest scammer. Because he has a macabre sense of humor, Tea told Motherboard, her husband immediately began telling the scammer that he had 'done bad things,' that he was scared, and that he was in urgent need of spiritual help. The scammer said they would be glad to help—for $60, due immediately."
"Psychics and Tarot Readers Are Under Siege By Instagram Scammers and Online Fatigue" – Anna Merlan, Motherboard

I know you've already seen it, but here is the video of the chess robot breaking a child's fingers for cheating.

"I've cottoned on to women's football pretty late myself. It wasn't until the last few seasons – and especially when the club I support, Dulwich Hamlet, set up a women's team – that I started to realise how easy and what good value it is to watch womens football. I don't like it more than the men's game. I don't like it less either. To me, it's just football. But I love it, and some of the best games I've been to and a lot of the best atmospheres I've experienced have been at women's games. Don't like that? Ok then. You don't have to say or do anything at all. I have literally never joined in a conversation to say I don't like horse racing. I just don't pay any attention to it."
"An accidental women's sport fan"

Never ever forget the facts about this. Sebastian Murdock writes "For years, Alex Jones and Infowars have falsely claimed the Sandy Hook shooting was fake. Jones will now face the consequences of those lies."
"Jones' dangerous lies had real-life consequences for victims of the shooting. In 2017, Florida woman Lucy Richards was sentenced to five months in prison for sending threats to parent Lenny Pozner, whose 6-year-old son, Noah, was killed in the shooting."

"Amongst page after page of self harm photos I found pictures of a girl I don't fully remember. I don't know why I say a girl, I was a woman. I look more like a lost girl, though. I look like someone who wants to disappear. I was someone in the process of vanishing. Looking at those photos hurt. It's painful to see how desperately Ill and unhappy I was. Even more agonising to realise how much the world approves of that version of me. A person who hated themselves so much they wouldn't eat properly & felt spilling their blood felt reasonable. But hey, look how I thin I was."
I found this fascinating and disturbing and heart-warming all at the same time: "All you need to do darling, is fit in that little dress …"


DOCTOR WHO CORNER: Another Whoniverse loss. Farewell David Warner. It is 100% my head-cannon that the Professor Grisenko character he plays in Cold War is a future incarnation of the Doctor, who knows very well what is going on in that submarine, but just put himself in place so he could see Clara again and tease her about it being the 1980s.
Toby Hadoke has done a lovely podcast with his memories of Warner: Indefinable Magic 18 – Goodnight Sweet Prince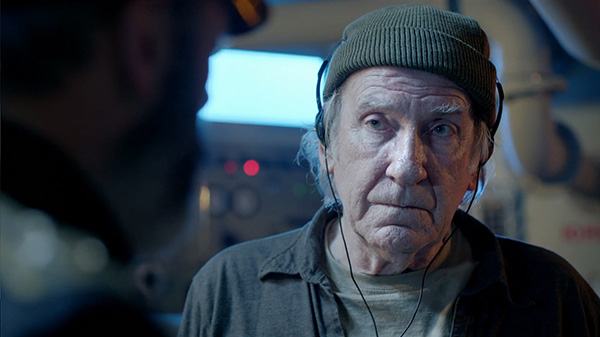 An incredible turn from Nicholas Courtney on the dance floor in an episode of "Whodunnit?"

I'd never come across this before. It is around forty minutes of footage behind-the-scenes in Berlin at the recording session for David Sylvian's first solo album, Brilliant Trees. It features Ronny Drayton, Sylvian, Ryuichi Sakamoto, Holger Czukay, Jon Hassell and Steve Nye at work: Brilliant Trees sessions, Berlin, 1983

One of my friends is involved in the Leeds' Pyramid charity that supports this – a lovely video report on Ultimate Thunder, a rock band from Leeds predominantly made up of people with learning disabilities who have played their first concert in three years.

A great interview with Vince Clarke which features him talking about Sparks and this absolute gem:
"Martyn Ware produced an album for Erasure. That was the first time I got to know him. I spent the whole time while we recorded asking him questions about how he'd gotten a particular sound with The Human League. He didn't remember."