A one-line review of every gig I've been to in April 2022
Nobody has asked for this. It is more for my benefit than yours, I guess. It's a monthly series now. Links go to the artist website. Maybe your interest will be piqued by one of the reviews. Maybe you'll scroll straight past. Maybe you'll unsubscribe thinking whatever did I ever see in this blog?

An Evening Of Tapes, Percussion And Guitars, Walthamstow Trades Hall, London, 2 April – I wasn't quite sure which of the acts I saw at this – I'd been drinking all day celebrating Walthamstow FC winning the Essex Senior League so managed about forty minutes before having to head home. It was a guy who I think had a drum machine and an oscillator and some tape cassettes and was reading some poetry over the top of that and all of it was plugged through one distortion-saturated tape echo, and it made my stuff sound as mainstream as a Kylie Minogue Greatest Hits CD.

Affet Robot, Vaein and Sydney Valette, Shacklewell Arms, Dalston, 7 April – I had wanted to go to this and even got as far as getting on the train to Hackney but I'd had such a terrible stressful day at work that after one stop I impulsively got off and decided the comfort food of watching West Ham-Lyon in the Europa League on my phone while in the pub was going to serve me better than an evening of miserablist continental darkwave. We'll never know if I made the right decision.

The Lovely Eggs, Heaven, Charing Cross, 8 April – An incredible psychedelic explosion of absolute joy. I 100% recommend you go and see them if you can – brilliant catchy songs delivered with verve.

Salt Ashes, Corn Exchange, Cambridge, 11 April – I was impressed with this, not sure where I'd place it genre-wise, but seemed like she had a great voice, good arrangements, the addition of live drums and bass guitar lifted it above being her singing over some programmed stuff, and it seemed to go down well in the room.
Goldfrapp, Corn Exchange, Cambridge, 11 April – Alison was doing the whole of Felt Mountain and a selection of other downtempo songs with a string quartet augmenting the sound and it was, of course, beautiful, and I did, of course, cry when she played Utopia. Felt like weirdly coming full circle as I saw them at ULU in 2001 originally touring the album, when she seemed so shy on stage she could barely look the audience in the eye and then they went MAD GLAM-SEX-SYNTH-POP and she was prancing around wearing a horse's tail and all that. This was back to the subdued and elegant. A lovely day/evening spent in Cambridge, and I got to hear a bit of them playing Train in the soundcheck, which they didn't do on the night.

Helen McCookerybook, The Lexington, Islington, 16 April – This was really charming, a very pure voice and wryly amusing lyrics, great guitar-picking style, just really heart-warming.
Micko & The Mellotronics, The Lexington, Islington, 16 April – Great fun psychedelic power-pop trio featuring my friend Heidi on bass and also on this occasion a spectacular flying cymbal early on in the set.

Sparks, The Roundhouse, Camden, 17 April – What can I write about how much I love Sparks? I only properly got into them in 2014 after a few near-misses since the seventies and they are now my favourite ever band. The things I would say about this gig is that there aren't many artists in their seventies who can finish a show with the opening track of their 24th studio album and it be greeted rapturously like a well-loved anthem rather than "Oh, one of the new ones". Also there was a guy near me who got so over-excited when they did generally-not-that-well-regarded-80s-doldrums track Music That You Can Dance To that I actually had to tell him his reaction had made my night.

Frokedal and Familien, Union Chapel, Islington, 19 April – I only saw a tiny bit of this – pleasant melancholy country-ish harmony driven stuff, but you can't drink and watch the bands at the same time at the Union Chapel so we had to head to the bar
Teenage Fanclub, Union Chapel, Islington, 19 April – This was much more mellow than I expected, as in my head they were a distortion-driven Creation Records harmony vocal frenzy in the early 90s. Well-crafted songs in retrospect.

Kristin Hersh, The Garage, Highbury & Islington, 21 April – I was never that heavily subscribed to Throwing Muses at the time so wasn't sure what to expect but this was Teenage Fanclub in reverse as where I had imagined them to be fey and jangly 4AD artistes this was a really hard and punchy sound from Hersh's electric trio. Super enjoyable.

BCOS RSNS, The Victoria, Dalston, 27 April – ~Goth-punk goodness. I thought for a few minutes Abi wasn't going to play (First On At) The Buffalo Bar which stressed me out, but they finished with that. There was an unexpected bass guitar solo in the bagging area at one point which was fun.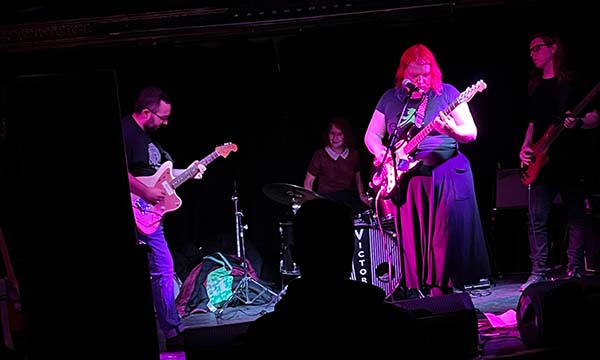 The Ethical Debating Society, The Victoria, Dalston, 27 April – Fizzing with energy I enjoyed this, two guitars two vocalists one drummer lots of politics and commentary and punky angsts. There was an unexpected Olivia Rodrigo cover version in the bagging area at one point which was fun.
Foxcunt, The Victoria, Dalston, 27 April – I only stayed for a couple of their songs because I am old and tired and write depressing news all day, but they started with my favourite track of theirs, Anxiety Dream, so then I went home to have some.