A one-line review of each of the twenty weird and strange things I've watched at the cinema in 2022
Another new series, mainly for my benefit not yours. I've never really been a movies person as they generally last too long and I always want to go the bar and the toilet after about twenty minutes like it is a gig, but I've treated myself to a BFI membership and every time I have to go into town to the office I've then been trying to go afterwards to the weirdest most "Martin" thing to watch that's on at the South Bank that day. It's been brilliant.

Get Carter (1971), Mike Hodges – I had never actually seen this, but knew the soundtrack backwards from it getting caned on the decks – PUN INTENDED – in Reckless in the 90s. The remastered version looked glorious and it worked as an amazing time capsule as well as a gripping story. As it unfolded, I began to realise that despite The Human League covering the theme tune on Dare, I didn't actually know how it was going to end.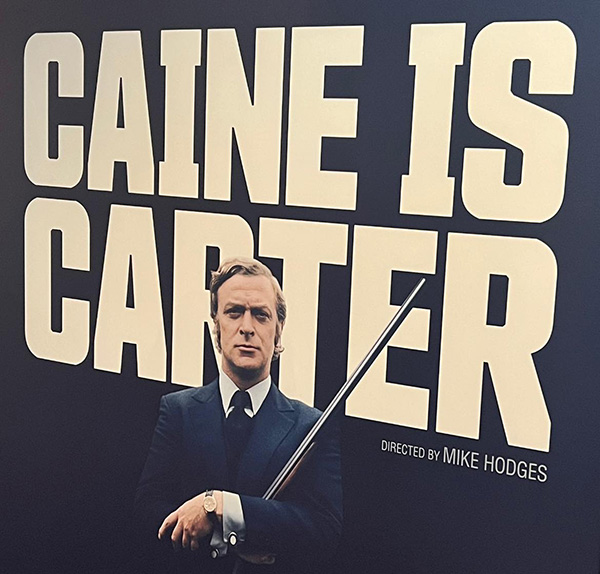 Moon, 66 Questions (2021), Jacqueline Lentzou – I found this moving and baffling in equal measure. Having lived in Greece I really laughed at some of the extended family scenes, which seemed incredibly spot on. I love a movie that has a lot of ambiguity in it, and this was beautifully shot, Sofia Kokkali was beguiling, and you were left with a lot of questions. Maybe not 66 though.

Day of Wrath (1943), Carl Theodor Dreyer – Did I mention that I do love a movie with a slightly ambiguous ending and a cast of characters who are ultimately all dislikable in their own way? This was made while Denmark was occupied by the Nazis and there's something quite weird to me about actually even doing that, and it is also fascinating how a film made in the 1940s about the 1600s went about portraying sexual tension. There's a bit near the end where Lisbeth Movin is running around a wood shouting "Martin! Martin!" and that is surely going to end up in an m-orchestra track at some point.


[I didn't go to this at the BFI – it was in the cinema again as a restored double-bill which I went to before going to see Duran Duran in Hyde Park. Absolutely living my best life.]
Dr. Who and the Daleks (1965), Gordon Flemyng – I would have seen these on the telly before I'd seen any proper William Hartnell, so I've no truck with people who say they don't count as 'real' Doctor Who – they are tremendous fun. Roy Castle pratfalls his way through this and the Daleks don't get enough screen-time but the set design is superb and it was throughly enjoyable.
Daleks' Invasion Earth 2150 A.D. (1966), Gordon Flemyng – I think this holds up the better of the two, it is a bit darker in tone because of the clear what-if-Nazis-had-invaded-Britain allegory. Bernard Cribbins is superb in it, and lovely to see it restored in incredible vibrant colour, even if it did reveal the limitations of some of the matte painting effects.


Blood Games (1989), Tanya Rosenberg – Exploitatively shot compelling terrible revenge tale schlock shocker, like an extended episode of Dukes of Hazzard if they've been able to actually show tits and the consequences of people being shot on the TV when that was being made. Some real laugh out loud moments and astonishingly bad acting amid the total 80s straight-to-VHS grimness of it all.

Notorious (1946), Alfred Hitchcock – We all know that Hitchcock wasn't always the greatest to his leading ladies, but this is a fantastically tight spy movie and Ingrid Bergman, Cary Grant and Claude Rains are all at the top of their game. Some brilliant cinematography, the absolute tenseness of the party/wine/key scene, and an amazing final sequence and ending. Also, Ingrid Bergman. Blimey. *mops brow*

The Hunger (1983), Tony Scott – In which we ask the question "How bad can a movie be which starts with David Bowie and Catherine Deneuve looking for vampire sex victims in a club while Bauhaus are playing Bela Lugosi's Dead?" and discover the answer is surprisingly "quite bad". Like a 90 minute version of the video for Bonnie Tyler's Total Eclipse of the Heart but with more vampires, gratuitous lesbian nudity, and inexplicably one very, very angry monkey.

The Man Who Fell To Earth (1976), Nicolas Roeg – I saw this once on the telly in the eighties when I was at a very impressionable age and the visuals of it have stuck with me for years, so it was lovely to see it on the big screen. It's a weird one because I do love it very much although the narrative is both over-rich and incomplete at the same time. Bowie is so good in it though.


The Power of the Doctor (2022), Jamie Magnus Stone – I got to see this at the press premiere in the Curzon Bloomsbury and my one-line review for the Guardian was: The Master steals the show as a host of familiar faces turn up to send off Whittaker's era in style. I also personally got menaced by Cybermen.


I went to an event at the BFI that was billed 'Queer Horror and Experimental Magic Films from the BFI National Archive'. Niche.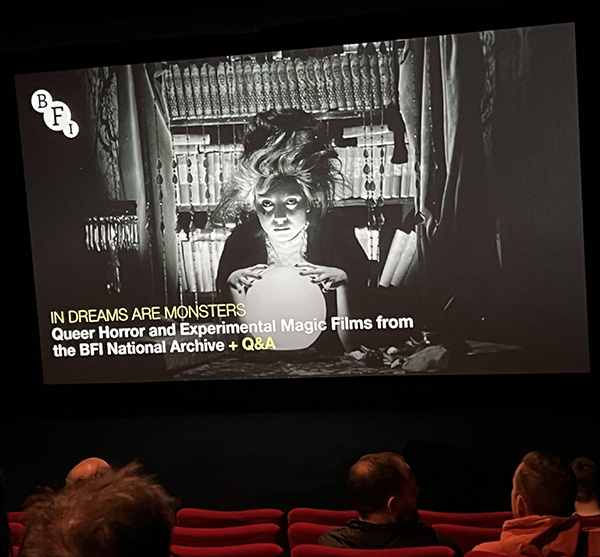 The Mark of Lilith (1986), Polly Gladwin, Zachary Mack-Nataf, Bruna Fionda – I enjoyed this, and they cited The Hunger [see above] as an influence. Part vampire tale, part feminism lecture, I did find it slightly depressing though that if you made it today you'd easily get "Woke Lambeth Council gives grant to student film about black lesbian vampire" headlines in the Daily Mail and presumably get questions asked about it in parliament by Badenoch or Braverman, and Jesus H Chrispies how slow is progress in this country that this scenario is totally plausible nearly some forty years after this was made?
The Magic Cottage, aka Zombie Cottage (1993), Joe Orr – Super-saturated looking morality tale where a guy splits up with his boring het girlfriend on a boring het picnic, visits the gents, and gets cottaged to death by zombies and likes it. Something like that, anyway. Had shoegaze-era The Verve and American Music Club in the soundtrack and the end credits had a list of then-contemporary cottaging options and their opening times as 'locations' featured in the short. Top work.
Catherine De Medicis Part 2 (1984), Steve Chivers – Absolutely baffling from start to finish.

I went to an event at the BFI that was billed 'Experimental Sound and Vision: Found Sounds, Lyrical Loops and Landscapes'
Clocks of the Midnight Hour (1988), Simon Reynell – Fascinating profile of the work of artist/musician Max Eastley who makes installations where sound is generated almost randomly – but rhythmically within physical constraints – by nature and mechanical movement, and then sometimes also plays disturbing atonal free jazz over the top of it on weird instruments I would struggle to name.
Water Wrackets: 16mm (1975), Peter Greenaway – Gorgeous shots of water in nature while a narrator pins it all to be the location of a fictional colonial / dynastic military campaign that 100% Chris Morris had watched at least once, as it explains in a matter-of-fact documentary way how people transferred carp from stream to lake in wet flags and then flailed the waters and so on.
Berlin Horse (1970), Malcolm Le Grice – Looped scenes of a horse running around given various different colour film treatments, inversions and overlays and then possibly everybody including several other horses are escaping a burning barn at the end. Difficult to tell. No evidence shown that the horse ever visited Berlin. The film was released in 1970 so sadly it is almost certain that all the horses involved are now dead, regardless of whether the barn was on fire or it was just billowing mist.
H is for House (1973), Peter Greenaway – Warm and witty and idyllic scenes of country life undercut with a voice intoning "H is for house, H is for happiness, H is for holocaust". Weird and lovely.
Jesus Blood (Never Failed Me Yet ) (1972), Stephen Dwoskin – This appeared to be turning into a 30 minute loop of a drunk man singing a spiritual as a street scene progressed in slow-motion, and was as grating as that glitch slo-mo loop of Elvis that The Fall sometimes had on to wind up the crowd before their gigs. One thing I have prided myself on this new "actually going to the cinema" thing was to tell myself treat it like watching TV, going to gigs, going to football. If you need a wee, go for a wee. If you aren't enjoying it, don't sit there feeling culturally stifled by the medium. I left.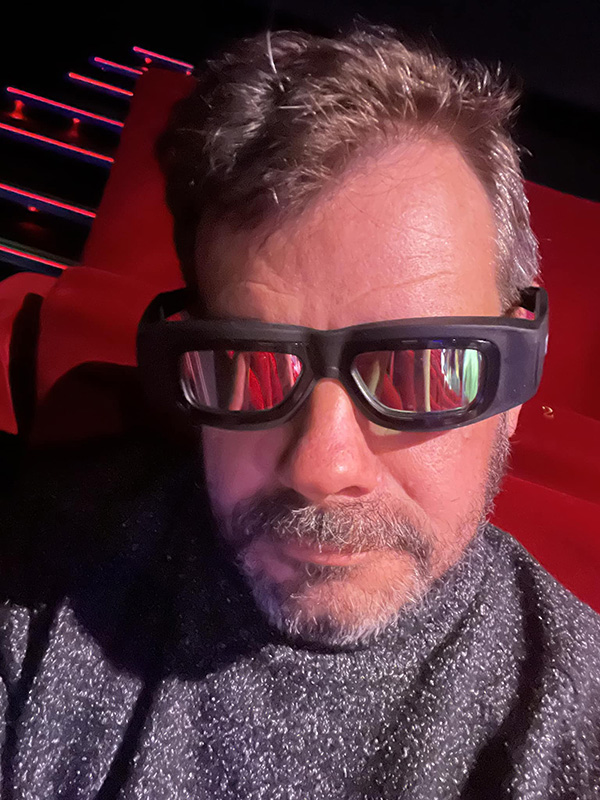 Creature from the Black Lagoon 3D (1954), Jack Arnold – I know I saw this in the 1980s/90s on BBC Two or something but it was lovely to see it on the big screen and in 3D as the good lord intended. It is a bit ponderous for a while in the middle but after forty minutes or so the pace really picks up. Incredible to think that all of the dramatic tension essentially comes from the fact that the two male leads *and* the creature want to fuck Julie Adams, who seemed to take an awful lot of outfits to a paleontology expedition.

What You Could Not Visualise: Rema-Rema (2022), Marco Porsia – My favourite part of this documentary was the discovery that even if you've been in Rema-Rema, Mass and The Wolfgang Press, you've still got one of those leatherette cassette tape boxes crammed with TDK C-120s of band rehearsals that you haven't listened to for forty years and aren't quite sure what is on them like Mark Cox has. I didn't know much about Rema-Rema, never even had their one iconic 4AD 12″, but was a big fan of Wolfgang Press and Renegade Soundwave where the members ended up so this was really interesting, and tinged with sadness, some great talking heads, and then the awkwardness of my meeting musical hero Michael Allen but also it was while we were in the gents at the cinema.