A one-line review of every gig I've been to in October 2022
Nobody has asked for this. It is more for my benefit than yours, I guess. It's a monthly series now. Links go to the artist website. Maybe your interest will be piqued by one of the reviews. Maybe you'll scroll straight past. Maybe you'll unsubscribe thinking whatever did I ever see in this blog?

Suede, Electric Ballroom, Camden, 6 October – Inexplicably and unexpectedly Suede have just made their best album since 1996. Someone else's transport misfortune meant I got a late shot at a ticket to this show, where "We are going to play the whole of the new LP" was a joyful bonus, not an "oh no" groan. Awesome from start to finish.

Roxy Music, O2 Arena, London, 14 October – You get two bands in one really, there's the art-glam-pop stompers and wall-of-Manzanera-noise of the early years, and then the lounge-pop stuff. I loved both. They had a lot of other musicians on stage helping them along but the core was still there, and they played Out of the Blue which is absolutely my favourite Roxy song. Adored it.

Franz Ferdinand, Alexandra Palace, London, 20 October – I'm on the 2000s nostalgia circuit now.
Actually this was a good lesson in the difference between watching a band you really like, and watching a band you really love. I totally enjoyed it, but it didn't move me in the way that Suede and Roxy had. Maybe because I don't accept that their debut album was nearly twenty years ago. Give it another decade. Or maybe I just wasn't in the mood on the night – I've found myself playing Hits To The Head a lot since.

BCOS RSNS, Walthamstow Trades Hall, London, 26 October – I've previously described them as "Goth-Punk goodness" and before I got to this I'd been to the BFI to see an evening of 'Queer horror and experimental magic film' and then I got there just in time to see BCOS RSNS again, paying proper homage to Halloween by including a version of Bela Lugosi's Dead.
The "Untitled Band" Project appearing as Sugarpiss, Walthamstow Trades Hall, London, 26 October – After several failed attempts I finally got to see this band which some friends are in who change their name for every gig, and actually for all the talk of how it had all started as improvised punk shit-posting it was all rather heavier and sonically more coherent than I had expected. They should have someone in the lobster costume on-stage with them like a lobster Bez though.
In honour of appearing as Sugarpiss they had also invented the Sugarpiss cocktail for the night and it seemed churlish not to.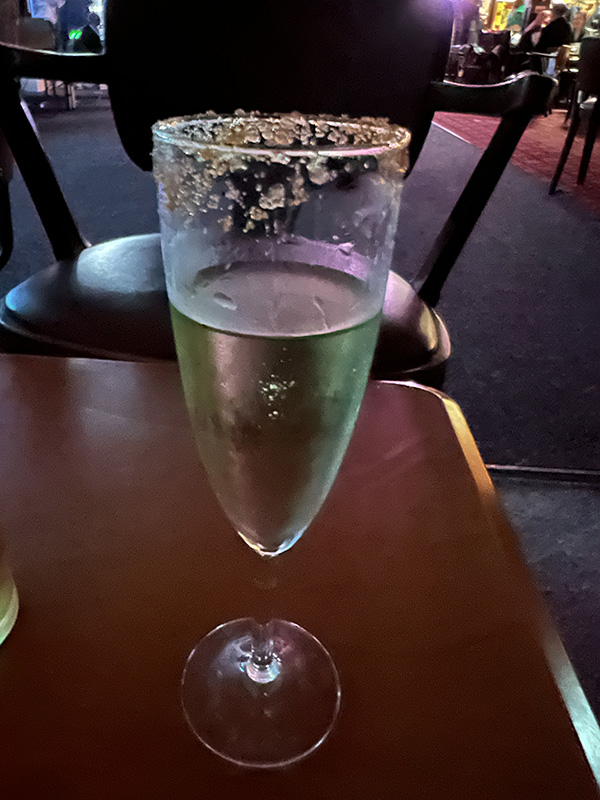 Sarah-Louise Young presents An Evening Without Kate Bush, Soho Theatre, Dean Street, 28 October – I can very much recommend this – it deftly trod an incredibly thin line between making my cry because of the emotional heft of the music, and making me laugh out loud in the loving way Sarah-Louise Young spun a comedy show around Kate Bush fandom and her songs.

Parenthesis Dot Dot Dot, Mascara Bar, Stoke Newington, 29 October – A bit of Pulp, a bit of Duran Duran, a bit of my friend Emma playing multiple instruments, a bit of that Jesse Hartman Laptop band that seems to have been completely memory-holed and only I ever reference them. Very good Halloween fun indeed.