Friday Reading S09E06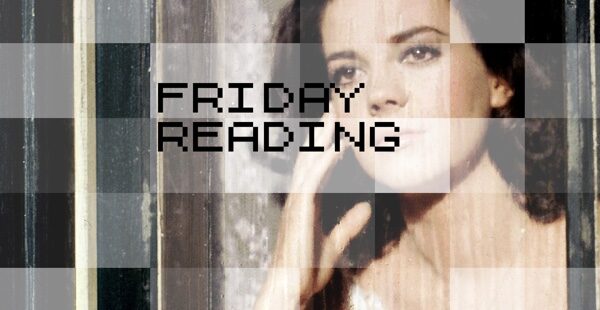 Friday Reading is a weekly series of recommended reads from the Guardian's Martin Belam, covering journalism, media and technology, and other interesting nerdy things. It is also available as an email newsletter. Sign up here.

This week's main picture for Friday Reading is Natalie Wood.

Ofcom's 2019 "Children and parents: Media use and attitudes report" is out.
Some key takeaways:
Half of ten-year-olds now own their own smartphone.
Use of smart speakers among children aged 5-15 has doubled over the last year, meaning that, for the first time, they're more widely used than radios.
One in four children do not watch live broadcast TV at all, because they use video on demand services.
TikTok is used by 13% of 12-to 15-year olds.
When asked if they could pick only one platform to watch, 45% of 5-15s chose YouTube
BBC TV channels remain the most important sources of news for children, but use is declining
Girl gamers are on the increase.
Fewer parents feel that the benefits of their child being online outweigh the risks compared to five years ago.

And another hefty report that has dropped and which is worth reading in full if you are interested in journalism, the media, politics, and whatever the hell it is that is going to happen over the next decade.
"A Mile Wide, an Inch Deep: Online News and Media Use in the 2019 UK General Election" by Dr Richard Fletcher, Nic Newman and Dr Anne Schulz
Some highlights:
Young people (18-34s) spent an average of just eight minutes a week with news websites during the recent UK election campaign.
Across the whole online population, news websites had wide reach (72%) but relatively little engagement.
BBC News was by far the most widely used source for election news.
BBC News and Mail Online account for almost half of all time spent with news websites.
Websites of alternative brands such as the Canary, Novara Media on the left and Breitbart on the right – along with foreign sites like Russia Today (RT) and Sputnik – played a relatively small part. RT's reach was roughly equivalent to that of the Brighton Argus, a popular local title, at around 1% of our sample.
Far more of our survey respondents felt the BBC had done a good job with its election coverage (43%) than a bad job (14%)
Despite hundreds of thousands of pounds spent on social media advertising by political parties, only around one in seven (14%) of our survey respondents said they had seen one of these political ads online.

Not a great week for media companies posting pictures of the wrong MP if they were a black woman. Here is a first hand account from Dawn Butler about what it felt like: "Google is free, so why am I still being mixed up with other black MPs?"
The fact is that people are mis-labelling the images at the picture agencies, and then newsrooms are using them, without anybody noticing the clear errors. It speaks to institutional issues in both.

"I would hate to be held to my lowest moments or, when I die, have someone on Twitter produce a screenshot of a tweet from 2011 as some statement on the woman I am now. But that's exactly what will happen because that is who we are as a society."
This is the most thoughtful thing I have seen written about reconciling the death of someone who was clearly a role model for many – Kobe Bryant – with the fact that he undoubtedly sexually assaulted a woman.
"Redemption In A World That Never Forgets" – Feminista Jones

"Publishers are growing audiences by producing less content" – Lucinda Southern, Digiday
My esteemed colleague Chris Moran added on Twitter: "Great to see coverage of this, but worth pointing out Guardian started in Sept 2016 and cut articles by a third within a year. We've maintained that while massively reducing share of low-PVs articles and massively increasing share of high-PVs articles."

This makes for an uncomfortable read.
"But my treatment on the show revealed the production team had a shallow understanding of sex work. On set, I felt far from comfortable. If you've seen the show, there's a short clip where I yell, 'I'm going to be late', to which Louis responds that we should get a move on. But his team were the ones making me late – they insisted they hung around to keep shooting even though I was visibly distressed about being late for a client. It rapidly became apparent they didn't respect my time or what I do for a living –would they have been happy to make me late for a bar shift or any other type of work?"
"The BBC said they cared about sex workers, so why was I mistreated on Louis Theroux's set?" – Ashleigh

I love that we've directly taken on this French cover-up conspiracy theory nonsense:
"The French have been revolting since the Revolution. They've been fighting with the police almost every week since I got here almost 20 years ago. Sometimes even the police protest. Plus ça change. This is France."
"The conspiracy theorists' claim that the media are playing down the Paris protests is nonsense" – Kim Willsher

"Bennett abandoned the project yesterday amid online criticism, saying he would now 'leave journalism as it is clear that even attempting to carry on in a relatively small manner is not welcome by a sizeable number of people'."
If only Rupert Myers could show the same courage.
"Ex-Telegraph Whitehall editor 'leaves journalism' after fallout from 'inappropriate' behaviour at Huffpost UK" – Charlotte Tobitt, Press Gazette

The Daily Stormer has announced that it plans to lay off the majority of its staff after readers of the neo-Nazi website failed to send it enough money. Good. Fuck those guys. The fucking Nazi pricks.

MERGERS AND ACQUISITIONS WTF OF THE WEEK: Cards Against Humanity, the card game company, purchased ClickHole.com from its owners at G/O Media on Monday for an undisclosed amount in an all-cash deal.

A new blog from my friend Katharine Schopflin: The Dosette Box.
"Why this blog? My husband was diagnosed with Alzheimer's last year. He's currently 61, I'm 47. I first noticed things weren't right about five years previously and it took a few false starts to get the diagnosis. He's told a lot of people himself and this year he said he was happy for me to talk about our experiences openly online. So I'll be adding thoughts as I have time, will try and maintain our dignity and not turn it into a moan-fest. Hope it's useful."

The NYT has done one of those brilliant "Wow, isn't England weird" pieces and this time it features the Leyton Orient women's football team. The piece also ill-advisedly tries to explain Bovril.
"A View of Brexit From the Soccer Field – Political turmoil may have roiled Westminster. But on wet fields across Britain, a fourth-tier team shows what it looks like to just get on with it" – Allison McCann

"Terrible poèmes you wrote on the nightbus. Sad little drafts of messages to somebody from Tinder you were kind of seeing ten months ago. Deranged 3AM reminders to buy cat litter alongside your National Insurance Number. Two contradicting summaries of how much each of your housemates owes one another. A recipe for Thai noodle salad. Three book recommendations spliced with notes from a call from your energy supplier. And a list of all the people you've shagged, next to their star signs. Phone notes are a strange, lawless place."
"We Asked a Bunch of Strangers to Explain Their iPhone Notes" – Rosie Hewitson

At the time, living through the eighties, if you'd asked me, was the world much tolerant and welcoming to LGBT people than it had been a couple of decades ago, I'd have said yes without hesitation. Then you read something like this and realise how bleak it still was for your LGBT friends and could weep for everything they went through. This is a really beautiful interview by my friend Chris with Michael Cashman, one of the few visible LGBT role models on British TV at the time as a gay character in EastEnders – or as a "yuppie poof" as Piers Morgan happily called him in The Sun. Well worth a read, and a reminder how hard fought for LGBT rights have been in this country, and how they still need to be fought for.

As David Lewis observed on the Twitter, "The possible contents of this inaccessible room are either a Doctor Who story or an m-orchestra track" – Inaccessible first-floor Wisbech property for sale for £100

Christian Payne is going round the country looking for people who are still into and using CB radio for a documentary. Contact him on breaker19 [at] christianpayne [dot] com

The Mike Pence taunt becomes that old internet favourite: "Can you point to Ukraine on a map?"
[I have a head start on these things because as a kid I used to obsess jointly over an atlas and the Subbuteo replica kit catalogue to produce my own European and World tournaments. If it had a famous football team in the 70s, I can point at it on a map.]

Photographer Paul Clarke laments the execution of the new MP portraits, while correctly surmising that if they'd spent a bit more money on them then , cor blimey, MPs spaff taxpayers cash on vanity etc etc.

"The promise of VAR is simple: more right decisions. In practice, it complicates the very notion of 'right'. What is a handball? What is offside? What is 'clear and obvious'? Ultimately, what is truth?"
Superlative Twitter rant about VAR in the Premier League from Daisy Christodoulou that somehow takes in 19th century German philosophy and the death of God.

"Hidden History: The forgotten chapel" – I enjoyed this meandering sprawl of a tale about old and unhappy history in Norwich. Sample text with this lovely image:
"The way history works isn't a straight line running into the past, The nearest I can ever get in visualising these stories is as lots of crossing spirals; a field full of spaniels, circling and spiralling and wagging and sniffing for tennis balls in the long grass of the past. Most stories don't have one start they have many, they have crossing-points and bits where they touch, and they have junctions and roundabouts. The other thing is when anyone writes about history they quite often have an opinion. The same is true now, and therefore what we know about these entwined stories can often be inaccurate, twisted by whatever the common thoughts and agendas were in place when they were written, You only need to look at Hillsborough, Chilcott or the way the Donkeys of the Great War don't appear so asinine anymore. "

On Sunday night/Monday morning I was still up at 2:12AM because of REASONS and then suddenly out of the window I could hear a bird singing. And I was thinking that's madness. Is it because there's too much light in a urban area? Or because global heating makes the bird think it is spring and it is the morning?
Then I thought, maybe those birds have got more personalities than we think. Maybe that bird at 2:12AM is just basically a chatty so-and-so hurling abuse across the playing field behind my house because it has been really annoyed by some bird that lives over on the other side. It all sounds like cheery chirruping to us but maybe it was just shouting out "Fuck you Sharon!" at 2:12AM for the LOLs.

Adobe doing a project with the Natural History Museum where you get to mess around with 3D renderings of insects.

It's like the tube map but instead it shows you how London's parks and green spaces fit together.

Keith Stuart on the bliss of video games where you do almost nothing.

On the long-lasting appeal of The Sims to Generation Rent™
"For two decades The Sims has offered the joy of design, without the risk of angering a housemate or, worse, a landlord. The game presents a utopian world of home ownership, where everybody starts out with the same opportunities and can progress from a single-bedroom apartment to a vast palatial mansion as long as they put in the effort. It's no wonder fans have drawn considerable comfort from building homes that truly feel theirs – even if it is just a fantasy."

This is exactly how it would have gone down if I'd become a teacher instead of an internet nuisance: "Junior school in Norfolk has a Doctor Who-themed day"

Peter Capaldi is auctioning off a signed script of one of his Doctor Who episodes that he's also painted a cover for – raising money for children's hospices in Scotland.

"The polarisation of political perspectives among the British public since the Brexit referendum of course remains a matter of ongoing national concern. The current disagreements amongst Doctor Who fans – once a group which unambiguously embodied the liberal consensus – may appeal to the mainstream media precisely because they mirror those larger societal divisions, and may prove of greater significance as indicative of those broader ideological shifts and splits."
"Doctor Who: fan reaction to first black Time Lord exposes Britain's deep divisions on race and gender" – Alec Charles

"How a Long-Lost Indian Disco Record Won Over Crate Diggers and Cracked the YouTube Algorithm" – Vrinda Jagota, Pitchfork
Great forensic detective work in this but also this wonderful intro:
"In 2014, Debayan Sen found a mysterious album inside of a trunk in his mother's attic, in Kolkata, India. The red-orange record sleeve featured a picture of his mom as a young woman along with her name—Rupa—in big, bold lettering. That was the day Debayan learned about his mother's past life as a singer."

After 37 years they have finally updated the MIDI 1.0 music protocol to MIDI 2.0 which vastly increases the level of resolution and detail that can be transmitted between instruments. I've got news for you. You can prise my 7-bit discrete 127-possible-values-for-everything out of my cold dead 1980's hands.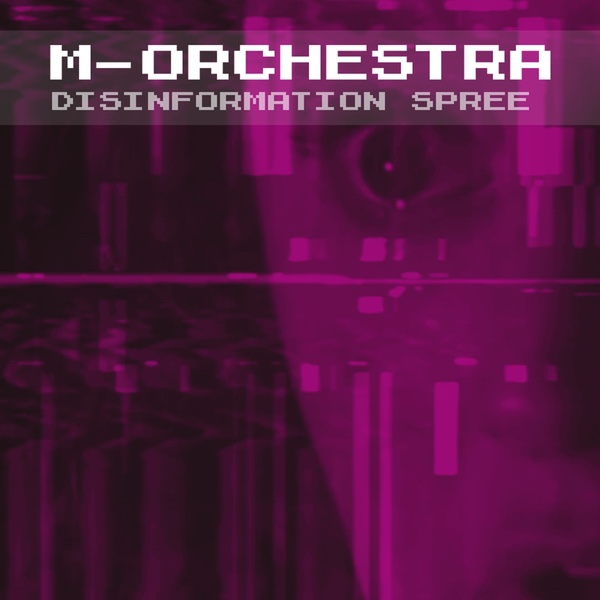 A new thing I'm doing – a weekly Spotify playlist of ten all-time influences or current faves that are helping shape my music. This week: Whispering Sons, Section 25, Nadine Shah, Rustin Man, HTRK, Holy Fuck, Hate Moss, The Spyrals, Grouper and Wrangler. Give it a whirl, it is called "Disinformation Spree" and will update each Tuesday.

I am playing a gig in Walthamstow for the first time in *gasp* twenty-five years. Come along. Tickets here.