Friday Reading S10S10
Friday Reading is a weekly series of recommended reads from the Guardian's Martin Belam, covering journalism, media and technology, and other interesting nerdy things. It is also available as an email newsletter. Sign up here.

Looking at the whole Jeffrey Toobin hoo-haa, in the end, I just think keeping your wanger in your pants while at work is a really low bar to have to clear.
And this from Katelyn Burns was 💯🔥
I want to ask a hypothetical about Toobin and his male media defenders. What if Toobin had been caught doing the same thing, but he was a trans woman? Besides the fact that there are no trans people of Toobin's stature in media, the answer is he'd be instantly deleted from public life, and his actions would be cast upon the entire trans community.
If Jeffrey Toobin Was a Trans Woman…He'd be banished from public life forever. Instead, media men are imploring for forgiveness.

An extremely grumpy ad person writes: "Confessions of a media buyer: Facebook updates have 'wrecked the ad platform on the backend'"

Scientists Unearthed 4 Sacrificial Inca Llamas Buried for 500 Years. NOT NOW SACRIFICIAL INCA LLAMAS! etc etc.

I was writing a piece about interactive quizzes this week, and in the process of doing some research, I found for the first time that Tom Scott has put up a selection of 6 old UsVsTh3m games that he worked on. It's lovely that some of this work is preserved – I'm still so proud of the output – and Tom is typically gracious in the way he bills it…
I want to stress: I just wrote the code! These games were produced by a team of many talented people who came up with ideas, illustrated, wrote jokes, and playtested. While I've resurrected a few games here on my site, the credit goes to everyone on the team!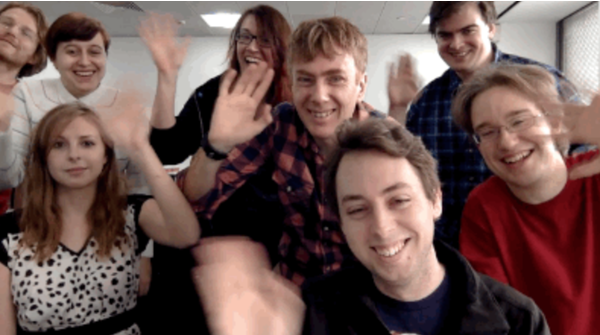 Talking of people who used to code stuff for UsVsTh3m, oh Paul…
Sussex Live – Man leaves sign for 'spud bandit' who stole potatoes from his drive

I've chucked £15 at food banks rather than pay to watch the Leeds game tonight. Feed kids, not PPV.

Blackpool Remembered is a free digital ebook, collated and edited by John Collier. It celebrates the original Doctor Who Exhibition on Blackpool's Golden Mile, which ran from 1974 to 1985. It's about 1,057 pages long. People had a lot of memories. I never got to go 😕

I am in awe of Professor Danny Dresner. How to sneak Doctor Who cosplay onto BBC News by Alex Skerratt.

Hang on, so there was a spin-off sitcom from Coronation Street in the 1960s called Pardon the Expression, and then from that there was a spin-off sitcom called Turn Out the Lights which starred Arthur Lowe as a ghost hunter? And then ITV lost all the episodes? Wut?

A really thoughtful post from Talk Talk's Paul Webb aka Rustin Man about time and space in writing and recording music:
Since the 60's, studio engineer Phill Brown has worked on many classic albums. I've learned a lot from him through the years. Phill once told me that one of the things he enjoyed about recording and mixing on old tape machines was having to wait for the reel to roll back to the beginning of the track or the section he was working on. He said this stop, start delay in his workflow due to the tape rewinding, gave him important time to reflect on what he was doing and what he was going to try next.

On the computer you can jump to any section of a song you're working on in a second, making it easy to work fast and instinctively. As marvellous as this is, Phill's philosophical approach to the passing of time when creating music is still a valid one. I've found when writing music, the time spent not working on it, is just as important as the time you are.

I'm very into this optical illusion artwork.

Halloween is coming up and I'm going to be very busy with my spooky Fortean electronica…
28/10: M-Orchestra – the Halloween special, live on Facebook, featuring exclusive new tracks especially for the witching season.
30/10: Exclusive first play of new track on the Homebrew Horrorthon, a special Halloween-themed edition of a weekly podcast featuring electronic music.
31/10: Live, late and haunted as part of V-EM 5.0. There will be at six electronic acts playing from 9pm to late and since it is Halloween itself, my contribution will be a unique set with a unique presentation.
7/11: An extended live streaming set for Nick's Virtual Garage which will be available across several different platforms.