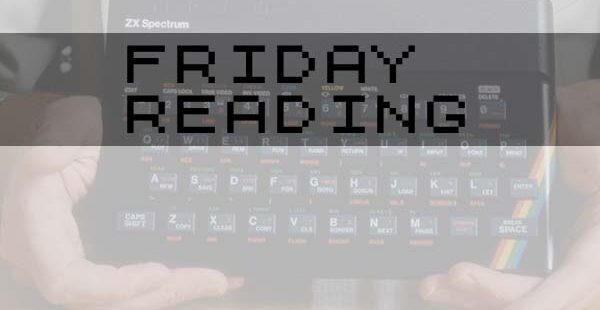 Friday Reading S12E01
Friday Reading is a weekly series of recommended reads from the Guardian's Martin Belam, covering journalism, media and technology, and other interesting nerdy things he found on the internet this week. It is now in its twelfth season. Sign up here.

There's lots of stuff written about that big Facebook outage SNAFU this week, but I found this one by Celso Martinho and Tom Strickx on the Cloudflare blog useful because it looked not just at the bare tech bones of what went wrong, but also at what it caused to happen:
"But that's not all. Now human behavior and application logic kicks in and causes another exponential effect. A tsunami of additional DNS traffic follows. This happened in part because apps won't accept an error for an answer and start retrying, sometimes aggressively, and in part because end-users also won't take an error for an answer and start reloading the pages, or killing and relaunching their apps, sometimes also aggressively."
"Understanding How Facebook Disappeared from the Internet" – Cloudflare blog

While on the subject of Facebook you see a lot, a lot, A LOT of people on social media groaning about social media sites showing them algorithmic feeds and saying they want everything in chronological order. I've always argued these people just don't grasp HOW MUCH stuff is being pushed into the pipes ever second. Anyways, Alec Muffett, who used to work at Facebook, posted a link to Twitter this week that allows you to experience what your Facebook news feed would be like if it literally just showed you stuff as it was posted, rather than trying to show you a selection of those things that other people interacted with when they saw them.
He said "'click >>>this link<<< when using Facebook in a Desktop Web Browser, or append ?sk=h_chr to the URL manually. 'sort-key=hash chronological', IIRC"
If I do it I literally just get a feed of automated content being pumped out by corporate pages I randomly liked once in 2007.

More Facebook? Why not. Here's Louis Barclay over at Slate with "Facebook banned me for life because I help people use it less":
"If someone built a tool that made Facebook less addictive—a tool that allowed users to benefit from Facebook's positive features while limiting their exposure to its negative ones—how would Facebook respond? I know the answer, because I built the tool, and Facebook squashed it. This summer, Facebook sent me a cease-and-desist letter threatening legal action. It permanently disabled my Facebook and Instagram accounts. And it demanded that I agree to never again create tools that interact with Facebook or its other services. The tool I created, a browser extension called Unfollow Everything, allowed users to delete their News Feed by unfollowing their friends, groups, and pages."

It's Nice That reviews the design process for the Guardian's new Saturday magazine.

Ron wants to be sure that you did this week's Guardian Thursday quiz: Huxley, Hitchcock, and Hitchhiker's Guide – take the Thursday quiz

"If I'm not so lucky it'll be a 3x3m tower that was erected in 1973 by a long-dead local scaffolder, teetering on the edge of the roof of the stand. No cover over my head, no harness, no guarantee of any safety whatsoever. A colleague recalls filming on a scaffold tower that semi-collapsed on one side halfway through a game. No matter – he adjusted his tripod to match the 45-degree angle of the tower and carried on filming."
The pleasures and perils of filming lower league games with one camera – Paul Buller

EA are kind of hinting that the next version of FIFA 22 might not be called FIFA anymore and there is an incredible little diss of the value of FIFA hidden in the blog post announcing it:
"Through years of building our global franchise, we also know that authenticity is essential to the experience. That's why we focus so much energy on the collective strength of over 300 individual licensed partners that give us access to 17,000+ athletes across 700+ teams, in 100 stadiums and over 30 leagues around the world. We continually invest in the partnerships and licenses that are most meaningful to players … As we look ahead, we're also exploring the idea of renaming our global EA SPORTS football games. This means we're reviewing our naming rights agreement with FIFA, which is separate from all our other official partnerships and licenses across the football world."
Well, I laughed.

Dominik Diamond has given up on FIFA too – I felt this paragraph hit home far too hard:
"Online gaming, which should be the apex of reaching out across the world to unite us in fun distraction from our daily shitshows, becomes just another way to be a shit. A lot of the time, you don't just get beaten online. You get humiliated. Someone will score a cheap goal, perform an excessive round of celebrations, and pass the ball around the back for the rest of the game. If you paid me Messi wages, I would suffer it, but I am supposed to be out here having fun."

Impressed that XBox have added a catalogue of accessibility features, including system-wide colourblindness filters. It only dawned on me the other day that the reason my son is hilariously bad at Everybody's Golf on the PS4 is presumably because he can't actually pick out the red flag among the green.

I don't have to write anything about the Newcastle United takeover by the state that ordered the murder of Jamal Khashoggi because Barney Ronay has said it all here and much more brilliantly than I ever could. I don't blame the fans for celebrating getting rid of Mike Ashley or coming into the money, nobody chooses who buys their club – as we found out at Leyton Orient under the clown 🤡🤡🤡 – but what a vile business the top-flight football industry is.
"In this light the comparison with Ashley, the assumption that Newcastle has finally found its prince, seems to involve a degree of cognitive dissonance. Infuriating tracksuit vendor v blood-stained dictatorship. Zero-hours sport-shop contracts v beheading 37 people in a single day. Hiring Dennis Wise v bombing Yemen. Is it really obvious that one of these – the beheading one – is so much more desirable than the other? There is a genuine conviction out there that uneasiness over a Saudi presence in English football is based in hostility towards Newcastle United. In reality the opposite is true: it is an expression of respect for the club as something of value."
"Newcastle's Saudi takeover will cause faux morality of football to collapse" – Barney Ronay

🐦 TWITTER ACCOUNT OF THE WEEK: @I_Find_Planets. An experimental bot by Charles Bergquist that describes the strange planets it has discover. Examples "I have discovered a planet. It is very very far. An alien device sits in a deep rift there. Perhaps one day we will be a tourist there", "You have discovered a planet. They strive for everything concerning the stillness there. I need 2 volunteers."

Terrific interview by Freddy McConnell, who I used to work with at the Guardian, with Torrey Peters about Detransition, Baby:
"'At the time, when I was writing [Detransition, Baby], I didn't know it would have this kind of response. I was just thinking about what was going to be funny for my friends and what was pertinent to our lives.'

It sounds like a common and reasonable mindset for an author. Yet I, as a trans journalist and writer based in the UK, am taken aback. Is she really telling me there was recently a place and time when trans writers could forget about seeing themselves as politicised and instead operate with total creative freedom, simply as writers?"

God during Euro2020 those "Isn't it great Raheem Sterling has Scottish roots in his name" pieces were a grind weren't they, totally ignoring how a black family in the Caribbean were going to end up with a Scottish family name during the age of trans-Atlantic slavery. But this is fascinating on gal-dem from Moya Lothian McLean, looking at how when enslaved people were freed, they might have picked their own names as a form of self-expression, making the question of whether you should ditch your 'slave name' more complex: Why everything you thought about 'slave names' could be wrong

Ignore the fact that Tory politicians are lending their lip-service to this for a moment, it is a really interesting dataset looking at how many jobs it is possible to commute to in different areas of the country within a set amount of time. It highlights the disparity in public transport access.
"In Stoke-on-Trent, Newcastle-under-Lyme and Bolsover, workers can access only around three-quarters of local jobs within an hour on public transport. This compares to some towns in London's hinterland, like Redbridge, Barnet or Epping Forest, where an hour on public transport unlocks access to 7 times more jobs than exist locally."
"Network effects" – James Blagden

Also on a transport tip, this is a comparison on how traffic-light signalling works in the Netherlands and the US, and it would seem there is a lot to learn about how we prioritise traffic at junctions here in the UK too.
"Signals for Change: Ideas from the Dutch for Improving Traffic Lights" – Matt Pinder

I was very taken by this Twitter thread by Stephen Diehl about how NFTs are such an absolute scam, comparing it to the "star-naming" "market":
"NFTs impart no legal ownership, give no rights to the artwork, are non-unique, and provide nothing of intrinsic value except the sign value of owning bragging rights to announce to other crypto bros about a shared collective delusion about database entries."

DOCTOR WHO CORNER: This week I've been watching the newly animated version of the Evil of the Daleks, with a detailed blog post to follow naturally. There was also the announcement of a new Blu-Ray boxset of season 17 which featured Tom Baker in the role. Lucky old me, I hadn't purchased a new version of unfinished story Shada for a couple of years, so I'm glad they've now made a fourth. Or fifth, even?

Well, it isn't exactly Doctor Who, but this is a fascinating essay about a premise once used in the show, that Earth previously hosted a civilisation much like us, who then caused their own downfall and left nary a trace behind. Until revived by Welsh miners and drilling projects etc etc … the authors have even dubbed it the Silurian hypothesis after the 1970 TV story Doctor Who and the Silurians.
"Once we disappear, it won't take Earth long to scrub out the facade human civilization has built upon its surface. And the fossil record is so sporadic that a species as short-lived as us (at least so far) might never find a place in it. How, then, would observers in the distant future know we were here? If the direct evidence of our existence is bound for oblivion, will anything remain to tip them off? It's a short step from these tantalizing questions to the one Schmidt posed to Frank: What if we are the future observers, discounting some prehistoric predecessor that ruled the world in long, long ago?"
"What if We Aren't the First Advanced Civilization on Earth?" – Cody Cottier, Discover magazine

Space is always weirder than we imagine: New Scientist – NASA's New Horizons spacecraft has found two odd pairs of asteroids [£]

I went to see the James Bond movie this week and despite my misgivings about it being around 1,057 hours long, I really enjoyed it, it didn't feel like it dragged, and I only had to take one "old man's bladder break" during the film. Interested to see what they do with the franchise next. It exists in a universe inherently full of contradictions – the stories are always set in contemporary or near future times but he's been an active agent for six decades or more now? – and presumably they now need to recast absolutely everybody and start a whole new movie cycle as if the last one never happened? Stuart Ian Burns has more coherent thoughts about this than me and I enjoyed his blogpost: Into the Bondiverse

Great essay about the incredible iconic unmasking scene in the 1925 Phantom of the Opera movie.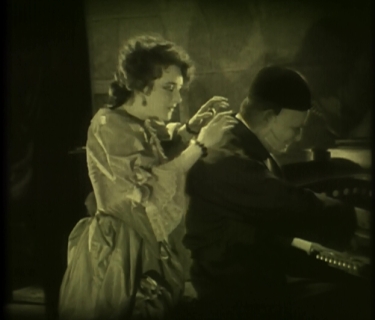 🎶 TRACK OF THE WEEK: I Think Last Night, I Killed A Man by Maggie The Cat, debut single from the new solo project of Charlotte from the now sadly defunct Madonnatron.

I wasn't particularly into The Jazz Butcher at all, but the name was omnipresent in the indie scene back in the day. Pat Fish has died, and this is a great appreciation by Alex Maiolo over at Louder Than War.
"'Wow,' I thought, 'a band that butchers jazz? What kind of crazy No Wave outfit is that?' We didn't listen to it, but JBC was officially on my radar. Weeks later I walked into the local record shop and saw a used copy of Distressed Gentlefolk, by the same band. I bought it, headed home, and immediately put it on the turntable. Imagine my surprise when I heard the first song was a country tune. But certainly the next number would be good n' butchered. Yeah, really butchered, I'll bet. Nope, it was pop. Not noise pop, or art pop, just pop. Then a kind of dream pop thing. Then some sort of hand jive situation. To my horror some of the songs were actually… jazz. Seriously, when the fuck was the butchering going to happen?"

A reminder that it was my birthday this week, and to celebrate, I am putting on a FREE night of brilliant music in Walthamstow where you can catch live electronic music from Flooded Access, Obscenity State and m-orchestra. It is at Walthamstow Trades Hall where the drinks are cheap. I'd love to see you there.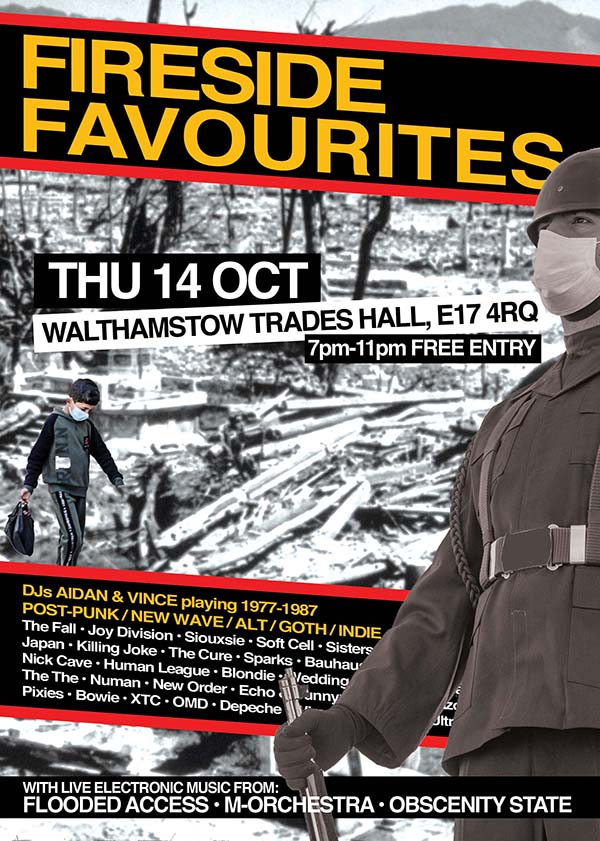 This is coming soon too, and there's still time to submit spooky tracks 🤔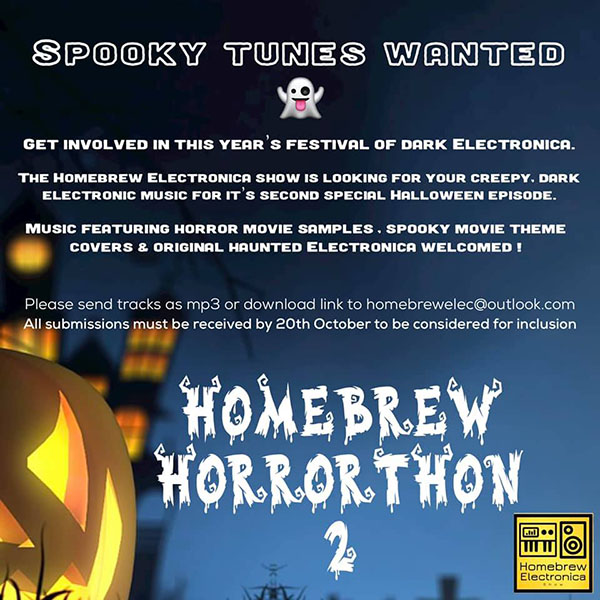 Halloween is approaching. Why not celebrate it on Friday 29 October at the Night Owl in Finsbury Park at Heidi Heelz' HOWLOWEEN Hammer Horror Party with Rude Mechanicals, Long Swords DJs, m-orchestra and more! Tickets are £5, available here.