Friday Reading S13E04
Friday Reading is a weekly series of recommended reads from the Guardian's Martin Belam, covering journalism, media and technology, and other interesting nerdy things he found on the internet this week. It is now in its thirteenth season. Sign up here.

So the New York Times bought Wordle and there was some discussion about news organisations and the nimble-ness of doing fun games. My former UsVsTh3m colleague Matt Round tweeted this and it hit me RIGHT IN THE FEELS.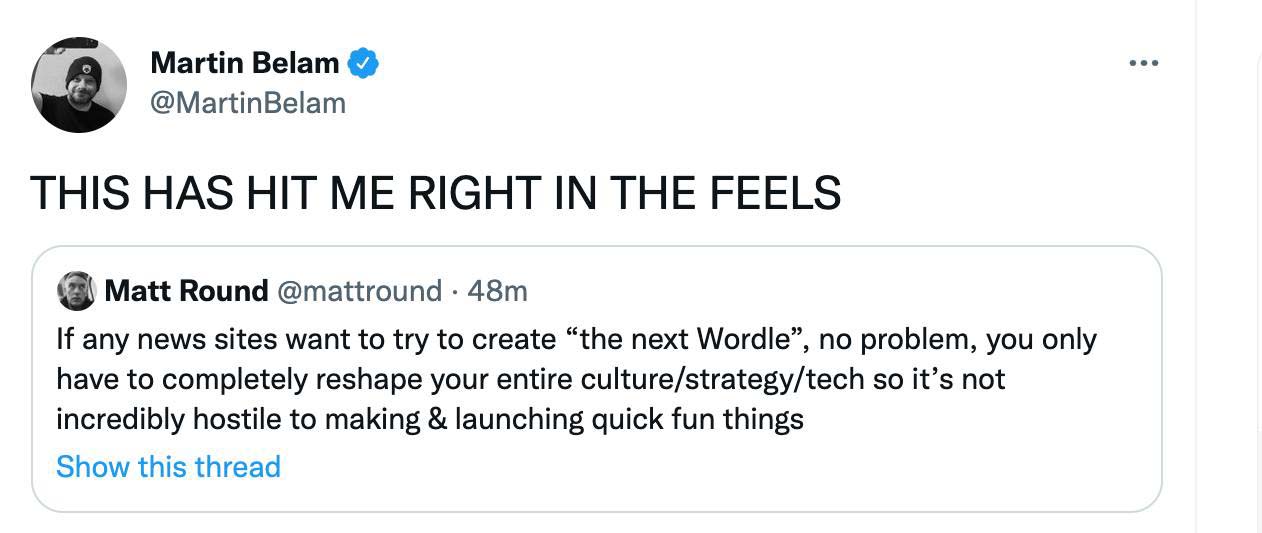 Although not as much as this reply did …

The thing is, there's loads of great reasons why businesses that scale their web tech up to delivering without fail the news on any given day on any given platform can't also be super nimble and make something quick and simple. I love having both things in our media ecosphere. You just know that UsVsTh3m would have done an "Ambushed by cake" game in the last week or so though, and there's just nobody in that space in the UK anymore. *sad_face_emoji*

Oh look, somebody has made an unofficial archive of all the previous Wordles.

"My problem with this strategy is whether it's truly led by improving the consumer experience, or it's skewed by a corporate need to juice the usage. If the BBC was loved by everyone and had no pressures, would they still choose to pull their stuff from third parties? I also think walling off more of the BBC's content from non-BBC platforms isn't a brilliant way to drive new consumption from BBC-rejectors, those who haven't seen any reason to download BBC Sounds. Seeing stuff in Apple Podcasts (or Spotify) surely on-boards new people to the Corporation's shows?"
Matt Deegan here with an interesting look at "The Problem with Platforms" and audio/podcasting distribution strategies from the BBC and Bauer among others.
This bit though does remind me how ahead of its time bits of the BBC's new media operation was in the early 2000s where I cut my web media teeth.
"Of course, when Matt Webb put In Our Time's hand-typed RSS feed up online in November 2004, six months before Apple even added podcasting to iTunes, no-one would have expected, 17 years later, that those things would coalesce and it would be the main digital way people listened to that show."
Thankfully the DCMS Graf review put a stop to all of that nonsense, eh?

Ron wants to be sure that you didn't miss this week's Guardian Thursday quiz which at least tries to carry on the spirit of me being silly in public on the interwebs for a media company: Word games, pen names and trips into space – take the Thursday quiz

"NFT Minecraft Project Sells $1.2 Million In Tokens, Deletes Everything A Few Days Later" – Zack Zwiezen, Kotaku
I mean in one sense every time there is another NFT story like this it is objectively hilarious but in another sense presumably it is kids around the age of my son who are getting ripped off time after time after time by people "selling" NFTs linked to the games.

"Proof-of-work cryptocurrencies are monetized pollution. They might be the most asinine example of late-stage capitalist absurdity yet invented."
Brilliantly comparing NFTs to a bit of Douglas Adams when the idiots who had landed on earth declared leaves to be a currency, David Farrier on Needless Fucking Things.

I wrote earlier in the week about going to see 'South: Sir Ernest Shackleton's Glorious Epic of the Antarctic', and noted how much of the film had a focus on the trip's seventy – SEVENTY – dogs and the men caring for them. Dogs are great.

Here Rory Cellan-Jones writes about the loss of his dog, Cabbage, and how having a dog has been beneficial to his health.

Dogs are great.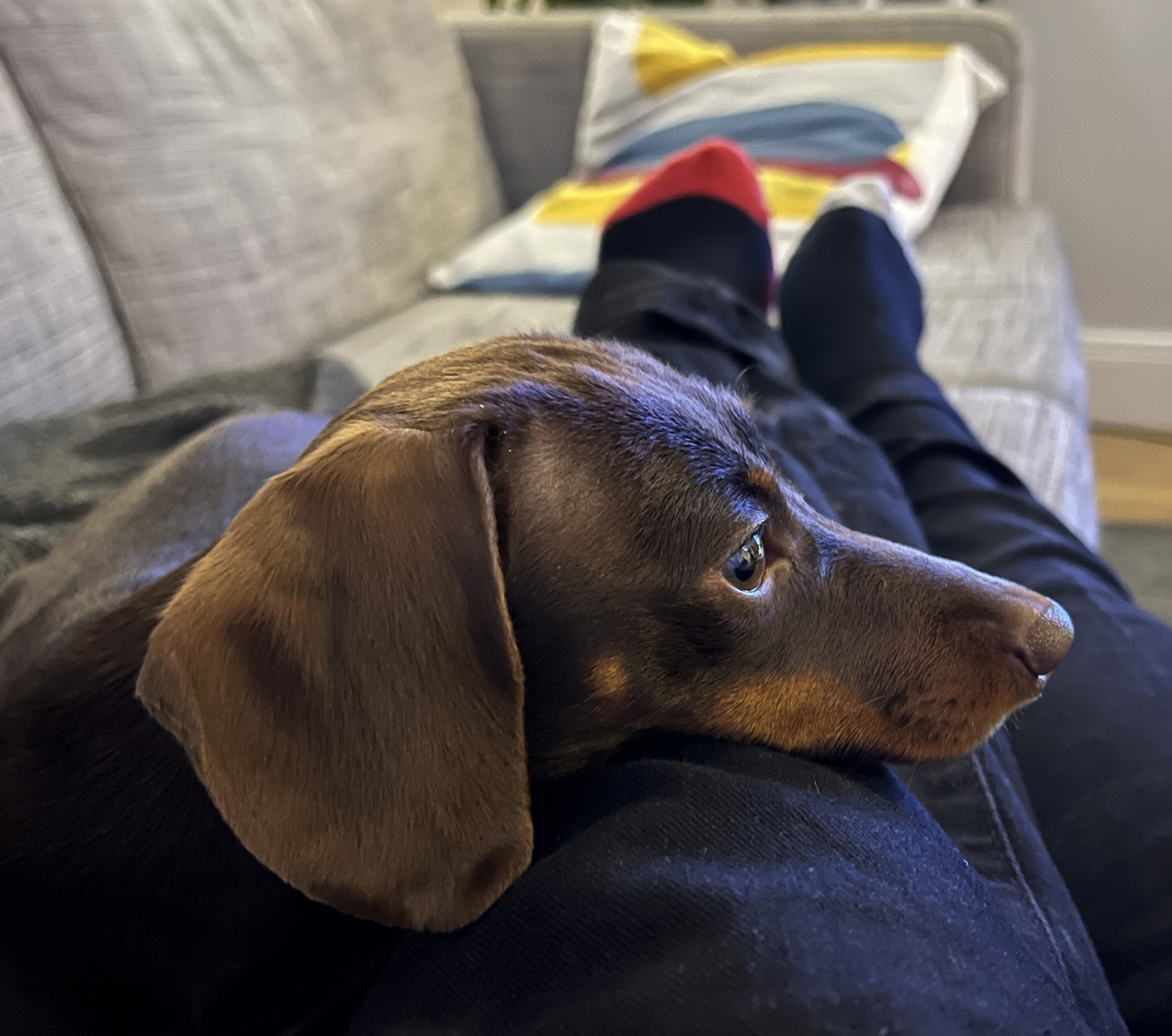 TIN-EARED FOOTBALL IDIOTS #1: Raith Rovers – Women's team cut ties with Raith Rovers over David Goodwillie signing. Honestly the original statement Raith Rovers put out defending the signing was an absolute fucking disgrace. The cowards have taken it down. Here's Angela Haggerty eviscerating it, and here is Libby Brooks speaking to fans about what one described as "the darkest moment in our history"

TIN-EARED FOOTBALL IDIOTS #2: Barnet – Barnet in turmoil as players threatened with sack after racism claim against staff member

LOVELY OLD FOOTBALL STORIES: Sons of Cambria – the curious tales of Wales' forgotten footballers

This is bonkers: Texas Butterfly Park To Close Indefinitely As Conspiracy Theorists Intensify Attacks – Trump-allied operatives have baselessly accused the National Butterfly Center of being involved with child trafficking.

Katherine Cross has written a piece for Wired saying that It's Not Your Fault You're a Jerk on Twitter, but I have to tell her, it absolutely 100% is my fault that I am a jerk on Twitter.

Trying to work out what changes are being made to AWS is so mind-boggling that Simon Willison has built something to scrape their help pages and then diff them and store that in Github to track when stuff changes :-)

"I would like to focus on a different group, a more audible and visible group, a group of unhinged weirdos comprised of all combinations and permutations of human being who, upon seeing a couple where a cis woman is taller than her masculine-presenting partner, dissolves into hysterics, rage, tears, convulsive laughter, obscenities, ridiculous questions about anatomy, and (admittedly my personal favorite) "love-is-love" speeches about how brave I am for marrying someone shorter."
This is a lovely and funny piece – "I'm Seven Inches Taller Than My Husband, And People Are Very Weird About It" – by Mia Wilson, which reminds me that I used to date someone who was significantly taller than me, and she seemed really self-conscious about it all the time but also continued to wear boots with massive heels too *thinking_face_emoji*

TWITTER ACCOUNT OF THE WEEK: @OldMemeArchive - my reaction varies between "Oh no look at the internet we lost!" and "JFC this is still 100% true today except things are slightly worse"

I don't see any way that the Steve Coogan is Jimmy Savile drama being made sheds any light on what happened at the BBC with him or does anything to deliver justice to victims. Spend the money on giving victims of sexual abuse a voice on TV instead.


DOCTOR WHO CORNER: The #NotMyDoctor #TheShowIsDead crowd very quiet about the Doctor Who: Flux DVD/Blu-Ray crashing in at #2 in the physical sales charts this week.

Via Josh Snares, an absolutely incredible review complaining that they didn't make the cartoon version of Victoria Waterfield in Evil of the Daleks have big enough breasts. Aside from the general insanity of thinking this and then actually writing it down somewhere that people would see it, the Waterfield character in the story is meant to be aged about 14 or 15.

TRACK OF THE WEEK: Turned Out I Was Everyone by Sasami. I don't know anything about her but this is minimalistic and wildly hypnotic melancholy indie electronica

James McMahon has got a Substack up and running for his Spoook thing, writing about music (and wider pop culture) in the way he thinks music should be written about, and he does it very well. More here.

I went to see Wet Leg at the 100 Club this week. I don't have anything in particular to say about it, I'm genuinely just showing off that I managed to get a ticket.

Here's a one-line review of every gig I went to in January.

I'm doing another hometown m-orchestra gig in Walthamstow – it is Saturday 12 March at the wonderful Walthamstow Trades Hall. Free for members, £3 in otherwise. Ticket details soon.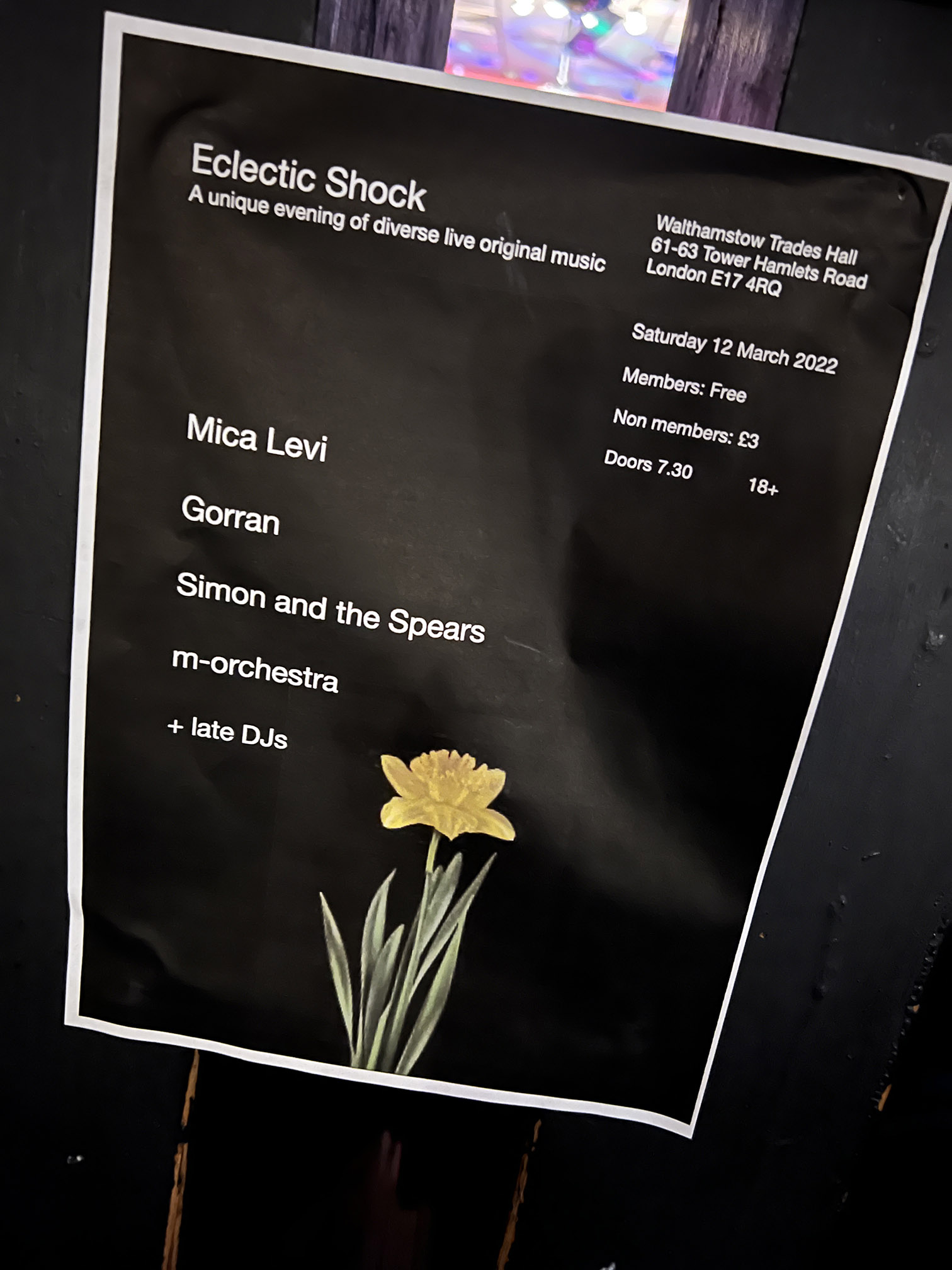 Join me every day during the Winter Olympics for the Guardian's Beijing daily briefing – live from Walthamstow! Sign up here. Here's the first one, and here's my 11 key moments from the opening ceremony today.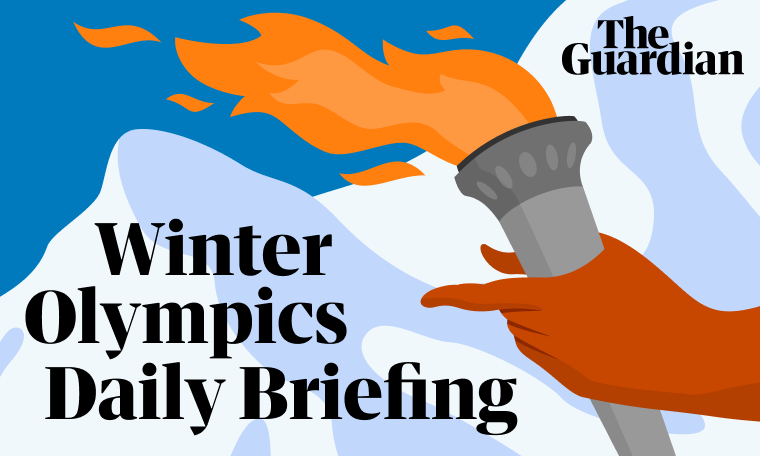 "She dreams of going home — even if she concedes that return may be 20 or 30 years way" – as a counterpoint to that Olympic fun, read this on people from Hong Kong who have fled to the UK in the last couple of years.
"From Lantau to Ealing: Hong Kong's homesick exiles in Britain greet the Year of the Tiger" – Stuart Lau, Politico