Friday Reading S13E08
Friday Reading is a weekly series of recommended reads from the Guardian's Martin Belam, covering journalism, media and technology, and other interesting nerdy things he found on the internet this week. It is now in its thirteenth season. Sign up here.

The absolute compulsion people feel to have an opinion on social media about everything is exhausting. Meanwhile, here's a Twitter list from Press Gazette of UK-based reporters who are actually on the ground in Ukraine.

There have been some horrific pieces to camera along the lines of "but this war involves people who look like us!!!" and this is a very eloquent open letter to the media about that from Marcus Ryder:
"I fully understand why a war involving a Superpower (Russia) on European soil may be deemed (rightly or wrongly) as more significant than other conflicts. Evaluating the importance of different wars and conflicts are by definition the difficult editorial decisions editors and journalists need to make almost every day. However a conflict's relative global importance must not be confused with the relative importance of the victims of these conflicts."
"An open letter on the reporting of Ukraine: Do not let diversity be a casualty of war" – Marcus Ryder, Black On White TV

Katelyn Burns here unpicking the whole "Putin felt able to invade Ukraine because we haven't been shitty enough to gay and trans people recently" grifting narrative: No, the War in Ukraine Isn't Because of Pronouns - Punditry's most embarrassing obsession comes to war time and it's just as dumb as you'd expect it to be

My colleague Shaun Walker said "I spent some hours at Kyiv central station today and it was one of the most moving and upsetting days of reporting I've ever done". Here's the piece: 'It might be the last chance to get out': citizens flee Kyiv as assault intensifies

It was a sideshow to other events but the whole Hollywood Unlocked claims the Queen is dead, and then doubles down on it, was just *chefs_kiss_emoji*. Their "Fact Check: 10 Reasons We Believed Queen Elizabeth Was Dead" has broken my mind. As colleague Jim Waterson put it: "Absolutely iconic attempt to stand by an exclusive story that the Queen died earlier this week, while at the same time begrudgingly admitting that she is alive."
Next time I fuck something up I am going to demand that instead of a correction footnote we run a "10 reasons why we honestly believed it was spelled 'boradband' etc etc listicle.

Ron wants to be sure that you didn't miss this week's Guardian Thursday quiz: Ulysses, Kelpies and Bond's debut – take the Thursday quiz

Fascinating look at what happened to loads of "antiquated" smart systems in the US transport sector when they switched the 3G network off. It is the kind of thing you don't worry about in an urban area of high coverage but there's got to be a similar amount of embedded infrastructure in the UK you would imagine: The transport industry sure as hell wasn't ready for the end of 3G

"Having recently bought a new mattress, I found myself musing on 'free as in mattress', which I find a particularly pungent metaphor for open source. I've always thought about it in terms of vetting the projects, libraries and dependencies you use in your code. Like a mattress you find on the side of the road, an open-source project with unknown provenance might be just what you need, or it might have some bugs that you don't find out about until after you've brought it home and made it part of your infrastructure. But the mattress is also about responsible disposal by the owner of the mattress (or the creator of the open-source project)."
"Open-source development: The perils and responsibilities of creating your own projects" – Mary Branscombe, ZDNet

FIFA and UEFA banning Russian national and club sides at least solves the issue of whether Israel were going to announce that they would or wouldn't host a Russian side for their UEFA Nations League Group B2 match which was due to be held in Haifa on 6 June. I'm not sure there was any way that Israel's FA could have worded that statement without provoking a tremendously negative response.
It does leave both football authorities with a hole in their tournament schedule though.
In the World Cup qualifiers, FIFA can either give Poland a bye, give Russia's slot to the team who finished behind them in Group H Slovakia, or more likely give the place to the next highest-ranked UEFA Nations League group winner who didn't qualify for the World Cup or the play-offs by any other route, which would be Hungary.
For the women's Euros being held in England in the summer, Russia had been drawn into Group C with Sweden, the Netherlands and Switzerland. To get there, Russia had qualified via a play-off against Portugal, who would therefore seem most likely to be offered that slot.

Jonathan Liew is as good as ever here on football beginning to wake up to the stench of its own money.

"In theory, it was possible to return to the game, but in practice? Peterborough, my hometown, did not seem particularly welcoming to the LGBTQ+ community. A young man was attacked just a few streets from my home for being bisexual. Would the group of burly men playing five-a-side on a Wednesday evening respond well to a transgender person asking to join in? Probably not, I decided."
"Returning to football after my gender transition" – Arthur Webber

TWITTER ACCOUNT OF THE WEEK: @Spacecrafting76 – Chris makes replicas of props and spaceships from Doctor Who and Blake's 7 etc etc and it is just as joyous to see to me as you would imagine.

Unlikely fact check headlines of our time: Did Will Smith Climb to the Top of the Burj Khalifa? SPOILERS: He did, apparently.

"Later when I got to know Barry Cryer I found out he had been born on the same street as my mum, albeit a couple of years after, and that we went to the same school. Reading his autobiography I discovered he'd had a teacher who also taught me. I remembered Mr Kelsey as an old man close to retirement, in Barry's book he gets a special mention as a bullying young tyrant. These are trivial facts which probably don't mean much to anyone else. But I think there was something about his 'Leedsness' that resonated with me."
"Everyone loves Barry" – Dave Cohen
Honestly I am so glad I made the effort to go and see Barry Cryer when he played at Walthamstow just before Xmas, and so glad Barry was still making the effort to play. He was such a funny man.

A collection of mugs and cushions inspired by brutalist architecture from Gail Myerscough.

This abandoned computer store in a strip mall in a small Oklahoma city is a time capsule of early 2000s tech.

TRACK OF THE WEEK: Keep The Streets Empty For Me by Fever Ray. I swear there's a black hole in my brain where all the music I used to listen to commuting between 2001 and 2011 disappeared. This came on the other day and I went from "Holy wow what is this" to "Oh yeah I used to listen to this every single day on the tube" in the space of one Shazam.

I'm doing another hometown m-orchestra gig in Walthamstow – it is Saturday 12 March at the wonderful Walthamstow Trades Hall. Free for members, £3 in otherwise on the night.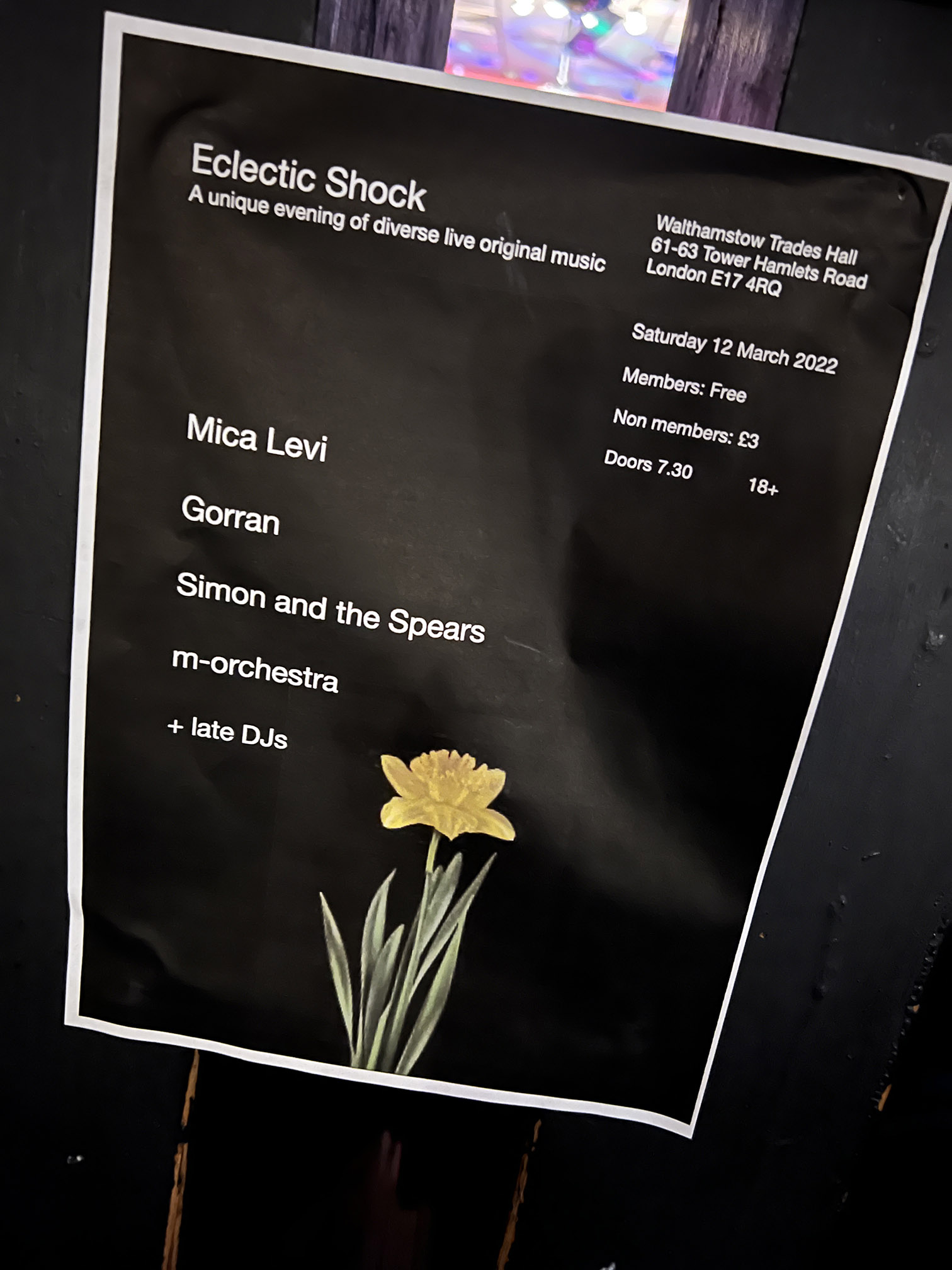 I'm going to be covering the Winter Paralympics for the Guardian – here's my quick guide to the week-and-a-half ahead: Brute force, raw emotions: six things lying ahead at the Winter Paralympics