Friday Reading S13E22
Friday Reading is a weekly series of recommended reads from the Guardian's Martin Belam, covering journalism, media and technology, and other interesting nerdy things he found on the internet this week. It is now in its thirteenth season. Sign up here.

SHOT:
I asked DALL·E mini to draw me "Gary Numan at a picnic"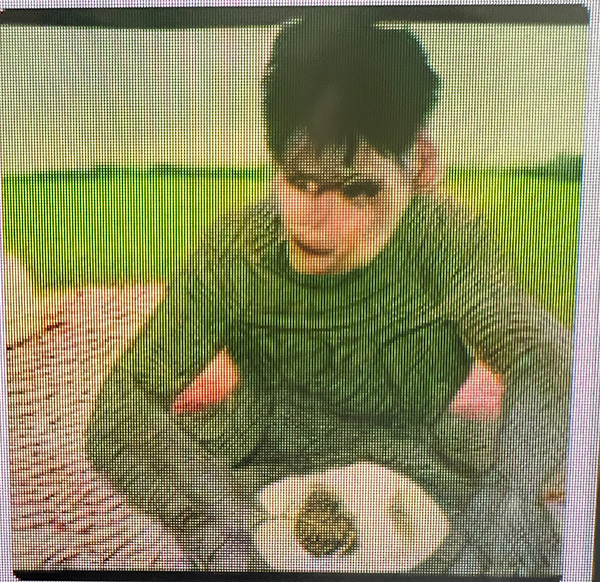 CHASER:
Loads of characters from kids TV but they are all dancing to Firestarter by the Prodigy.

What Christopher Eccleston said:
"I lived through the race riots, I saw the devastation to working-class communities and the subsequent impact on race relations, domestic abuse, et cetera, that swathes of men and women being unemployed and the state education system being destroyed caused. Frank Skinner brilliantly said recently: 'I was racist, I was homophobic, I was misogynistic, I used those terms.' I did too. Of course, I was born in '64 in a council estate. Then I hit the 1980s and moved to London, and met middle-class women who were feminists, and met black people and brown people. I say to any young actor, 'You're not more important than anyone on that set.' That's why I do it, because I want to be part of a team and I want it to be equal."
What The Times put as the headline:
"Christopher Eccleston: Straight male actors like me are pariahs"
Fucking culture war arseholes.
They even tried to pass it off as an exact quote.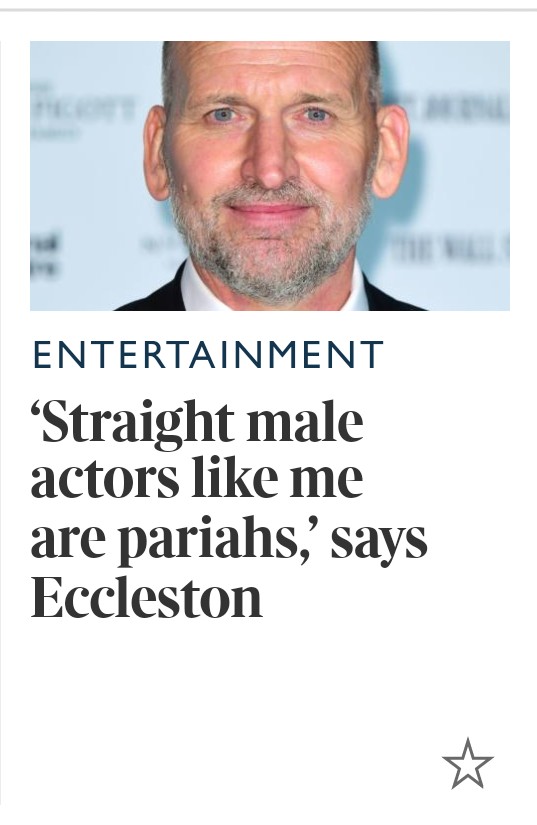 It seemed somewhat naive of that bloke to suggest he was "suprised" that posting a long thread that seemed to be saying someone who is currently a government minister intervened directly to suppress positive poll results for Jeremy Corbyn would become "a big thing" online. I'm enjoying the fact that him rowing it back – potentially under some legal duress judging by the precise wording – is in fact only adding fuel to the fire. My "Nobody tells me what to say, and I definitely didn't say that thing what you saw me say" t-shirt is causing questions already answered by my t-shirt etc etc.

Meanwhile, "The BBC censored the booing of Boris Johnson" is a perfect "Jeremy Corbyn's photoshopped hat" conspiracy but for #FBPE types.

Also having a social media nightmare this week: the Washington Post.
"Washington Post Fires Reporter Felicia Sonmez After Public Feud" – Nicholas Reimann, Forbes

Nadine White is so good, this is a must read:
"As a Black woman descended from enslaved African people, the likes of whom were branded with hot irons bearing the initials of royal family members, the past four days of wall-to-wall, uncritical responses to the jubilee have been a gaslighting experience"
As she says:
"It's impossible to divorce the royal family from themes of systemic racism. The spectacular backlash drawn from local communities during recent royal tours of the Caribbean in March and April clearly reflect this – and yet news coverage conveniently side-stepped this reality."
"Media coverage of the platinum jubilee makes me uncomfortable to work in this industry"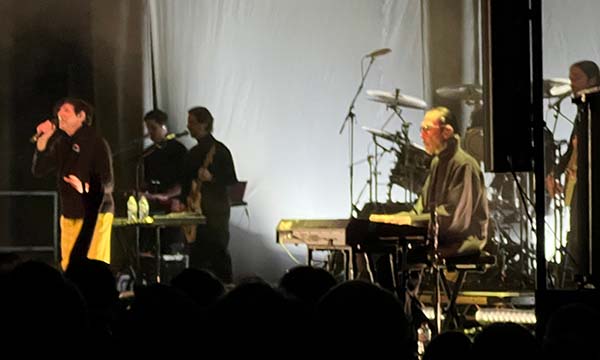 Ron wants to be sure that you didn't miss this week's Guardian Thursday quiz: Record feats, lawsuit grief and naming retired popes – take the Thursday quiz

"A later comment posted by an anonymous account named it 'the Backrooms', going on to describe it as an area with six hundred-million square miles of old, moist carpet, and a badly wallpapered maze. There's only the constant hum of cheap bulbs for company and the vague threat of something lurking in the distance."
"The Backrooms: How a Creepy Office Photo Became an Internet Bogeyman" – Andrew Lloyd, Vice

For a ridiculous comedy site, this Clickhole piece unexpectedly hit me right in the feels: "Just Watching Some Trains With My Boy"
"Slow one coming. My boy's giving this slow train a wink. I always told my boy, 'When the slow train comes, give it a wink.' Say what you will about my boy, but you've got to admit he knows his manners well when it comes to winking at trains."

Marie Le Conte has a new book coming out on 1 September called 'Escape' with the subtitle "How a generation, shaped, destroyed and survived the internet". She says "it's about being part of the first ever generation who got to grow up online, at a point when the internet was new and fresh and ever-changing."
I am looking forward to it.
I am less looking forward to a bunch of men – and it will be men – telling her that actually they were online with some dial-up BBS in the early 1980s etc etc wilfully missing the point that she's talking about the first generation who grew up where everyone was online all the time and the internet was everywhere. You didn't have everyone else in your class straight on MSN as soon as school finished, did you Mr Dial-Up BBS?

This is fantastic news – my son is one of those affected: EFL clubs allowed to wear away kits at home to help colour blind people

Another absolutely brilliant time-sink of a game from Matt Round at VoleWTF: Penga – a penguin physics game.

Eleanor Morton in nail/head situation: "Can we have a Joker movie where the Joker does Joker things like jumps out of a giant Jack in the box and has killer balloons and stuff, not like a sad Joker who's mentally ill, I dunno, it just doesn't scream Joker to me."

Talking of absolute jokers, I nearly broke my Twitter abstinence just to tweet LMAO at "Tom Harwood's exclusive" pic of Sue Gray doing some perfectly normal stuff at a point in time when it was perfectly legal. What an absolute chump of a man.


DOCTOR WHO CORNER: I enjoyed this write-up and analysis of The Tenth Planet, my favourite 1960s Doctor Who story, by the ArchiveTVMusings blog.

If you missed it, I chipped in my thoughts on … Doctor Who: Redacted (2022)

There's a new audio story which features tenth Doctor David Tennant and sixth Doctor Colin Baker and the Weeping Angels called Wink which surely must be fun.


"Colombian army shares pictures of shipwreck carrying billions in lost treasure, including gold, silver and emeralds" – if I remember my history correctly though, the sudden extra abundance of stolen loot from South America, if recovered, will actually depress prices etc etc

TRACK OF THE WEEK: Weather Alive by Beth Orton. An unexpected seven-minute gem.

"Items up for auction include a shirt owned by Mark E Smith for the 'Ghost in my house' music video, a programme for 'Curious Orange' with handwritten notes from Smith, and a handwritten set-list for a gig. The shirts worn on stage and on video are estimated to make up to £1,500 at auction. The items have been consigned to Newton-le-Willows based Omega Auctions directly from Smith's family."
"The Fall's Mark E. Smith's memorabilia set to go up for auction" – Lyell Tweed, Manchester Evening News

Also: Howard Jones is auctioning his prized piano!!!
Not sure someone with a new single out at the moment would have enjoyed the auctioneers description though: "Provenance: This piano is the property of Howard Jones the 1980s popstar composer"

"The 606 is more like a chameleon. Its dry, wet, distorted, modded, circuit-bent sound shows up everywhere from punk to IDM."
I just can't even begin to contemplate the absolute peanuts I sold mine for in the mid-2000s, I'd be staring into the middle distance for one thousand years.
"Drumatix: The Perpetual Appeal of the TR-606"

I went to see Queen + Adam Lambert this week and the main thing was it hadn't even occurred to me in advance that they would play Somebody To Love and Under Pressure and I would be left feeling utterly bereft about the loss of both George Michael and David Bowie again. Fucksake.